Listen to An Animal Saved My Life
A podcast about the animals who change our lives forever.
The Dodo is known for inspirational animal videos, but the cameras aren't always rolling to capture some of the best animal stories. Each week, An Animal Saved My Life brings you an incredible and heartwarming story about an animal who has profoundly changed someone's life. Hosted by podcast pros and animal lovers: Renee Colvert and Alexis B. Preston.
This photo is of an orphan at Lola ya Bonobo sanctuary in the Democratic Republic of Congo.
Episode 12: The Other Woman
Drama, jealousy, and evolutionary biology come together in this story about a love triangle.
Vanessa Woods was on a work trip to study bonobos when she landed a supporting role in a great ape soap opera. And although emotions ran high, bonobos taught Vanessa important lessons about life, love, and what it means to be a primate.
Episode 11: Pippa & The Great African Sea Forest
Pippa Ehrlich, the co-director of the hit film My Octopus Teacher, takes us on a frigid underwater dive into the living, breathing kelp forests of South Africa. Psychedelic colors, mystifying lifeforms, and a curious shape-shifter invite Pippa into an alternate universe.
Photo credit: Texas A&M Task Force 1
Episode 10: I Got This
Denise Corliss was training her golden retriever Bretagne for search and rescue service when they were called to a disaster scene unlike any other
Episode 9: A Little Snow White
When Nicole Navarro lost her childhood farm, she never thought she'd find it again. A pair of forlorn forest creatures showed her the way back.

Episode 8: Ay, Bendito!
Are you a dog person or a cat person? It seems like a fun, simple question. But from a young age, Joshunda Sanders knew that being able to answer it is actually a privilege. Years later, she found the answer that works for her.
Episode 7: Cat Whisperer of the Year
There's a proverb that says if a black cat crosses your path, you'll have bad luck. But, if that were true, Glen Schallman might not be alive today.
Photo Credit: Shutterstock
Episode 6: The Cardboard Beagle
Kristin Von Kriesler's life was in upheaval when an animal fugitive appeared from nowhere and sent her on a new path.
Photo Credit: Shutterstock
Episode 5: Behind Enemy Felines
Jesse Knott was working as an intelligence officer on a small combat outpost in Afghanistan. When he found a stray kitten, he got a mission he didn't anticipate.
Episode 4: Same Same But Different
Sam & Cam Bloom were living a beautiful life in Australia until they went through an unpredictable family crisis. That's when a flying Penguin showed up…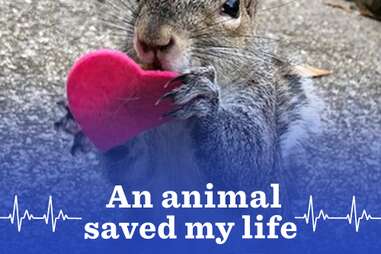 Episode 3: Nuts for Bella
Brantley Harrison is the kind of person who rescues earthworms from the sidewalk when it rains. As a wildlife rehabber she's used to helping animals that can't help themselves. So, she thought she knew what to expect when she got a basket full of baby squirrels...

Episode 2: The Crow Pass Trail Guide
Amelia Milling grew up walking the woodlands of Tennessee and yearning for adventure. When she turned 21, she flew to Alaska for a solo hike that was a little more than she bargained for.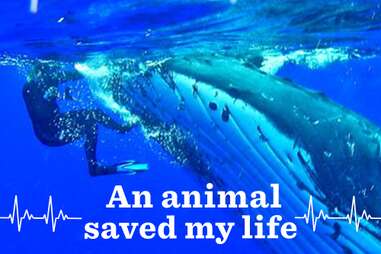 Episode 1: Humpback Whale #19
Nan Hauser is a marine scientist who has loved whales for a long time. As a child, she'd lay in bed at night, wondering "What are they doing underwater?" Forty years later, she got an answer that would shock her.