Three Lions Saved From War-Torn Palestinian Zoo
<p><a class="checked-link" href="http://www.four-paws.us/">Four Paws</a></p>
Three traumatized zoo lions are now on their way out of Palestine to Jordan, after a daring rescue from the bombed-out Al-Bisan zoo in the Gaza Strip. The lions passed through Israel before being ferried to a wildlife sanctuary in Amman, Jordan ... and just in time, thanks to collaboration from the governments of Egypt, Israel, Jordan and the State of Palestine.
(Four Paws)
One lioness was killed when she was hit by shrapnel from an air strike during fighting between Israeli and Hamas militants back in August. Eighty animals died from the attacks or from lack of food, leaving only a few dozen animals left at the zoo. The remaining three lions - two males and one female - were stressed and in need of food and water in a dilapidated enclosure.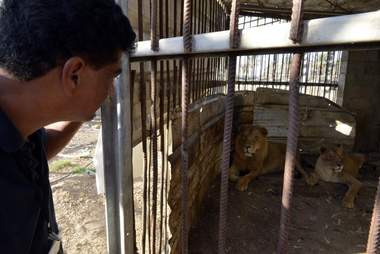 (Four Paws)
Now, thanks to rescuers from the organization FOUR PAWS, the lions are on their way to a better home. They were tranquilized, put into crates, and loaded onto a truck for the journey.
(Four Paws)
"This was about more than species-appropriate shelter, sufficient food and medical treatment," said veterinary surgeon Dr. Amir Khalil from FOUR PAWS, who coordinated the operation. "After all, lions are dangerous wild animals. After the air strikes, the enclosures were far from safe for the keepers and for anyone visiting the zoo. That's why we looked for a solution away from Gaza."
The lions are now being held in temporary enclosures in Jordan, awaiting permanent homes which are still being built.
Back at the zoo in Gaza, the destroyed cages are being removed, and Four Paws is looking into fixing them to help accommodate the zoo's 30 remaining animals, among whom are vervet monkeys, wild cats, wolves, ostriches, pelicans, birds of prey, porcupines and a crocodile. Donate to support their efforts here.