Family Almost Trips Over Mountain Lion On Their Doorstep
<p><a href="https://www.facebook.com/rjriding" target="_blank">Facebook/Rhett Riding<span></span></a></p>
Looking out her front window, Kathy Inman didn't know what to make of the massive animal sprawled on her front porch.
"I looked down and I said, 'What dog is that laying on my porch?'" the Heber City, Utah, resident told Fox 13 News.
So she tapped on the glass.
And a mountain lion turned to face her.
Notadognotadognotadognotadognotadog.
The family went through the usual drills that follow finding a mountain lion on your doorstep: frantically peeking out the window, calling authorities and more frantically peeking out the window.
For the mountain lion's part, she spent a couple of lazy hours on the porch, seemingly oblivious to the stares of people inside the house, according to neighbor Rhett Riding, who recounted the experience in a Facebook post.
But eventually the whole neighborhood came out to witness the wayward mountain lion lounging in the doorway.
And then animal control officers arrived and shot a tranquilizer dart at the big cat.
But the adventure didn't end there.
The mountain lion fled after being hit by the dart, sparking a hunt throughout the neighborhood. It ended an hour later when she was found in a nearby parking lot.
The mountain lion spent the night at an animal control facility, before being released far from the gawking crowds - and front porches - the next morning.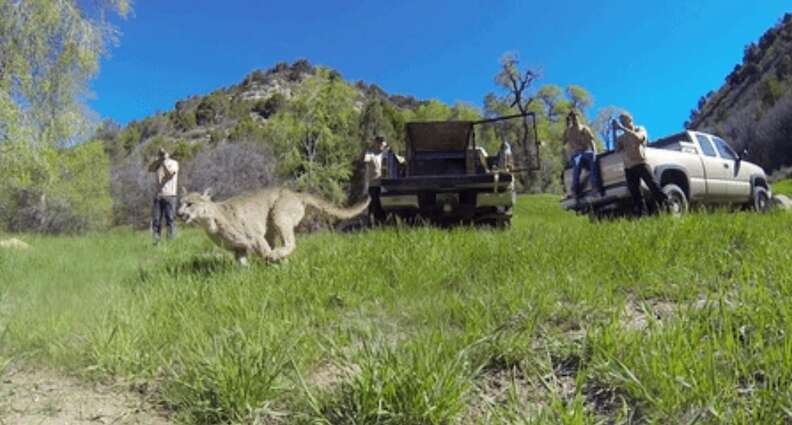 And the mountain lion certainly got the memo. When released, she bolted from the her cage, suburban life far behind her.