Lion Forced To Perform Circus Tricks For Years Finds The Best Home
People helped her and her sister return to Africa — and they even formed a little pride
A lioness sits on her hind legs on top of a red stool. Behind her, a man holds up a rod with a piece of meat attached to the end. The lioness reaches for the meat, swinging her paw as she tries to stay balanced.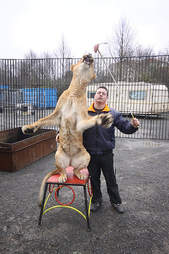 Born Free Foundation
After learning this "trick," the lioness would be forced to perform it over and over and over again in a loud circus arena in front of hundreds of people.
The lioness in the photograph is named Sonja. She and her sister Maggie were property of Zircus Las Vegas, a German circus company, for eight long years. Besides what can be seen in two old photographs, not much is known about the two sisters' lives in the circus.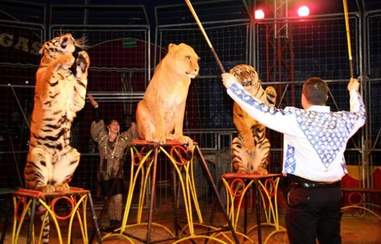 Born Free Foundation
However, Tricia Holford, rescue program coordinator for the Born Free Foundation, has reason to believe the lionesses had lived in appalling conditions. "Along with regular performances, they spent the rest of their time confined to a circus trailer," Holford told The Dodo.
The lionesses might have kept performing in the circus for years - perhaps for the rest of their lives - if it weren't for Maggie's tail injury.
"Maggie had an infected wound at her tail," Sil Janssen, founder and chairperson of Natuurhulpcentrum, a Belgian wildlife rescue center, told The Dodo. "When the circus got an inspection from the German authorities, they were warned to take care of the infected tail. When the German animal welfare inspector came back to check, the tail wound was still critical and the owner of the animals got a final warning."
The kind of cages circus animals tend to be kept in

| Animal Defenders International
While it's unclear what caused Maggie's tail injury, Holford said it likely had something to do with her enclosure. "Sometimes the tails get shut in guillotine or slide doors when the big cat is being transferred from section to section," Holford said. "There's usually a gap under the barred metal divisions in trailers or zoo indoor quarters, and if an animal leans against the partition, its tail can go underneath. Sometimes a cage mate will pounce on the tail poking through."
In May 2013, the German authorities returned for one last inspection, but Maggie's tail hadn't gotten any better.
Born Free Foundation
The authorities confiscated Maggie and Sonja, along with two tigers being used in the same circus. All four animals were given refuge at Natuurhulpcentrum and received the medical attention they'd lacked for years. In addition to Maggie's tail injury, one of the tigers had problem with his back legs, and all four animals were malnourished. Maggie had to have the tip of her tail amputated, but she recovered quickly.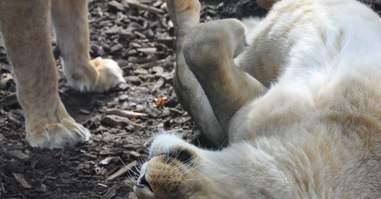 Born Free Foundation
While Sonja and Maggie received excellent care at Natuurhulpcentrum, everyone involved in their rescue thought they'd be happier somewhere else - Africa. About a year later, Natuurhulpcentrum and Born Free joined forces to move the sisters to Shamwari, a big cat sanctuary run by Born Free in South Africa.
Born Free Foundation
The journey was lengthy. Sonja and Maggie had to travel 6,000 miles across two continents, taking trains, planes and trucks to get there.
Born Free Foundation
But when they finally arrived, it was all worth it.
Born Free Foundation
Here the two sisters could roam around their large enclosures - and not be expected to do anything but act like lionesses. According to Holford, Maggie and Sonja especially love their viewing deck.
Born Free Foundation
"They spend a lot of time on their viewing deck, sharpening their claws on it, biting it, and chewing it," Holford said.
Born Free Foundation
Maggie and Sonja also adore spending time with each other. "When they first arrived at Shamwari, Maggie would take food to Sonja," Holford said. "She would eat a little bit of the portion and then when Sonja looked at her, she would leave that portion for her and would walk to get the other one. Then they would eat together."
Born Free Foundation
The sisters even made a new friend - a male lion named Jerry, who'd been rescued from a Romanian zoo. Since their arrival, Maggie, Sonja and Jerry have happily lived in the same enclosure together, according to Holford.
Maggie, Sonja and Jerry enjoying life together

| Born Free Foundation
"Though they can never been released into the wild, they live in a large, natural enclosure in their ancestral home of Africa," Holford said. "A lifetime away from the cramped and squalid conditions they endured at the circus."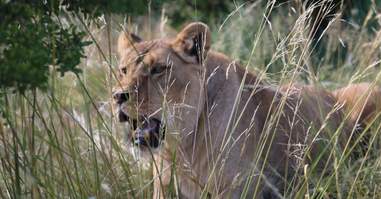 Born Free Foundation