30 Rescued Circus Lions Are On Standby For A Flight Out Of Peru
<p><a class="checked-link" href="http://www.ad-international.org/">Animal Defenders International</a></p>
In an undisclosed location just outside of Lima, Peru, a pride of rescued circus lions is awaiting their new lives at a sanctuary. But first, they have to take a cross-continental flight to get there.
Peru passed a piece of groundbreaking legislation in 2011 that would end the use of wild animals in circuses. Soon, the country's circuses will be free of exotic animals in cages - but getting the animals out is easier said than done.
It was a landmark ban for a country where animal welfare standards are notoriously poor. The official ban doesn't go into effect until December, but many circuses are relinquishing their animals sooner.
One massive undertaking in the country is aiming to round up all of the circus lions in the country so they can be shipped to a sanctuary. So far, rescuers with Animal Defenders International (ADI) have collected a group of twelve lions at a holding center in Peru, and nine lions in custody in Colombia.
They've been hopping from circus to circus, gathering lions in large crates from circus owners, some of whom are less than happy to give up their animals. As ADI Campaigns Director Tim Phillips told The Dodo, many of the lions are being relinquished by circus owners in expectation of the impending ban.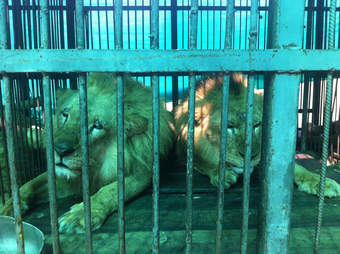 First, undercover agents are sent to scope out circuses and find out whether there are exotic animals - and if so, how they're being kept. Then, if there are lions at a given circus, Phillips and his team work with the owners to remove the lions and drive them across the Peruvian hills, sometimes for days at a time.
One time, they drove over the longest continental mountain range in the world.
"Peru is a vast country - bigger than Texas and California combined," Phillips told The Dodo. "In one trip, we drove three groups of lions in trucks over the Andes Mountains. It's all very logistically taxing."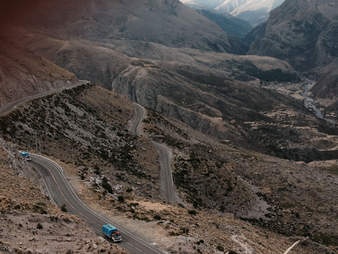 Now, the 21 rescued lions are recovering from their lives in the circus at rescue centers, awaiting the others who will join them. They're receiving food, veterinary treatment, and even - as much as is possible in their temporary homes - enrichment. Staff even give them soccer balls to play with (though they're usually popped within a few days).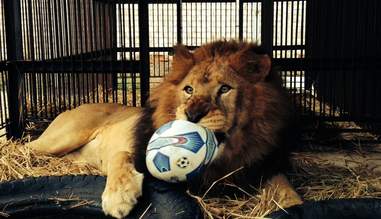 Now, the efforts are turning toward gathering the last few lions - ADI expects a grand total of around 30 - and moving the animals to the Wild Animal Sanctuary, a 720-acre plot in Colorado. The feat involves constructing crates for each lion in Peru and then loading them all into one plane.
"It's a $300,000, 3,000-mile journey," Phillips said. "When you're in the aircraft and they start to roar, its nearly deafening in there. The pilots sometimes look a little scared."
Phillips says that the operation should provide an example of how NGOs can work with governments that have little enforcement power to help animals.
"One of the huge problems with animal protection is enforcement," he said. "And the places where protection is most needed are often the places with the least resources to enforce it. We're setting a gold standard for how NGOs and government collaboration can work: radical animal protection measures are actually possible."
Once they're settled in Colorado, the lions will join prides of other lions, some of whom were rescued through similar operations in Bolivia. The grass at the sanctuary is already being seeded for their arrival.