What is the link between birds and people in Rwanda?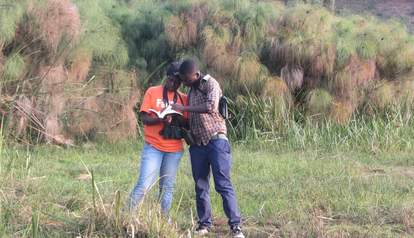 Linking livelihoods and biodiversity is key to sustainable conservation for Rwanda's Rugezi Marsh Key Biodiversity Area.
A recent bird guide training for nine youths at Rugezi Marsh is expected to go a long way in developing the trained youths' capacity to participate in community-based ecotourism, one of the non-extractive livelihood projects being promoting to reduce pressure on the Rugezi Marsh, a breeding site for two globally endangered species, the grey crowned crane and the Grauer's swamp warbler.
With support from the Critical Ecosystem Partnership Fund through its investment in the Eastern Afromontane biodiversity hotspot, the Endangered Wildlife Trust is building community and national partners' capacity for sustainable conservation financing at the Rugezi Marsh. This involves improving the technical skills of community-based groups and partners to sustain conservation efforts aimed at mitigating human-induced degradation of the wetland.
The project will improve technical and management skills, enabling community groups to run viable alternative livelihood projects; develop business plans for ecotourism, beekeeping and craft-making projects; change environmental attitudes and behavior toward the wetland and species of conservation importance; and identify local and regional markets for ecotourism, beekeeping and craft-making businesses.
Read more about the recent bird guide training.
Established in 2000, the Critical Ecosystem Partnership Fund (CEPF) is a global leader in enabling civil society to participate in and influence the conservation of some of the world's most critical ecosystems. CEPF is a joint initiative of l'Agence Française de Développement (AFD), Conservation International, the Global Environment Facility (GEF), the Government of Japan, the John D. and Catherine T. MacArthur Foundation, and the World Bank.