Having founded the Indian animal charity, Tree of Life for Animals (TOLFA) 10 years ago, Rachel Wright, British Veterinary Nurse, had seen some pretty horrific sights, but the day TOLFA rescued three puppies that had been attacked with acid shocked her to the core.
Watch the one-minute film to see Lilly's story unfold.... LILLY'S VIDEO
The pups who were around 3 months old had, like thousands of other dogs, had been born on a street in the city of Ajmer in Rajasthan where their best chance of survival was to try and live in harmony with the humans around them. We can only speculate why on the 30th June 2015 someone decided the innocent pups were no longer welcome and took the horrendous step of throwing acid over them. Thankfully a good, dog loving Samaritan – of which there are many in India – called TOLFA as soon as they saw the pups in distress.
Day 1 - Lilly is admitted to the TOLFA Animal Hospital for emergency treatmentwww.tolfa.org.uk
When they reached TOLFA they were in a deeply shocked state and the acid was still eating into their skin. The first course of action was to wash off as much of the acid as possible and treat the severe burns all three had sustained.In spite of the intensive care they were receiving two of the pups lost their lives early on which left only one female pup that the staff of TOLFA named Lilly. Lilly's wounds were severe and the burns extensive, but just as worrying was Lilly's state of mind; she had completely 'shut down' emotionally; and for obvious reasons wanted to avoid all human contact.
Day 7 - Lilly's wounds start to heal but her heart is still brokenwww.tolfa.org.uk
Before that terrible day Lilly would have been like any other puppy you have ever had the joy to meet; cute, friendly, funny; and in her young innocence having complete faith in human kindness. But her faith had been shattered the day she was attacked and replaced with the notion - humans cause pain and agony and cannot be trusted. "In 10 years, I have never seen such an abhorrent case of deliberate cruelty to a puppy." Rachel told us.
Day 21 - getting physically better day by day but Lilly still does not trust humanswww.tolfa.org.uk
Throughout the six weeks of intense medical treatments it took for Lilly's burnt, broken body to mend she sat at the back of her kennel completely unresponsive and unreachable, literally drowning in sadness. Rachel and her team of soft hearted Indian staff were working with her every day gently trying to break down the walls that the deep trauma had made Lilly put up but nothing and no one could reach her. It seemed that at just a few months old she was destined to a lonely life inside her own dark world.
But then, one morning two months after Lilly was rescued Rachel was making her normal checks on the 300+ animals in TOLFAs care when she stopped at Lilly's kennel to talk to her and that's when it happened... even though she didn't look up the very tip of Lilly's tail wagged.
TOLFA's founder Rachel spends time with Lilly, showing her love and gaining her trustwww.tolfa.org.uk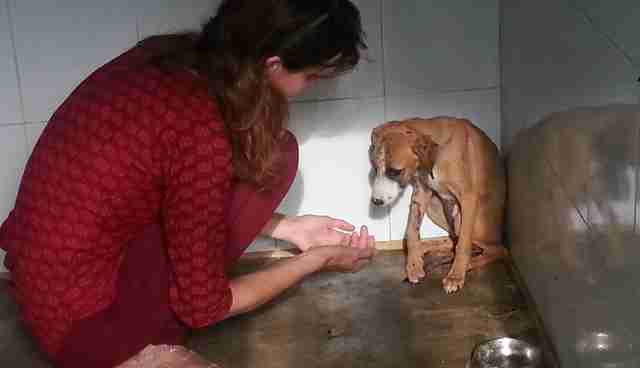 Rachel told us "These are the tiny miracles, the moments that keep us going and lift us up through the exhaustion and emotional turmoil of running such a busy rescue hospital." It took another month of quiet love, kindness and trust building before Lilly would really begin come out of her shell and even to this day she is still wary of strangers, but with a lifelong home at TOLFA Lilly's journey will continue; From Cruelty to Kindness.
Watch the one-minute film to see Lilly's story unfold.... LILLY'S VIDEO
Now - Lilly still has the scars from her attack but now she's found love and security at TOLFAwww.tolfa.org.uk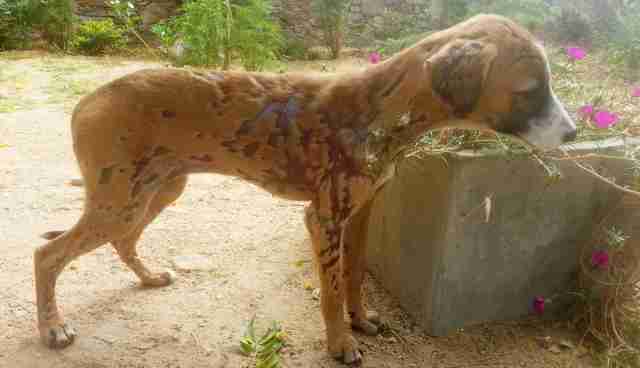 For more information about TOLFA's life-saving work with India's animals, and to donate to help us save more, please see our website - www.tolfa.org.uk