Seraphina the tabby cat is waiting for a forever family, so she knows what it's like not to have a home. Maybe that explains why she was so willing to care for two newborn Rottweiler puppies whose own mom rejected them.
Willow and Wyatt, the little Rottie pups, were born at the Humane Society of Iredell in Mooresville, North Carolina. When their mom stopped caring for them, workers weren't sure what to do, as caring for and bottle-feeding newborn pups is a round-the-clock job. That's when Lori Root, the shelter's director, had the wild idea to see if Seraphina the cat would nurse the orphaned pups.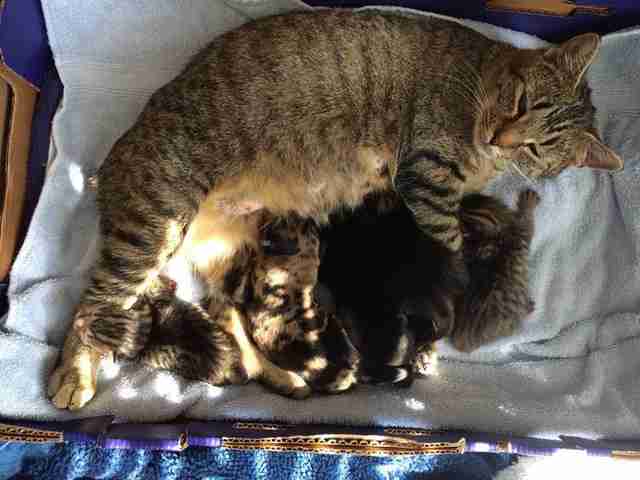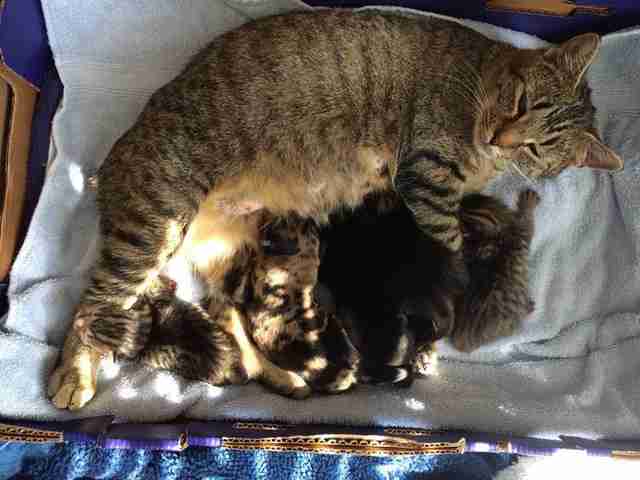 Seraphina, also in the care of the Humane Society, was living with her newborn kittens in a nearby foster home. Root wasn't sure if she would accept the puppies, but to her surprise, Seraphina immediately began to nurture them like they were her own. "It was meant to be," she told the Statesville Record and Landmark.
The puppies will likely outgrow their surrogate mom pretty quickly, and they're still getting supplemental feedings from their human caretakers as well. But thanks to Seraphina, Willow and Wyatt will get the chance to know what it's like to have a loving mom.
Seraphina, her kittens and the puppies will eventually be up for adoption through the Humane Society of Iredall. For now, they'll remain one big, happy interspecies family.
For more inspiring stories like this one, check out this list of interspecies animal adoptions.