Dog Found On Freeway Gets Blood Transfusion From Rescue Greyhounds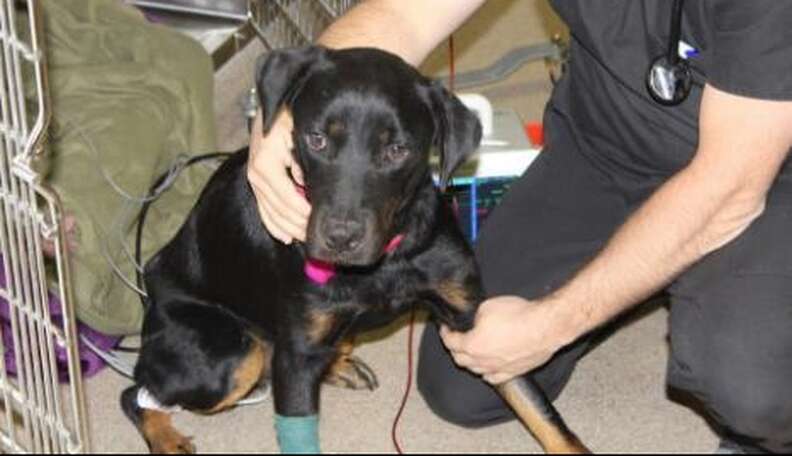 <p><em>Jessica Peralta</em><span></span></p>
Destiny, a young Rottweiler mix who was rescued from the center divider of a California freeway, lay meekly in her kennel as canine blood was transfused intravenously into her front right paw.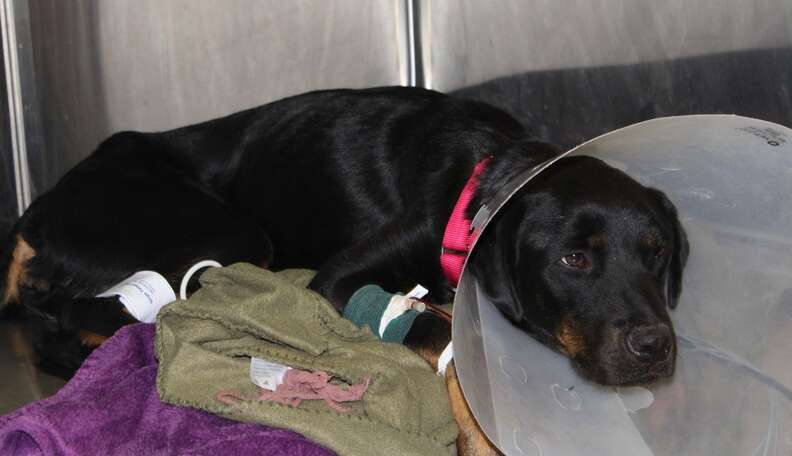 She was in serious kidney failure and suffering from severe anemia when she was brought into University Veterinary Center in Anaheim, according to her veterinarian, Dr. Ash Hakhamian.
"[Her kidney values] were so high, they were not registering on the machine," Hakhamian told The Dodo.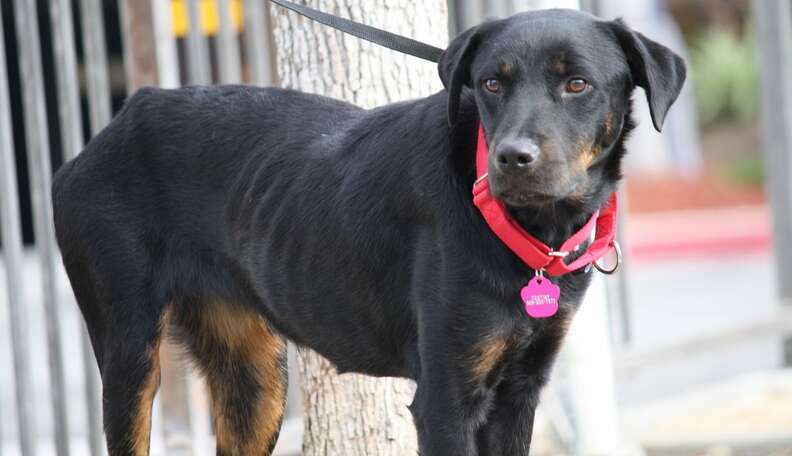 Hakhamian immediately treated Destiny when she was brought in around midnight on July 31 with fluids and other emergency measures. During her time at the clinic, she has shown improvement with other supportive treatment measures and a strict feeding regimen, but she is far from out of the woods, he said.
Her latest bloodwork showed her red blood cell count at 14.7 - normal for the test is in the 37 to 61 range.
"She's not out of the danger zone," Hakhamian said.
To help keep her alive, Hakhamian ordered blood from nearby canine blood bank Hemopet in Garden Grove. The nonprofit facility supplies 40 percent of the U.S.'s commercial canine blood for transfusions, according to its founder, renowned veterinarian and researcher Dr. Jean Dodds.
Hemopet, which has been providing lifesaving canine blood and plasma to dogs across the country since 1991, is sadly under threat of shutting down. A state senate bill (SB-898) would exempt future sale of animal blood and related products from sales tax, but would also allow collection of about $81,000 of prior sales taxes from Hemopet, according to Dodds - which would deplete the organization of funds so completely it would need to close.
As a nonprofit canine blood bank, Hemopet fell under older tax exemptions for blood banks, according to Dodds, and the proposed amendment would require Hemopet to pay back taxes for years before this new law would be enacted.
Hemopet blood is currently used to treat instances of poisoning, snake bites and parvovirus, to name a few; plasma is often used to feed orphaned puppies. Hemopet provides blood to 493 animal clinics and 149 breeders in California alone, according to the group.
"It will affect dogs throughout the country that need emergency or preventative blood product transfusions for a medical reason, if a severe shortage became a reality, if Hemopet was forced to close," Dodds told The Dodo.
The closing of Hemopet would also displace 200 rescue greyhounds who serve as donors for the blood bank (while they are up for adoption) and currently live at the expansive facility, and cut the jobs of 45 employees. Hemopet is asking the community for support via letter-writing to state Congress, donations (Hemopet closed 2015 at a financial loss) and helping spread the word.
For dogs like Destiny, a shortage in canine blood supply could literally mean the difference between life and death.
"It's gonna affect our ability to help all these dogs," Hakhamian said of all the rescues currently under his care for various serious conditions. "It's gonna affect our ability to practice high-quality medicine."
If you'd like to help, you can donate to the UVC Homeless & Shelter Pet Fund to help support Hakhamian's practice, which treats pets in need like Destiny. Hakhamian pays for their treatments at his own expense and with the help of public donations.
You can also donate/hemopet-potential-closure/ca-residents.html">write letters to California state legislators and donate to help save Hemopet. A draft letter is available on Hemopet's website; letters should be sent to charlesberman@hemopet.org and not directly to state lawmakers.