'Life Of Pi' Trainer Filmed Allegedly Whipping Young Tiger
"I like hitting him in the face," the trainer says.
The trainer is Michael Hackenberger, co-owner of the Bowmanville Zoo in Ontario, Canada, and an animal trainer for many popular shows and films including "The Interview" and "Life of Pi." In a video released by PETA on Tuesday, Hackenberger is shown viciously whipping a young tiger to force him to perform.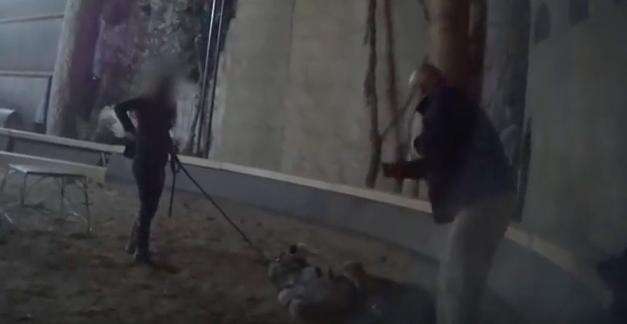 In the footage, which was taken during a training session earlier this month, a young male tiger named Uno lies on his back cowering as the trainer hits him up to 19 times with his whip. Hackenberger also shouts curses at the frightened animal, at one point appearing to hit him on his hips.
Later, he appears to whip the tiger in the face while the cat sits patiently on a stool.
"I like hitting him in the face," he says afterwards, explaining that he particularly likes to hit the tiger on his paws when he's standing on rock. "The beauty of the paws being on the rock, when you hit him, it's like a vice."
"It stings more!" he adds, chuckling gleefully.
WARNING: Video contains disturbing content and harsh language.
The video then jumps to a shot of Hackenberger appearing to beat the tiger yet again, this time on his outstretched paw.
Hackenberger has a history of disgusting behavior. Back in August, The Dodo covered his appearance with a trained baboon on a Toronto morning show. He forced the baboon to ride a mini horse; when the baboon fell off, Hackenberger yelled, "Fuck you, you cocksucker."
To complicate the situation, the zoo that Hackenberger owns, the Bowmanville Zoo, is accredited by Canada's Accredited Zoos and Aquariums (CAZA), one of the country's top accreditation groups and a name that lends a certain legitimacy to the facility.
A lion is trained to perform at Bowmanville Zoo. Facebook/The Bowmanville Zoological Park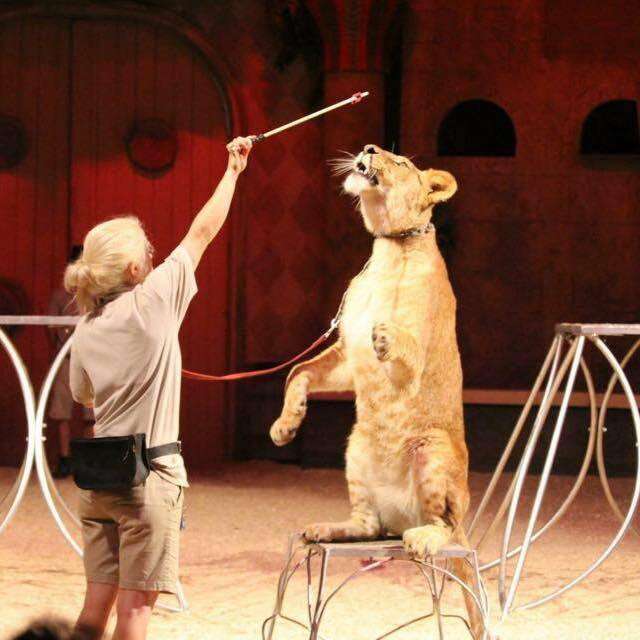 Brittany Peet, deputy director of captive animal law enforcement for the PETA Foundation, told The Dodo that the footage was taken by a volunteer at the zoo. "These are the zoo's animals," she explained. "The abuse ... was recorded in an auditorium that's on the zoo's property."
She added that Hackenberger has admitted to using the money he earns from abusively training animals to pay for the zoo's other operations, and that he and the zoo were already on probation with CAZA for an unknown violation. The zoo also offers cub petting experiences, according to its website, a controversial practice that almost always involves abuse.
"Any facility that is owned by a person that would violently whip a tiger up to 19 times, and would say he enjoys whipping a tiger in the face, has no business working with animals," Peet said. "Period."
A jaguar is made to pose for a photo, apparently on the set of the TV show "The 100."Facebook/The Bowmanville Zoological Park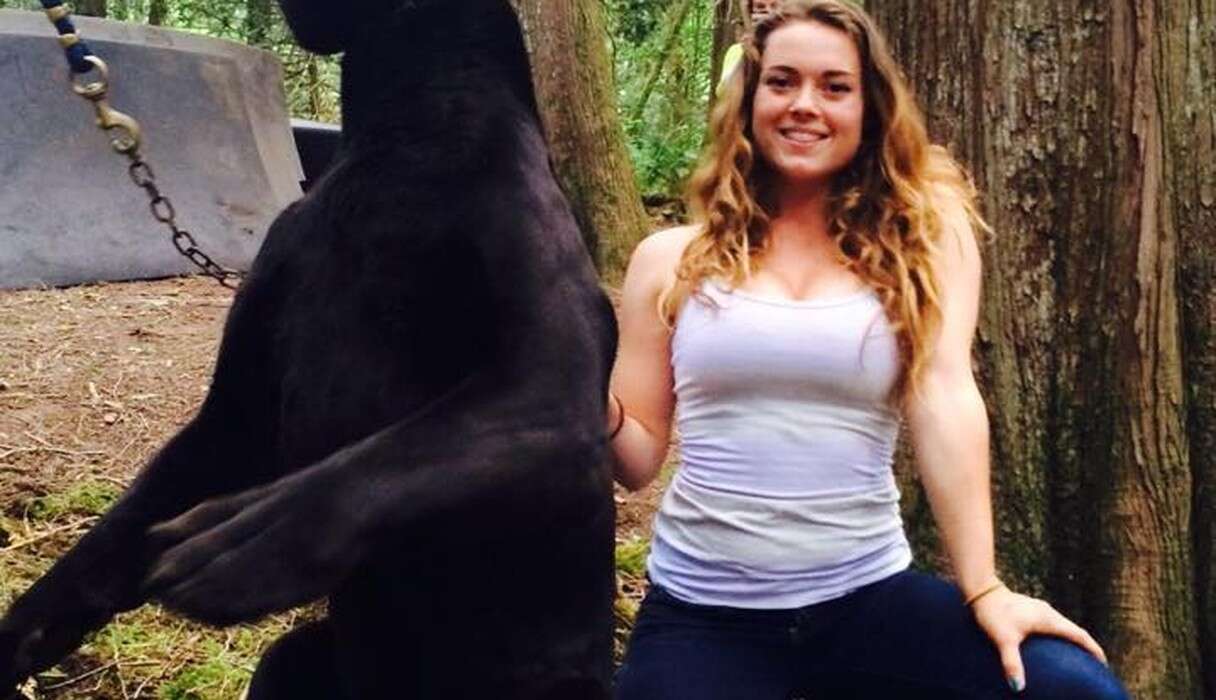 Yet while the video has prompted widespread outrage, and garnered international media attention, Hackenberger seems unfazed, and released a half-hour-long defense of his actions on the zoo's official YouTube channel on Monday.
In it, he justifies his training methods by saying he only hit the tiger twice, and that he was just cracking the whip to scare the tiger.
But the footage throws his account into question. At one point in the video Hackenberger, apparently panting from exertion, walks up to where the camera person sits, seemingly in response to questions about why he was hitting the tiger.
"He's prepared to go to more trouble to not do it, and that's why I got on him as hard as I did," he says. "You want to fucking go on the ring, Herb?"
Lions on leashes at Bowmanville Zoo.Facebook/The Bowmanville Zoological Park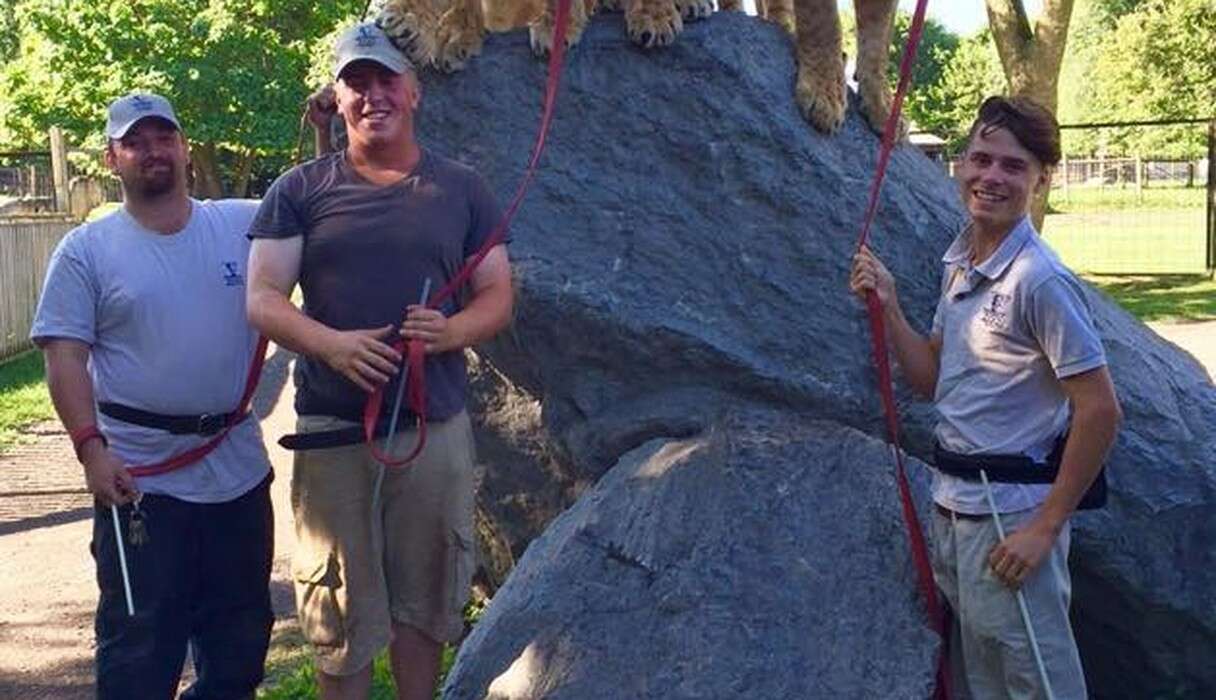 He also, as noted above, talks extensively about how he enjoys hitting the tiger, and jokes that, if a montage of "the times I struck this animal" were released, PETA would "burn this place to the ground."
Of course, a tiger also wouldn't be afraid of a whip unless he had been extensively beaten in the past.
Peet said that the abusive training methods shown in the video are anything but rare.
"They physical abuse of tigers and other wild animals who are used for films and shows is standard practice," she said. "Animals who are forced to perform are undoubtedly subjected to abusive training methods to force them, out of fear, to perform."
So while the video is shocking, it's also a sad look into the standard training methods used on big cats who perform in film and television or circuses.
Michael Hackenberger uses a days-old lion cub in a publicity stunt for Bowmanville Zoo.Facebook/The Bowmanville Zoological Park
Susan Bass is the PR director for Big Cat Rescue (BCR), a Florida-based cat sanctuary that has rescued many cats from so-called trainers and life in the entertainment industry. While Bass called the Hackenberger footage "unbelievable," she said the brutal whipping is standard for the industry.
"In order to train a cat for a circus act like that ... it has to be done with fear and pain," Bass explained. "They're either going to use whips like they did in that video, or they sometimes use tasers electrocuting the cats, and it's all fear-based."
"And once the cats have been quote-unquote trained to perform, even when the trainers are in the arena with the cats years later, it's just the fear of seeing that whip or electric cattle prod in the trainer's hand that makes them perform," she added.
Bass would know; BCR has rescued several big cats with severe psychological and physical damage from being trained. "We, years ago, rescued a black leopard, and in order to train him the owner had hit him in the head with a shovel," she said. "Repeatedly. To the point that he damaged his eyes and skull."
A tiger cub posed for a Christmas photo at Bowmanville Zoo.Facebook/The Bowmanville Zoological Park
Sassyfrass, a male cougar who currently lives at BCR, was also beaten with a shovel.
"Just look at a domestic cat," Bass explained. "They're going to do what they want to do when they're going to do it. Anytime you want a cat to be 'on' - in a 'show must go on' kind of thing - there's no way you're going to get that cat to do what you want them to do without that type of fear and training."
Of course, while the video raises much bigger questions, Peet is still hoping that the footage can make a difference in the lives of Hackenberger's animals.
CAZA promptly launched an investigation into Hackenberger and the Bowmanville Zoo, and may remove Hackenberger's accreditation. The footage has also been turned over to the Ontario SPCA, which has the power to charge Hackenberger with animal cruelty and remove Uno from his care.
"The jig is up on Michael Hackenberger's violent animal abuse," Peet said. "He was caught on video viciously whipping a young tiger in the face, who was cowering on his back out of fear."
A lion cub is trained to perform at Bowmanville Zoo.Facebook/The Bowmanville Zoological Park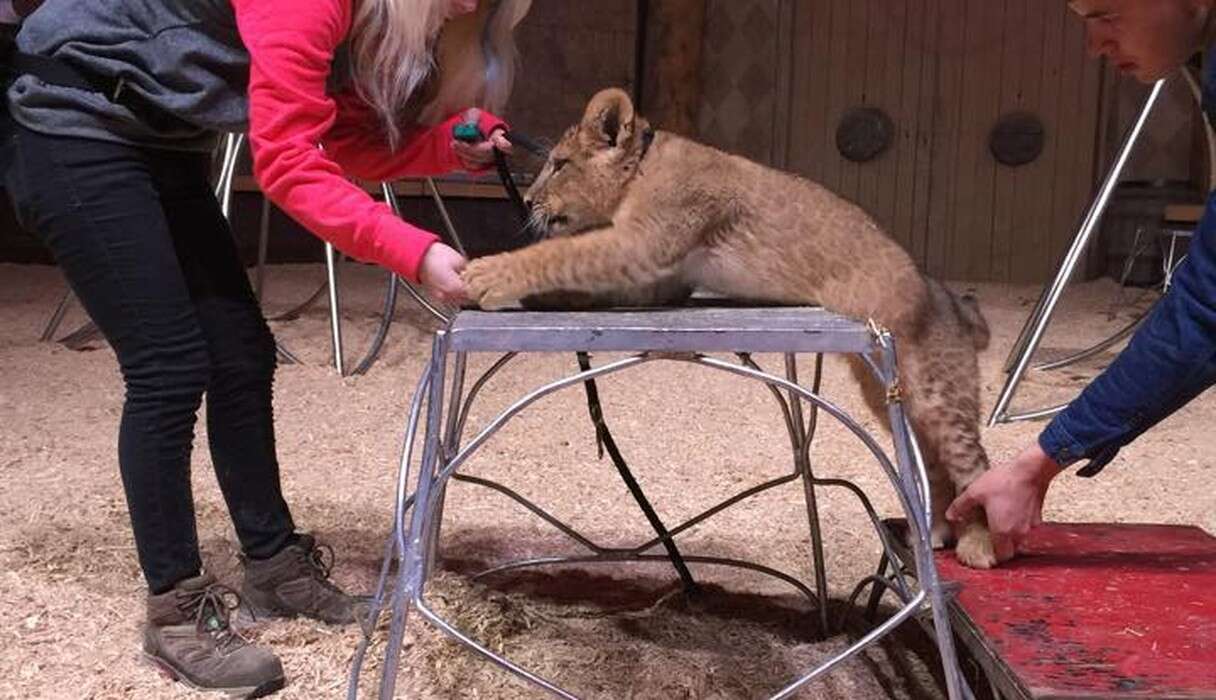 "They're terrified," she said of his animals.
If you'd like to help, the best way is simple: Avoid any shows or movies that use trained exotic animals. You can also contact CAZA and the Ontario SPCA and ask them to take action against Hackenberger.
If you'd like to help cats who have been rescued from similar situations, you can make a donation to Big Cat Rescue.