For many years -- two hundred and thirty eight, to be exact -- Americans have been trailblazers. Independence Day celebrates the original trailblazers, our "founding fathers," for giving us the freedom to speak out and stand up for what is right.
Of course, the message gets lost in the fireworks, and perhaps more notably, the BBQs. So this year, here's my own spin on our annual holiday! I celebrate not only the freedoms we have as Americans, but I also celebrate the courageous few who fight for the rights of those truly oppressed in our country -- the many who will die for this 4th of July celebration -- I'm talking, of course, about non-human animals.
At Catskill Animal Sanctuary, pigs not only have freedom they also have best friends.
At Catskill Animal Sanctuary, we do all we can to spread the message that not just humans, but all species are also worthy of the basic freedoms Americans have been awarded: the right to life, liberty and the pursuit of happiness. Thankfully, CAS has many friends who work just as tirelessly as we do to promote this same sentiment. I tip my (red-white-and-blue party) hat to the following courageous five who go against the grain every day of their lives for what they know is right.
Jasmin Singer and Mariann Sullivan
I count these lovely ladies as one entity only for the sake of space! However, the work they do takes the will of at least 10 average gals. Superheroes, that's really who they are -- wonder women who spend day and night over at Our Hen House, their non-profit multimedia powerhouse, recording podcasts, writing articles and filming their TV show all dedicated to educating the masses about the plight of non-human animals and empowering us all along the way. How they do it all, given the fact that Mariann is also an animal law professor and Jasmin is writing a book? It's beyond me, but I am eternally grateful nonetheless.
If it weren't for Mercy For Animals' work, founded by the inspiring Nathan Runkle, I wouldn't be doing what I do today. Years ago, I was handed a brochure that read "Why Love One But Eat The Other" on the front. That brochure changed my life forever, and even led me to take an internship with MFA! I have seen first hand MFA leaflets and videos, like Farm to Fridge, change the lives of countless others as well. Nathan started Mercy For Animals at the age of 16 (!) and has led it to be one of the most respected farm animal advocacy organizations ever built. MFA's undercover investigations have been featured on every major news outlet you can think of, opening the eyes of millions to what really goes on behind the scenes at slaughterhouse -- total horror -- and creating vegans and activists in the process.
Sharon Gannon and David Life are another amazing duo, who have created an institution that has changed a multitude of lives. For those out there who do not know of this pair, Gannon and Life created the Jivamukti Yoga Method -- "a path to enlightenment through compassion for all beings." The core philosophy of Jivamukti Yoga is expressed through five tenets, one of them being Ahimsa. Ahimsa, "[a] nonviolent, compassionate lifestyle extending to other animals, the environment and all living beings, emphasizing ethical vegetarianism (veganism) and animal rights," -- whether you practice yoga or not -- is a message of peace we should all strive for. Through their unique approach to yoga, Gannon and Life have influenced many individuals who have walked through their doors since 1984 to adopt a compassionate lifestyle, and have in the process saved the lives of an incalculable number of farmed animals.
It's impossible not to mention Wayne Pacelle when making a list of those fighting for freedom for non-humans. Wayne Pacelle is the President and CEO of the Humane Society of The United States, the nation's largest animal welfare organization. I had the pleasure of taking a graduate class with Wayne, "Animals in the Economy," that was one of the most educational and inspiring classes of my life. How he had time to teach a grad school class is beyond me, but that's why he is so inspirational. Wayne -- who has gotten more than 500 new state laws and 25 federal statutes passed that help protect non-human animals since 2005, like the hugely important victory eliminating an amendment proposed in the 2013 Farm Bill that would have nullified many state farm-animal protection laws -- knows the importance of creating more educated activists so that exponentially more non-human animals will someday enjoy the freedom they deserve.
My Boss: Kathy Stevens
Kathy Stevens created Catskill Animal Sanctuary, a haven that has opened the hearts and minds of millions to who farmed animals are when allowed to thrive. Kathy's motto is "In the ways that truly matter, we are all the same." Many would never realize this to be true if it weren't for experiencing these beings in person, or via our Flickr images or YouTube videos. When a pig welcomes a big hug, a sheep nuzzles her face into your palm, or a cow licks your face, those individuals change your view of them forever. Without Kathy's tireless efforts to spearhead the running of one of the nation's most successful sanctuaries, not only would over 3,000 innocent beings not have been saved, but millions of other farmed farmed animals would not have been saved by all the vegans Kathy has helped create. Somehow, Kathy has found the time in her hectic schedule to write two highly-praised books, and is also a regular blogger for the Huffington Post.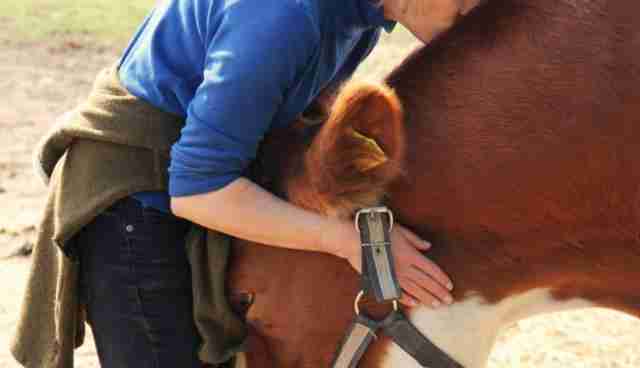 Kathy Stevens' and her good friend Tucker, who wants nothing but love and affection.
So, this 4th of July, celebrate with a Field Roast hot dog, a Gardein burger, some Vegenaise potato salad or any of the thousands of dishes you can find by simply Googling "vegan recipes." Or, I'll make it even easier for you: check out our very own Chef Linda's amazing recipes, which are part of CAS' Compassionate Cuisine program. If you need inspiration, there's no better speaker on the issue than Kathy Stevens. If you're going to celebrate freedom this 4th, celebrate it for everyone -- for humans and non-humans -- by going vegan. And to those of you who already have, and those mentioned above, thank you. Happy Independence Day, America!
Happy 4th of July, everyone!