Puppy Who Wasn't Supposed To Survive Gets His Very First Blanket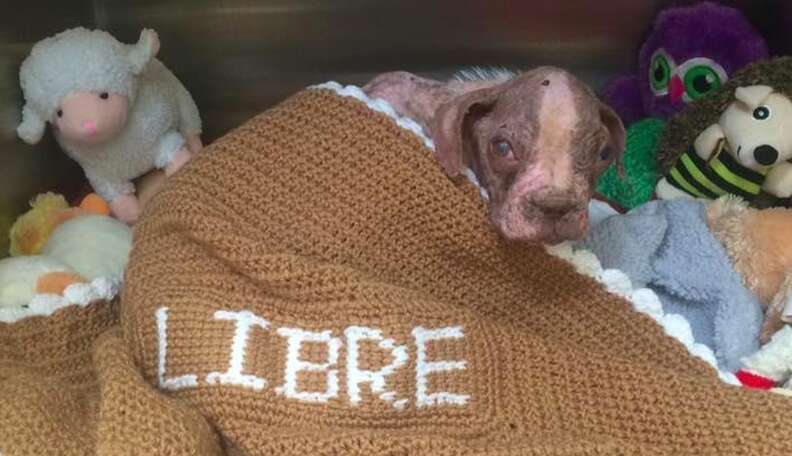 <p><em>Dillsburg Veterinary Center</em><span></span></p>
One puppy has defied all the odds - and continues to grow stronger each day.
Libre was first found emaciated and clinging to life in Lancaster, Pennsylvania, on July 4. He lived on a farm where he was under the "care" of a breeder. Libre ultimately came into the care of Speranza Animal Rescue after the horrifying extent of his condition was uncovered by a woman who saw the pup and sent a photo of him to the rescue group. The breeder surrendered Libre and, from there, the woman was instructed to take Libre to a veterinarian.
WARNING: Some of the following images are graphic.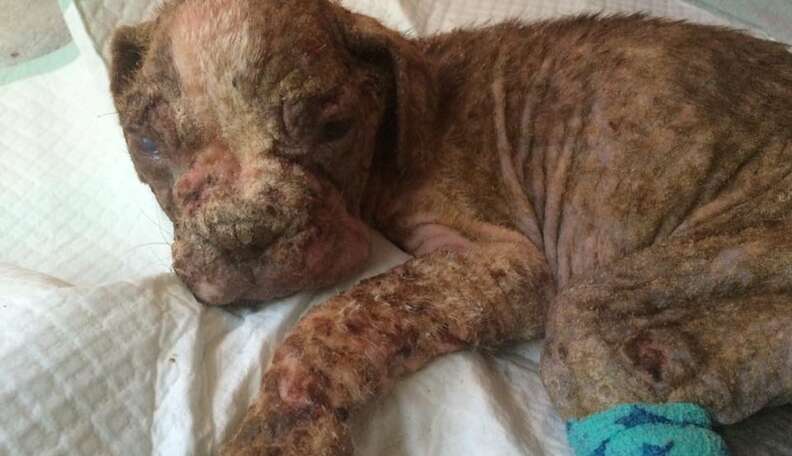 Doctors assumed that the rescue wanted to let Libre go, and said the puppy would need a miracle to recover. The rescue believed in him, however, and stuck with its decision to support Libre, whose name means "free."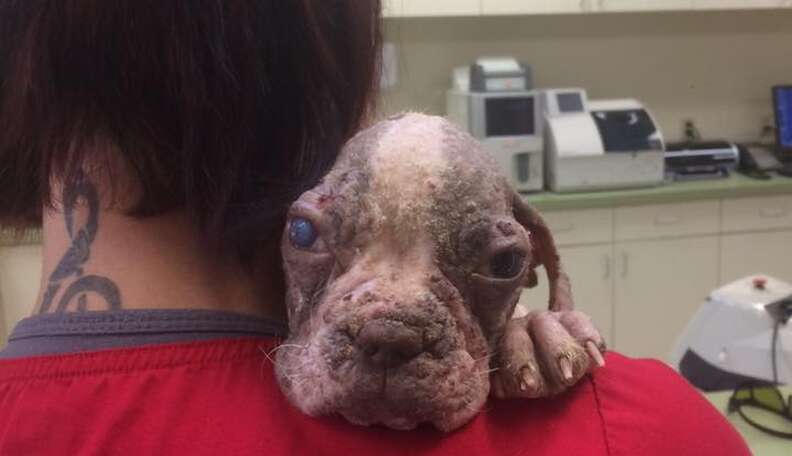 "If he didn't have the will to live, he would have died a week ago," the rescue wrote on Facebook. "He deserves a shot at having a life. He deserves that shot at being a normal dog someday."
Libre managed to survive his first night and was then transferred to the Dillsburg Veterinary Center, which often works with Speranza Animal Rescue, to continue his healing.
Under the care of the veterinary center, Libre's open wounds and infections were treated with antibiotics. The maggots were flushed out of his skin and he started laser therapy to assist with treating his mange. He even managed to lift his head up and eat his wet food eagerly when hand-fed.
Despite taking steps forward, Libre was far from being out of the woods. His progress was met with worrying setbacks, like fluctuations in his white blood cell count and body temperature, and a refusal to drink on his own. He was depressed and listless, the veterinary center said in its updates.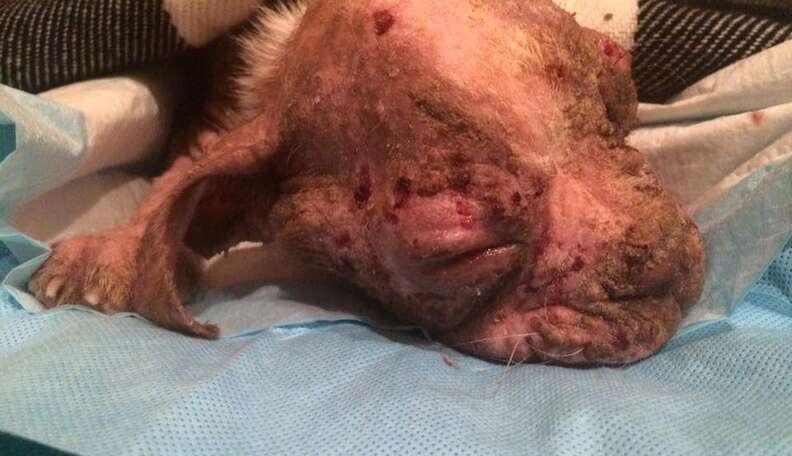 But Libre refused to give up. He began to not only sit up on his own, but stand on all four feet - for seconds at a time, at first, and then for longer.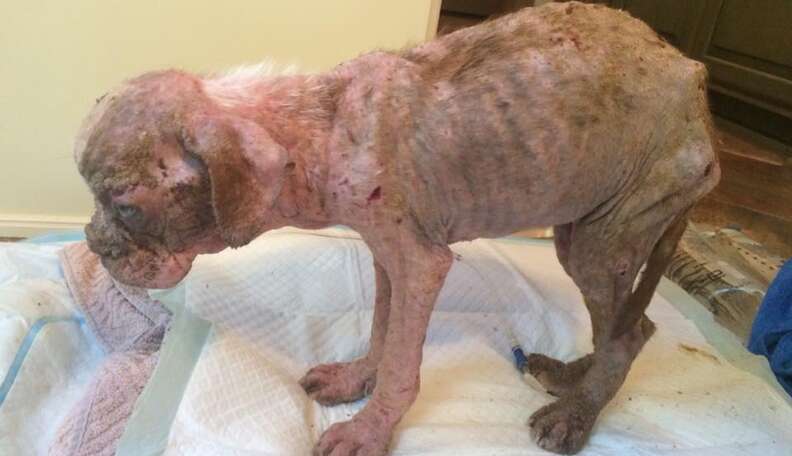 As Libre became more active, he started to put on much-needed weight as well.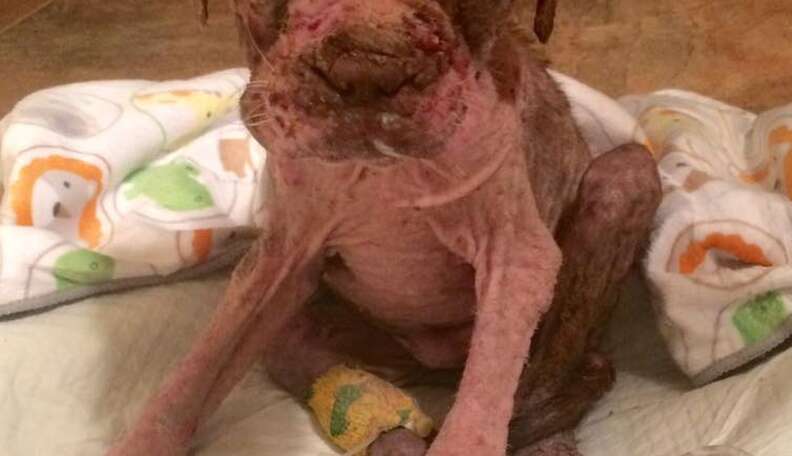 As Libre's story spread through the Internet, an overwhelming outpouring of support followed in the form of donations, care packages, letters, toys, prayers and even a blanket with his name stitched on it.
With so much love and support behind him ...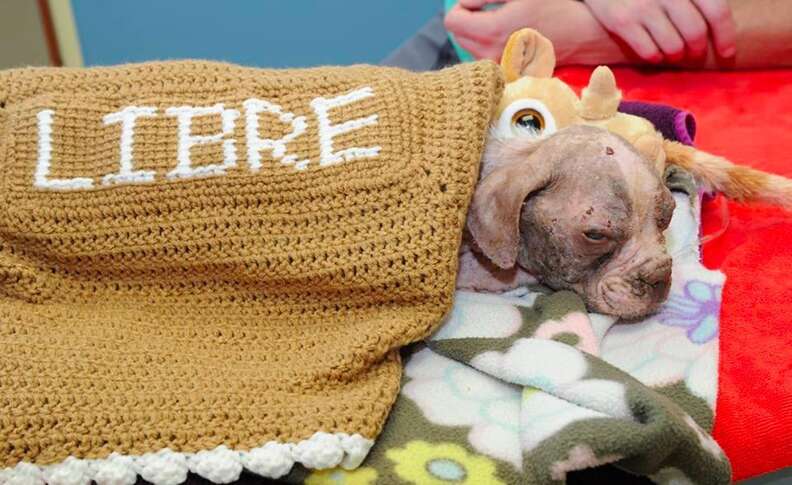 ... Libre continued to get better, to the point where he's now able to walk and loves nothing more than being outdoors, engaging and exploring the world for the first time.
A vet technician at Dillsburg told The Dodo that Libre is a "very sweet" dog who's quite mellow for a puppy - and is doing extremely well now compared to when he first came in.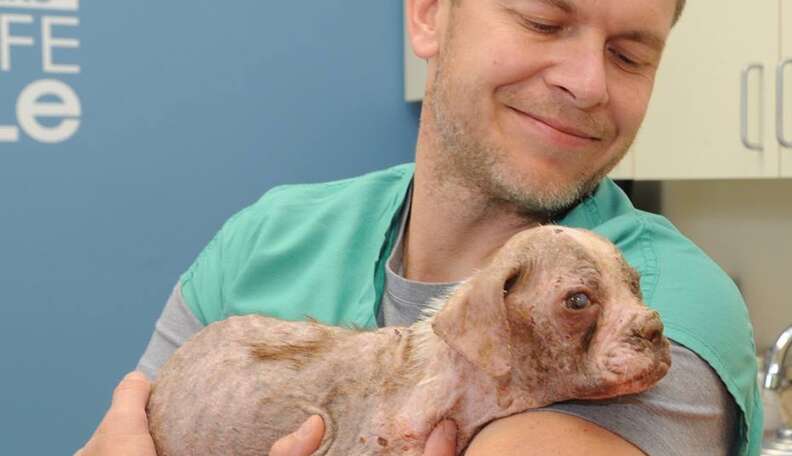 The technician said that it would be a couple of months before Libre is deemed 100 percent healthy and ready to move on to the next phase of his life - finding a good foster family and, eventually, a forever home.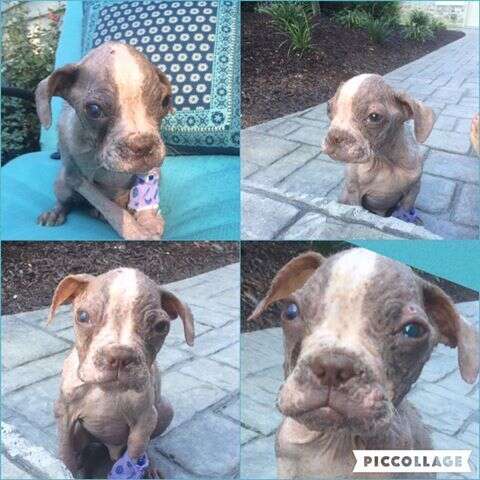 According to the Lancaster SPCA, Libre did have veterinary care before his rescue, but was not responding to his treatments. His breeder claimed that Libre's health declined sharply 24 hours just before he was rescued.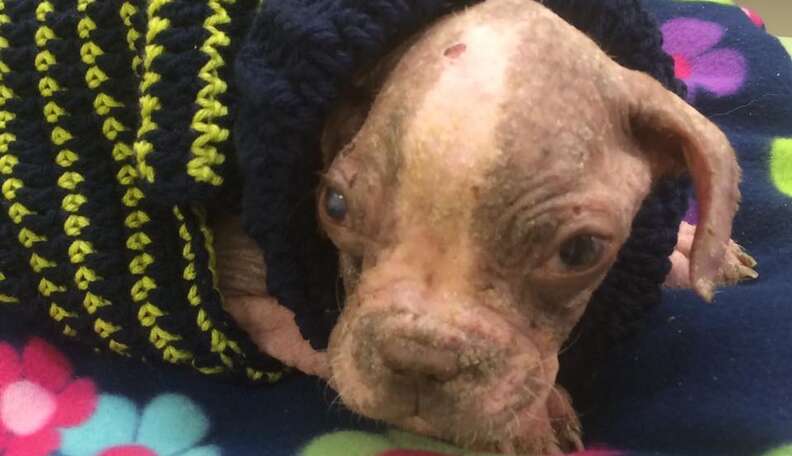 "Because the breeder was working with a veterinarian and it was confirmed that the dog was under vet care at the time it was taken by the rescue, the SPCA cannot prove beyond a reasonable doubt that he was willingly wanting to cause harm to the puppy," the Lancaster SPCA said in a press release, much to the disappointment of Libre's supporters who have since been protesting and calling for the resignation of Susan Martin, the SPCA's executive director.
Despite the failures of Libre's breeder to see to his recovery, the 4-month-old puppy is now thriving in the hands of people who want nothing more than to see his him get the happy ending he deserves.
"I wake up shedding tears for you," Janine Guido, founder of the rescue, wrote on Facebook days after Libre's rescue.
"Thinking of you lying alone to die a lonely death, hurts me more than words can describe," she wrote. "But please know this. You are no longer alone. You have a whole village behind you. You have brought tears to thousands of people."
Guido continued, "I catch myself dreaming of you running around someday. With a wagging tail. With a smile on your face. And with a light in your eyes."
Interested in helping with Libre's medical costs? You can either make a donation to Speranza here or contact the veterinary center caring for him at 717-432-7031 to donate directly to his medical fund.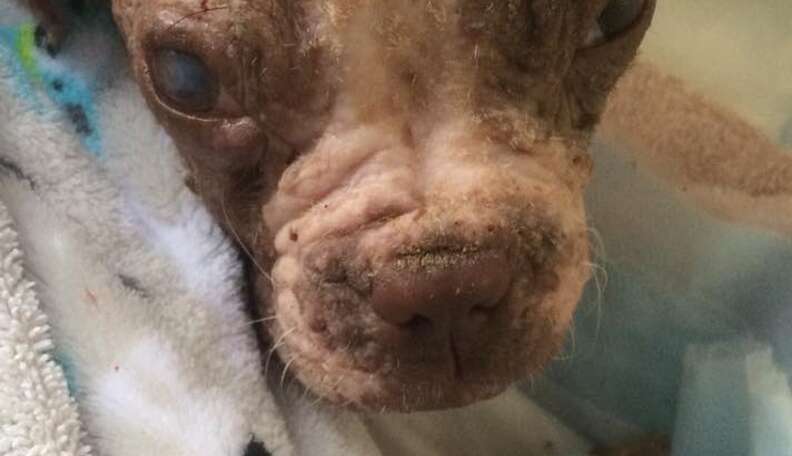 Watch this video about Libre's incredible journey so far: