Photos Reveal Islands Full Of Chimps Abandoned By Americans
<p> Agnes Souchal, for The Humane Society of the United States<span></span><br> </p>
Sasparilla, Teta, Brutus, Mallak and Comfort.

These are just some of the 66 chimps that have been all but abandoned at a chimp sanctuary in Liberia, Africa - in a move that some are calling "disgusting."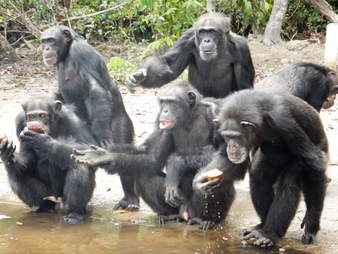 Agnes Souchal, for The Humane Society of the United States
On Friday, The New York Times printed an explosive story about the New York Blood Center's (NYBC) decision to terminate its care for former research chimpanzees in Liberia, Africa. The chimpanzees had been used since the 1970s for research associated with hepatitis.
A decade ago, NYBC and its contractual partner, the Liberian Institute for Biomedical Research (LIBR) released the chimps to a string of six islands. The primates are fully dependent on humans for survival and NYBC has been providing care for the chimps financially and operationally.
But NYBC announced it was ending that effort as of March 5.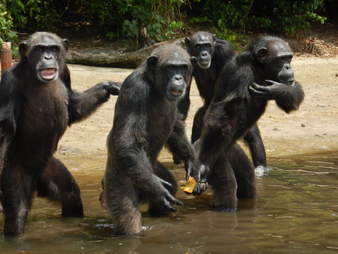 Agnes Souchal, for The Humane Society of the United States
Famed primatologist Jane Goodall penned an open letter to the New York City-based non-profit, admonishing its decision:
"I find it completely shocking and unacceptable that NYBC would abandon these chimpanzees and discontinue support for even their basic needs. I strongly urge that you reconsider your decision, and urge you to play a significant role in planning, along with animal protection organizations and chimpanzee experts, for their long-term care."
Brian Hare, a primatologist at Duke University, started a petition on Change.org in light of the move. "I have studied great apes for 20 years in all contexts across the globe - labs, zoos, sanctuaries, the wild," he wrote in a salient email to The New York Times. "Never, ever have I seen anything even remotely as disgusting as this."
To prevent the chimps from dehydration and starvation, a coalition of animal welfare groups, led by The Humane Society of the United States (HSUS), is leaping into high gear and raising funds to care for the animals. HSUS says it requires $30,000 per month to do this. According to Samantha Miller, media relations specialist at the organization, $70,012 was raised as of Monday, with 1,290 people contributing to the effort.
Devoted local caregivers associated with NYBC are still delivering food to the chimpanzees every other day, says Kathleen Conlee, vice president of animal research issues for HSUS.
Agnes Souchal, for The Humane Society of the United States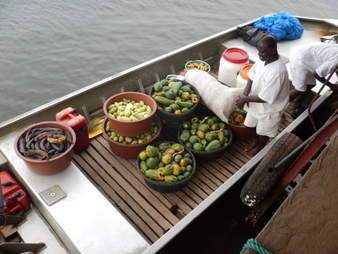 Agnes Souchal, for The Humane Society of the United States
However, she explains, that isn't enough. Conlee says that HSUS is rotating out consultants in Liberia to monitor the situation and is installing new equipment and other resources "so a new every day feeding system can be carried out."
Of the 66 male and female chimps currently on the islands, 13 are adolescents or infants, according to records provided to The Dodo by HSUS.
One, named Lisa, is less than a year old. The oldest chimp, named Samantha, is 41.
Some of the chimps have cataracts. Some are limping. And some are suffering from blindness.
200 chimps were originally released to the islands. More than half, says HSUS, have died.
To donate or take action for chimps, visit HSUS.
You can watch a clip of the chimps in Liberia, below.