Woman Plays Game With Abandoned Chimps To Help Them Feel Less Alone
His mother had been a test subject in laboratories. He was born on an abandoned island. But despite his bleak circumstances, a 4-year-old chimpanzee still knows how to have fun.
A new video shows Jenny Desmond, director of Liberia Chimpanzee Rescue, a project of the Humane Society of the United States (HSUS), playing a game with the little chimp, even though she can't get close: Direct contact with the chimp can be dangerous for both of them, so Desmond made up a game she can play from a distance.
"Just like humans, chimpanzees love to play, laugh and have fun," Desmond told The Dodo. "It is particularly enriching for these specific chimpanzees after lifetimes in cages undergoing invasive experiments with no freedom or choice and no will to play or smile."
HSUS
This small chimp is just one of a colony of over 60 chimps the New York Blood Center (NYBC) abandoned on an island in Liberia after using the animals in experiments for three decades. Last year, the NYBC stopped providing care for the chimps. The HSUS stepped in to help keep the chimps alive - and they're not the only ones.
"Dozens of volunteers in Liberia and neighboring countries have answered the call, putting their lives at risk to help the chimps," Wayne Pacelle, CEO of the HSUS, wrote last year.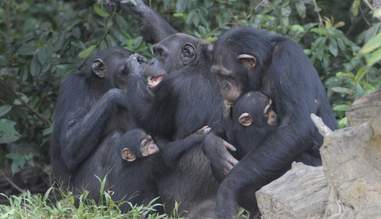 HSUS
Desmond has moved permanently to the region to help the chimps. And these smart, social and emotionally complex animals need more than just food and water - they need to feel safe and have fun, especially after what they've been through.
For the past year, advocates have been calling on the NYBC to reinstate funding for the ongoing care of the chimps. Now, the HSUS is transforming the island to a sanctuary for the animals. To learn how you can help, click here.
Watch a video with the latest information on the chimps: