A British safari guide entered into a leopard's domain earlier this month and was subsequently attacked when the big cat found himself surrounded and scared. The guide and other visitors ran over the leopard three times to get him to stop, rather than leave the area themselves.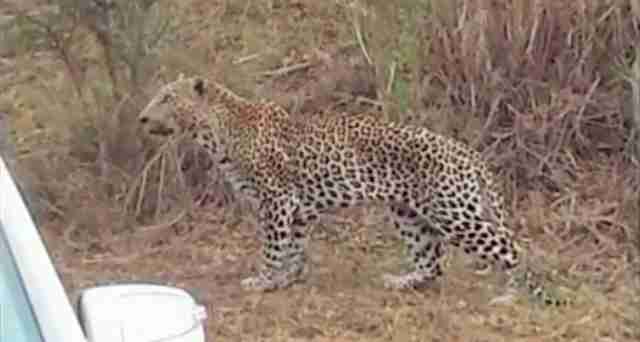 The guide, British native Curtis Plumb, pulled his open-top tour vehicle to a stop to allow visitors to get a better glimpse of the leopard, when he suddenly approached the door and clamped onto Plumb's arm. Plumb was reportedly attempting to wrangle the leopard closer to the vehicle to entertain the tourists, according to Africa Geographic. The leopard refused to let go, so the driver began to back up slowly down the road.
At some point the leopard came loose and, judging from the video, at least his tail fell underneath the tire of the jeep as it was backing up.
Once back on his feet, the frightened and likely enraged leopard gave chase as the jeep continued to back up. Instead of leaving the area, the driver then stopped and deliberately drove forward over the leopard.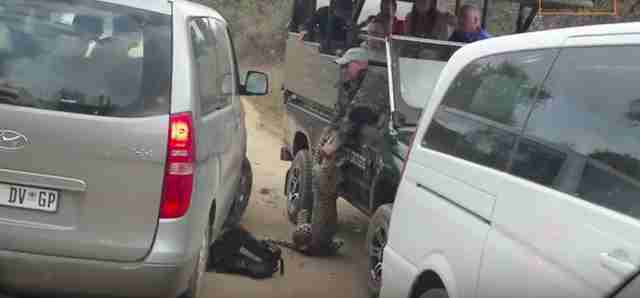 Curtis was taken to the hospital and was lucky enough to only need surgery on his arm, but the leopard was euthanized. Kruger National Park spokesman Laura Mukwevho said the leopard was "put down" by park rangers. He was estimated to be between 16 and 18 years old and Mukwevho claims he had injuries from a fight with another animal in addition to his wounds from this incident.
Perhaps we should come up with a law that allows animals to protect themselves in their own homes.
You can watch the whole thing below but be warned, it's very graphic.