4 Baby Leopards Stranded In Fire Get The Sweetest Reunion
Four tiny leopard cubs have been reunited with their anxious mother after being saved from near-certain death.
Warning: Graphic images below.
Farmers in Maharashtra, India, were burning a sugarcane field recently - a common practice used to clear fields after a harvest - when they were shocked to hear what sounded like cat screams.
Wildlife SOS
They found a group of four little leopard babies lying in the field. Their mother had apparently been frightened away by the fire. Rescue group Wildlife SOS and the local Forest Department jumped into action, hurrying the babies away from the fire and to safety.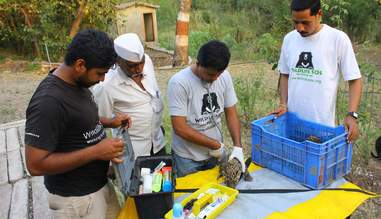 Wildlife SOS
Though the cubs unfortunately sustained minor burns, they were given the all-clear after a veterinary exam. Rescuers then received the good news that local villagers had spotted a female leopard who appeared to be searching the area where the cubs were found.
Determined to reunite the infants with their mother, rescuers packed the tiny bundles into a basket and left it out where the mother had last been seen. Setting up camp close by to ensure the defenseless cubs were safe from predators, they settled in for a long night.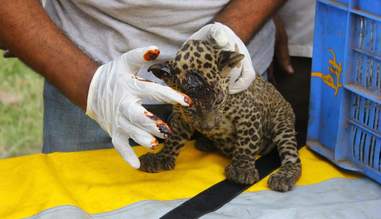 Wildlife SOS
After eight long hours, their patience paid off in the most heartwarming way possible.
"At 3:30 AM in the morning, they heard a soft rustling and dragging sound," Geeta Seshamani, co-founder of Wildlife SOS, said in a statement. "The leopard cubs were mewing softly in delight. The mother finally arrived and started grooming and nursing the cubs to reassure them."
Wildlife SOS
"She rested with the cubs for a short while and then slowly started moving one at a time to a more secure spot," she added.
While this little family got lucky, leopards are an unfortunately common sight in sugarcane fields. As demand for sugarcane increases, according to Wildlife SOS, the leopards' natural habitat is being destroyed and replaced by the plantations, and leopards often give birth in the fields.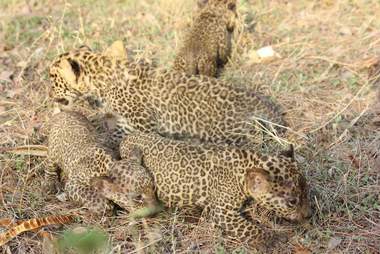 Wildlife SOS
Fortunately, these little cubs are safely back with their mother. "Hopefully they will not be disturbed again," Seshamani said.