Meet The Rare Species Helping Madagascar's Jungles
<p><a class="checked-link" href="https://www.flickr.com/photos/tambako/13662196145/sizes/m/" style="text-decoration: none;">Tambako the Jaguar/Flickr/CC BY 2.0</a></p>
Madagascar's furry lemurs have thumbs that aren't quite as flexible as ours - but when it comes to tending to the rainforest, theirs can be just as green. Here's why they're important:
IT'S ALL IN THE SEEDS
A red-bellied lemur. (Francesco Veronesi/Flickr/CC BY 2.0)
Scientists from Rice University in Texas spent three years studying fruit-loving lemurs in Madagascar, and found that the little primates played key roles in the spread of the island's tropical trees. By eating and then excreting seeds, lemurs ensure that seeds move throughout the ecosystem, allowing saplings to take root out of the parent trees' shadows.
The Rice University researchers followed three species of lemur: red-bellied lemurs, red-fronted brown lemurs and southern black-and-white ruffed lemurs.
THEY'RE GARDENERS OF THE JUNGLE
"Lemurs fill an important role as the gardeners for these trees," said Amy Dunham, a Rice University biologist, in a statement. "By ensuring that some seeds land in spots suitable for germination and survival, they increase the ability of these trees to replace themselves."
Dunham and her colleagues were able to track 24 groups of lemurs over a year as they went about their fruit-munching ways, relying on local eyewitnesses rather than radio collars. Seeds spread by lemurs had a higher chance of growing into saplings than if they simply fell from trees, the scientists report in the journal Ecology. There's less competition with other seeds beneath a tree, and scattering seeds increases the odds a particular seedling will escape being eaten or succumb to pathogens in the dirt.
LEMURS COMMUNICATE BY SCENTS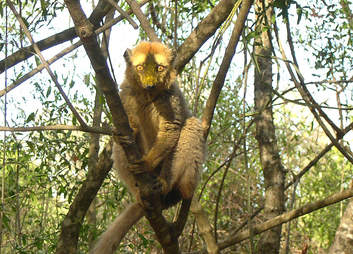 Lemurs are a distinct group of primates, who evolved over millions of years isolated on the Madagascar island. But that doesn't mean they're a cranky lot. As actor John Cleese once put it, lemurs are "gentle, well mannered, and pretty and yet great fun ... I should have married one."
LEMURS ARE A DIVERSE BUNCH