After watching the hit film "Madagascar," it's easy to assume that every lemur is as flamboyant and rambunctious as King Julien, shimmying and shaking his way around the sands. The truth however is much bleaker. Most lemurs are in fact endangered or threatened, with many species already extinct. This isn't just bad news for lemurs, but it highlights a potentially catastrophic alteration of the whole Madagascan ecology.

Madagascar is sadly a particularly poor country, and unfortunately the Malagasy people have increasingly taken to slash and burn-farming in a desperate attempt to feed money back into the economy. This puts an immediate strain on lemurs' habitats due to forest destruction.
Lemurs help disperse seeds from the variety of fruits in their diet, and as such are crucial to the survival of the islands flora, fauna and wildlife. Here are five facts you may not already know about them.
1. They're actually really smart.
Lemurs are one of the more overlooked groups of primates. They may not have opposable thumbs like apes and monkeys, but are intelligent in their own right. Lemurs have the ability to learn patterns, and they even have object discrimination skills. They're also capable of learning tasks that are often too complex for apes and monkeys, like organizing sequences from memory and performing simple arithmetic. They can also be trained to use tools. How domesticated!
2. They have non-prehensile tails.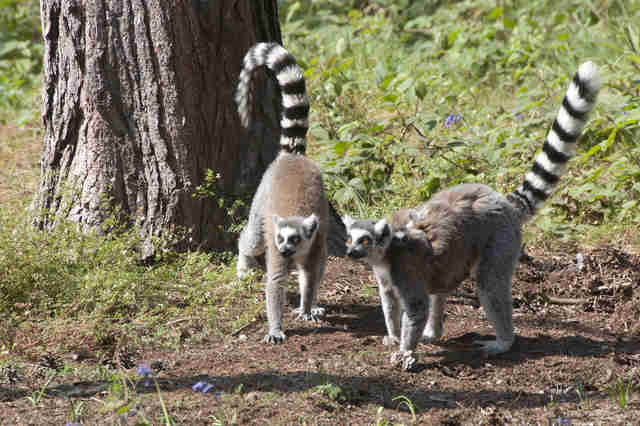 Having a prehensile limb/tail means one that is capable of grasping objects. Lemur tails are sadly not, which means that they can't hang and swing between trees with the ease and grace that monkeys do.
The tail, however, can act as a way of communicating their location to other lemurs, similar to a sign post. Ring-tailed lemurs are often seen traveling with their iconic monochrome striped appendage pointing directly up towards the sky; just to make sure no-one gets lost on long journeys, especially the babies!
3. They are not evil.
Aye-ayes are one of the most unique species of lemurs, and are often compared to woodpeckers for their ability to penetrate wood. Unfortunately, their distinctiveness has caused them quite a bit of trouble and struck fear in the heart of Madagascar. A large number of the Malagasy people believe that they are an evil omen and that when aye-ayes point their long middle finger at someone it means that that individual has been marked for death. As a result, aye-ayes are actively hunted, which also contributes hugely to the extinction rate. They may look twisted and scary, but in reality they are perfectly harmless!
4. Hibernation
The fat-tailed dwarf was the first known primate, and only known lemur species, to hibernate. Since lemurs are closely related to humans, the finding has also been put forward in order to provide an explanation for the role of sleeping and napping in humans. The fat-tailed dwarf lemur squeezes in holes of trees for up to 7 months each year, giving an opportunity to conserve energy during a period when fruits and leaves are often not readily available.
5. They occasionally get into "stink fights."
Don't be fooled, "stink fights" mean serious business! Lemurs, particularly the ring-tailed lemur, are big on talking, using vocalizations to raise alarm. Screeching is by no means the only way lemurs communicate though! They also use scent glands on their feet and butts to leave odors to mark areas where they have been. Male ring-tailed lemurs even engage in "stink fights" by rubbing their tails in their own scents and shaking it at their opponent. Territorial, and proof that males are the grossest gender!
These beautiful creatures only live on the island of Madagascar so if you want to see them better get going to a volunteer project!
By Rebecca MacDonald-Taylor

Rebecca MacDonald-Taylor is an Online Journalism Intern at Frontier, an international non-profit volunteering NGO. Frontier has over 300 dedicated conservation and community development projects as well as plenty of inspiring www.frontier.ac.uk/Volunteer/Volunteer.aspx?utm_source=TheDodo&utm_medium=gapyearblog&utm_campaign=BlogArticle">gap year ideas to help make your time out meaningful. For more information on all the opportunities available please visit www.frontier.ac.uk. Check out Frontier's blog "Into the Wild" where you can read more articles like this! Happy reading!

Get more from us on social media with Facebook, Twitter, and Pinterest. See more from volunteers on YouTube, Flickr and Instagram #FrontierVolunteer.