A British teenager has started a campaign to save her dear friend, a cow, from the slaughterhouse.
Catherine Green, 17, lives on her family's farm in Lincolnshire, England, where she helps tend to the sheep and cattle they raise for meat.
When she met one very special cow named Leena, she knew she couldn't let her suffer the same fate. She launched a campaign to buy the cow from her father so she can send her to live out her days in a sanctuary.
"She is the most lovely and gentle natured cow we have ever had but she is destined to end up on someone's dinner table," Green wrote on her Go Fund Me page. "We have hundreds of cows on the farm and I wish I could save them all but Leena has become very special to me and I can't allow myself to let her die purely to be consumed by humans."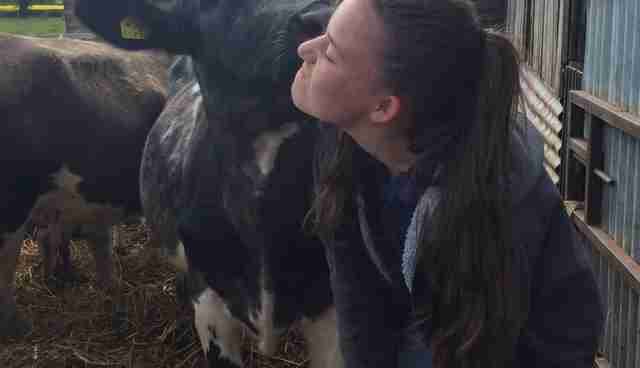 Leena and Green share a special bond, and pictures show the pair nuzzling up to each other. One video shows the gentle-natured cow happily licking Green's face when she pops in for a visit.
"Leena is amazing," she told The Dodo. "She really is so gentle and loving. She's just so special."
Green started the fundraising campaign in January, but the cause recently became more urgent. Leena was scheduled to be sent to slaughter this autumn, and would soon start on a diet designed to fatten her up.
Fortunately, after the campaign made headlines on Wednesday, Green raised more than twice the $1,500 needed to purchase her gentle friend. She plans to use the surplus to cover the cost of transporting Leena to a sanctuary.
Green, who's a vegetarian, said she often has trouble seeing the animals when they're sent off to slaughter, and will use any extra to donate to the sanctuary or save another animal from her father's farm.
"Lambing time is my favorite and it's often very difficult to say goodbye to the lambs," she said. "I really dread seeing trailer loads of cows on their way to the abbatoir."
In any case, she's determined to secure her gentle friend the "long and spoiled life she deserves."
"I made a promise to her that I wouldn't let anything happen to her," Green said. "I hate lying to people's faces so once I said it there was no going back."
To contribute to Green's efforts, you can visit her Go Fund Me page.