"Kula was lucky she wasn't far from home and her owner could hear her barking," Whitney Sickels, a staffer at the Hawaii Island Humane Society (HIHS), told The Dodo about the rather unusual rescue of a 3-year-old Brittany spaniel.
Last Wednesday, Kula managed to escape from her home, the surrounding land filled with volcanic activity. Her owner, Terrance Moniz, went looking for her around 1 a.m. When he found her, he discovered that she had fallen into a collapsed lava tube.
"There are a lot of lava tubes on the Big Island," Sickels explained. "They're basically caves created when a river of lava gradually builds solid walls and a ceiling. When the lava flow stops and the last of it passes downhill, a cave is formed. They vary in size and can be anywhere and often well- hidden."
But the lava tube was no match for HIHS animal control officers Starr Yamada and Marie Kuahiwinui-Eggers, who arrived on the scene that morning to get Kula out of there.
According to the Hawaii Tribune Herald, the two officers spent hours navigating through the dark depths of the tube, getting cuts and and scratches along the way.
But a little discomfort didn't stop them from getting the job done. They ultimately pulled Kula back up above ground, where she was reunited with her owner.
Sickels said that this sort of rescue is surprisingly uncommon, given the large number of lava tubes on the island.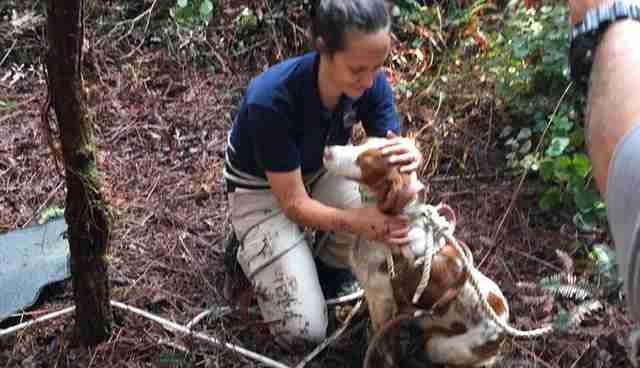 Moniz was so thankful for the rescue that he wrote a heartfelt email to the Humane Society to express his gratitude.
Kula is safe at home now - and it was all thanks to the work of two everyday heroes.
Want to help HIHS continue doing great work? Consider one of the many ways you can give back here.