10 Giggling Babies Who Think Dogs Are Absolutely Hilarious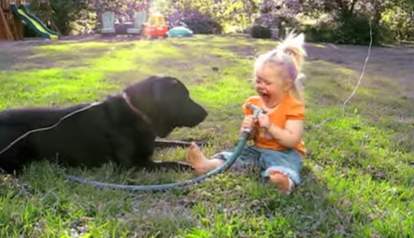 1. Watching a dog happily run and pounce around the living room is comedy gold - at least for this baby.
2. This German Shepherd's overwhelming joy is clearly contagious.
3. Dog + running = a thoroughly entertained baby.
4. Fanciful popcorn tricks are all this baby needs to start laughing uncontrollably.
5. A funny friend like this is definitely worth the crawl.
6. When you're muddy and covered in grass stains, playing in the garden hose is the most logical next step. .
7. Some might find a dog's bark to be startling, but this baby is pretty sure it's hilarious.
8. Chewing on paper: positively sidesplitting.
9. Laughing at someone's snoring would probably be considered impolite, if it weren't so cute.
10. Bubbles alone would be boring, but bubbles AND an excited pup is just delightful.