Sometimes, it's hard to see the sunsets for all the suffering.
When Junie Kovacs arrived in Koh Lanta about 15 years ago, she didn't see the island in southern Thailand the way most tourists do.
Sure, there were sand swept beaches. A sun-dappled sea.
But she also saw animals suffering. Koh Lanta was teeming with dogs and cats, many of them starving and injured.
The nearest veterinarian was a three-hour odyssey to the mainland. Needless to say, the stray dogs and cats of Koh Lanta didn't leave their island home very often. And, because there was no sterilization effort from authorities, Koh Lanta was crushingly crowded.
What's more, locals saw the dogs as a nuisance. Many of the strays were simply killed.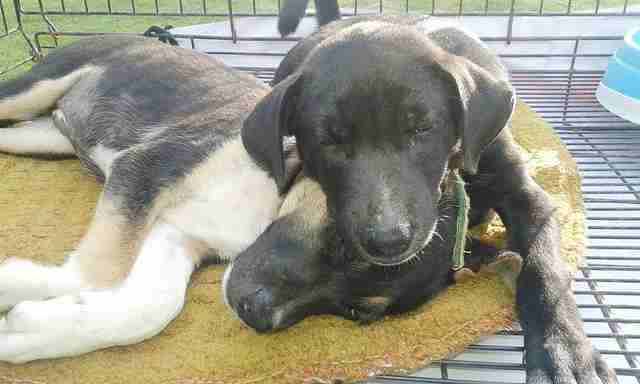 Kovacs, who was born in the U.S., was working as a graphic designer in Norway. In the past, she had visited the island as a tourist.
"When I turned 40, I decided I wanted to do something else," she tells The Dodo.
Kovacs made the fateful decision to move to the island and start a cooking school.
But she couldn't ignore the state of the island's strays.
"I thought, 'OK I can't live on this island without doing anything,'" she recalls. "It was really bad. It was stray dogs everywhere. At that time, most of the businesses were shut down so there wasn't even trash that the animals could get to that they could feed on."
And so, as Kovacs expanded her business, turning a cooking school into a restaurant called Time for Lime, she also expanded the scope of her rescue.
In 2005, using proceeds from the business, she saved enough money to open an animal sanctuary, complete with a 24-hour veterinary clinic.
Over the years, tourists transformed into volunteers at the ever-expanding Lanta Animal Welfare. They streamed in from the rest of Thailand as well as abroad to lend a hand.
And so did animals in need, as people brought them from all over Thailand to get care at the sanctuary. Still more animals left the country completely, finding new homes all over the world with help from the rescue.
Kovacs also started her own sterilization program encompassing the entire island - and eventually bringing the population down by as much as 90 percent.
One of those volunteers, Sarah Borok, lives in New York City now, but she recently returned to the island to find it transformed.
"I just went back to visit for the first time in five years and the island is unrecognizable," she tells The Dodo. "Where droves of dogs and cats used to roam, there are virtually none. In fact, I'd say it's probably the only island in Thailand that is this devoid of strays. It's rare that you get to see the effects of such efforts in such a contained environment. That's a really powerful part of the experience in being there."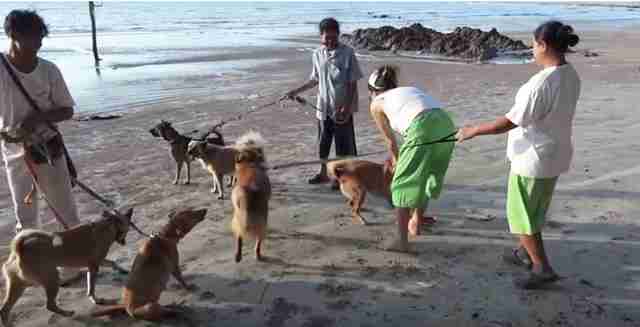 In a sense, the whole island has become a refuge. In fact, the number of animals staying in actual kennels at Lanta Animal Welfare is relatively small - about 40 dogs and 70 cats.
"I am quite strict about this because i think overfilled sanctuaries are not good for animal life," Kovacs explains. "We only have animals here in desperate need. Injuries can be fixed and animals put back on their beach where they have access to food."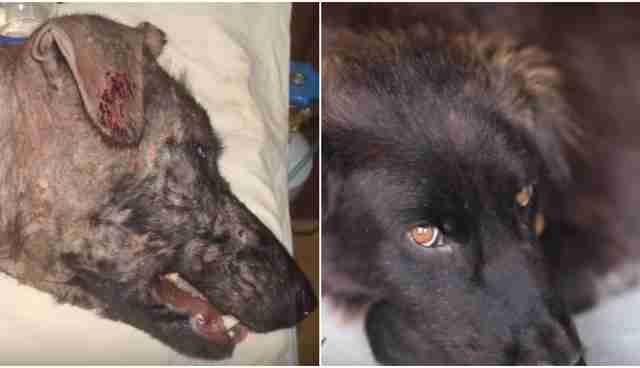 Like most island paradises, Koh Lanta is the kind of place that can blur a visitor's sense of time. But for the countless volunteers who arrive from a broad to lend a hand at the sanctuary, it's for a very different reason. They get caught up in all that compassion.
"In my time there, it was almost impossible for volunteers to depart on their originally intended date," Borok says. "Most would tag on weeks, some months, and a few years."
Like Kovacs, who thought she was coming to Thailand to start a business and ended up transforming an island. It's the kind of transformation that always begins in the heart.
Think you might like to volunteer at Lanta Animal Welfare? Sign up here.
And if you would like to support the organization's mission to save countless animals in Thailand, you can make a donation here.