Woman Gets Arrested For Trying To Save Dogs Stuck Outside For YEARS
To a motorist passing along a lonesome stretch of road in Lansing, North Carolina, it might seem like a menagerie of mayhem: a sprawling pen scattered with scrawny roosters and even scrawnier dogs.
Lisa Fitzpatrick
It gets worse when you get out of the car.
That's when the hounds start howling. There are at least three of them, often standing atop a lone dog house, baying at the sky.
Lisa Fitzpatrick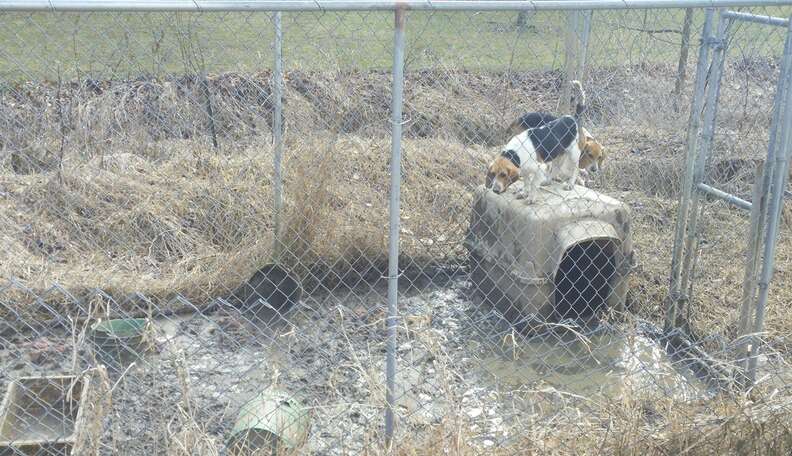 Only Lisa Fitzpatrick, who works at an animal rescue, didn't pass by. A woman who lived on a neighboring property had called her after reading about her rescue work in the newspaper.
"She said, 'I've seen dogs starve to death, I've seen dogs die in dog fights. These beagles were put out there as puppies and they've never left their pen,'" Fitzpatrick tells The Dodo.
It seemed little had changed when Fitzpatrick pulled up. Different dogs. Same hell.
"This particular group of dogs has been there for approximately three years according to their neighbor," Fitpatrick explains. "Prior to that, there were other types of dogs that were chained up in the same manner."
"The scene was dismal," she adds. "It looked like a third world country."
Indeed, her camera soaked up the thick pools of mud, debris, tires and toppled buckets.
Lisa Fitzpatrick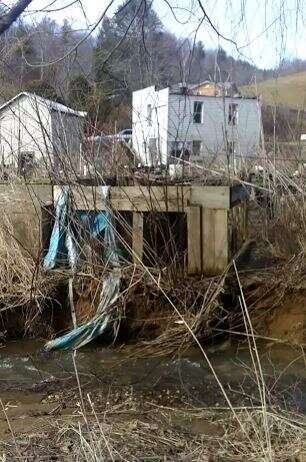 Not seeing any food or fresh water, Fitzpatrick called animal control. Instead of the animals being taken away, it was Fitzpatrick who was arrested the next day. For trespassing.
"The property owner came to see me this morning and he was livid," James Williams, the Ashe County sheriff, told the Jefferson Post. "He said he works in Boone and that business had been flooded with calls from people demanding that he be fired, that his boss man had been getting calls all day long from these nutcases from across the country."
One of those so-called "nutcases" may have been Cyndee McClintock, who saw the video Fitzpatrick shared on Facebook from hundreds of miles away in Kennesaw, Georgia.
And as an animal activist, who has worked with many rescues over the years, it broke her heart.
"I remember looking at the video for the first time. I just lost it," McClintock tells The Dodo.
Even now, she can't talk about the situation without crying.
"They've been there since they were puppies. They've never been out of that penned-in area."
Lisa Fitzpatrick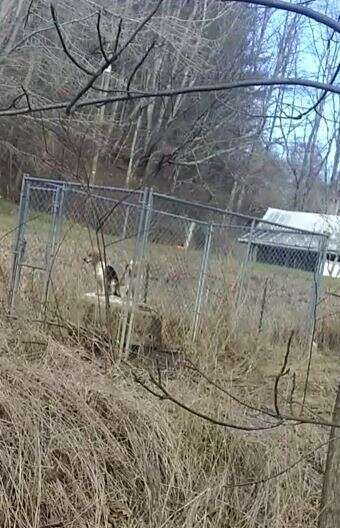 McClintock first saw the video on a Friday night in early February. Too late, she thought, to do anything about it.
But the next day, she unleashed a whirlwind, emailing local officials at first, then starting a cavalcade of calls the following Monday.
She got in touch with someone at the Ashe County sheriff's department.
"He said, 'This is none of your business. You don't even live in our state.' Another time I called and they told me I needed to get a life."
When reached by The Dodo, an administrator at the North Carolina Department of Agriculture confirmed there had been complaints about animals on the property, mostly through email.
The administrator, who didn't wish to be identified, says, "I don't know the full extent of the Facebook post, but this would probably fall under criminal neglect."
"That would be something the sheriff's department and animal control would have to intervene in."
Trouble is, those contacts have proven difficult to, well, contact.
Despite repeated calls from The Dodo on Thursday, the phone line for Williams, the county sheriff, rang and rang without going to voicemail.
Authorities may have closed ranks around the property owner, identified as Daniel Cruz, but the plight of his animals can be seen from just about anywhere on Earth.
Even, apparently, Google Earth.
Google Earth
Similarly, the owner's record of animal abuse is available to anyone who visits the Lansing county courthouse - including past convictions on animal cruelty and cockfighting.
The Dodo
Funny thing about those convictions. They came with a two-year ban from owning animals.
"The neighbor said the day his probation was up, the roosters came back as well as the dogs," Fitzpatrick says.
"It's not really hard to connect A to Z, if you've been convicted for cockfighting and now you've got 100 roosters on your property. It's not rocket science."
Lisa Fitzpatrick
So, what's it going to take to get these ailing animals out of this place?
"The most important issue is that the state of North Carolina has some of the worst animal welfare laws," Fitzpatrick says. "Our county has not created a stronger set so they hide behind the law."
Maybe it's time we all sent a message to Ashe County authorities about how these animals are being treated. You can reach the county's general email inbox here: administration@ashecountygov.com.
You can also make your voice heard in the national fight to toughen up animal cruelty laws by clicking here.