Rescued Lion Has Been Obsessed With Blankets Since He Was A Baby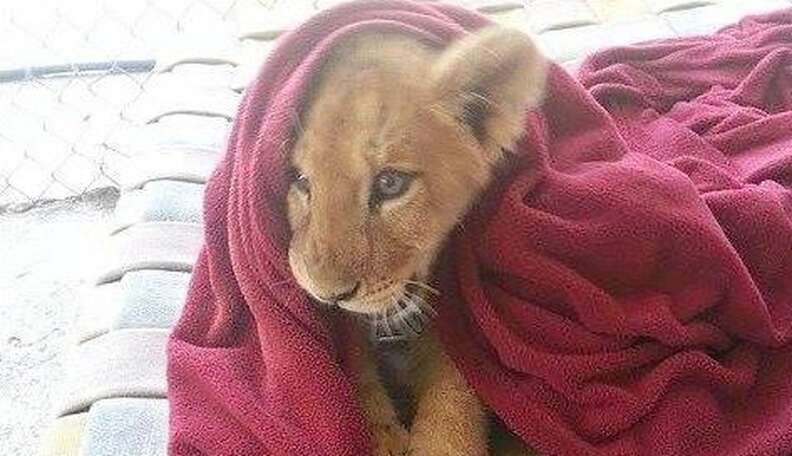 <p>In-Sync Exotics</p>
<p>In-Sync Exotics</p>
Lambert is an African lion and, sometimes, an African lion blanket burrito.
Back in June 2014, Vicky Keahey, founder of Texas' In-Sync Exotics Wildlife Rescue and Educational Center, went to go pick up Lambert from the family surrendering him. Her first impression of him was that of a puppy dog, she told The Dodo, because he lazed about in the yard and enjoyed the sunlight pouring down on him.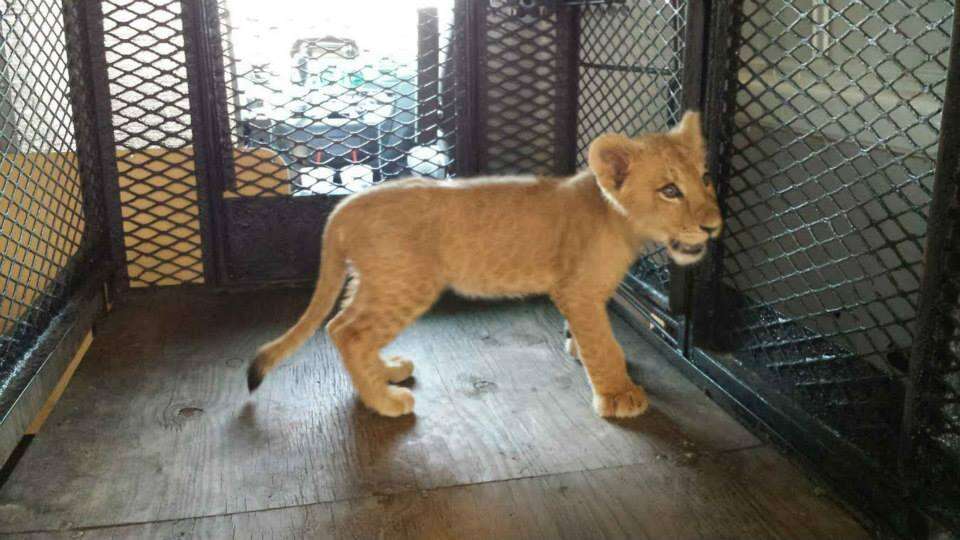 "We received a call from the Global Federation of Animals Sanctuaries (GFAS)," Keahey said. "They were contacted by a private owner who had [illegally] purchased Lambert for his 2-year-old and 3-year-old children after going to see the movie 'The Lion King.' The little kids told their daddy they wanted a Simba, so he went out and bought them one."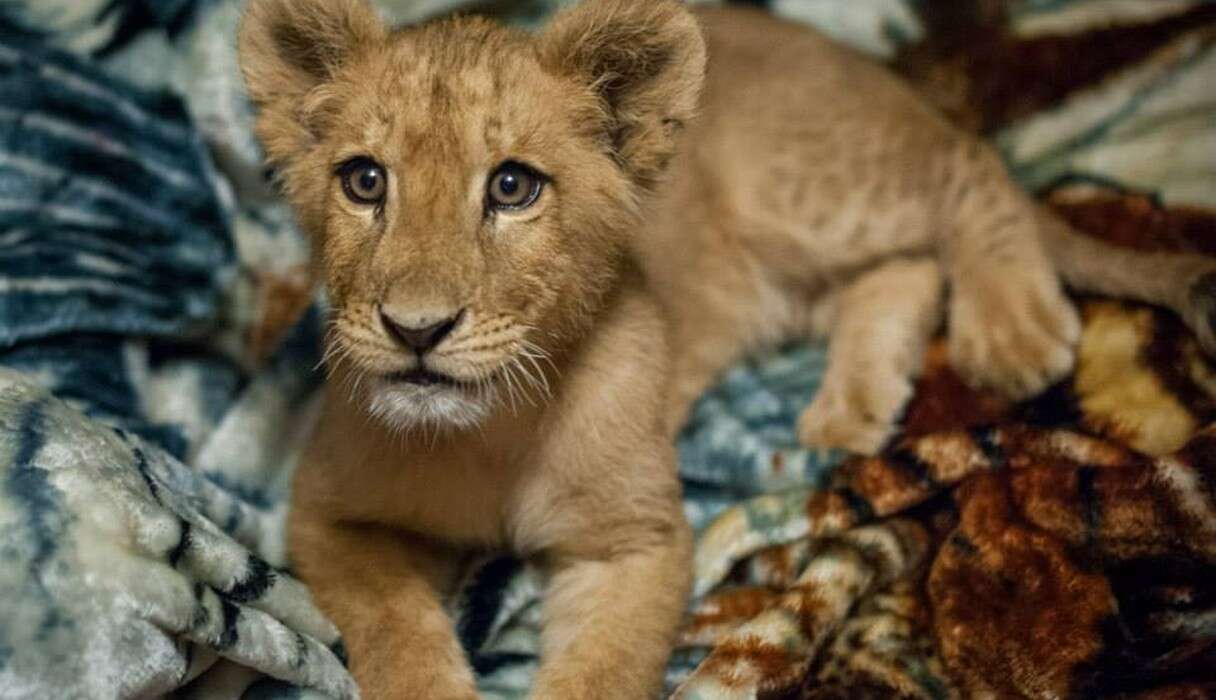 Keahey said she doesn't know what changed, but after owning the then 3-month-old cub for a short while, the family decided to give him away.
GFAS asked In-Sync Exotics if the rescue would take Lambert in and Keahey was more than happy to do so. That was how Lambert, who was born in captivity and made to be as tame as a lion could be - and therefore couldn't be released into the wild - found a forever home to grow up in.
The rescue came to understand exactly what Lambert needed to feel at home in his new residence.
When he first stepped into his enclosure, Keahey said, Lambert seemed excited and curious, eagerly checking out his environment. But then he started pacing around, showing signs of anxiety.
"We had heard from the previous owners that he slept in the bed with the grandfather," Keahey said.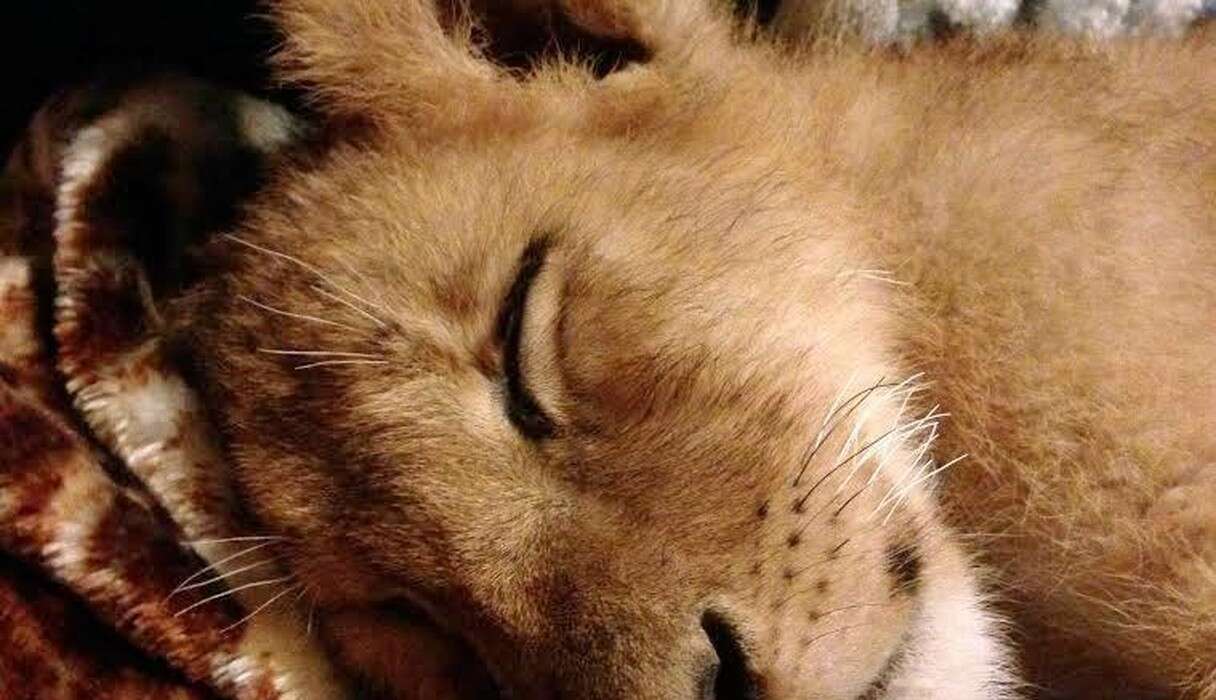 "I started thinking, 'Okay, he's used to being in a house, he's used to sleeping in the bed with grandpa.' So I got him a blanket, went into the enclosure and put the blanket in one of the corners. He curled up on that blanket and he went right to sleep. Ever since then, I always give him a blanket."
Keahey also had to teach Lambert how to like and eat raw meat, something he had never been exposed to before arriving at the rescue.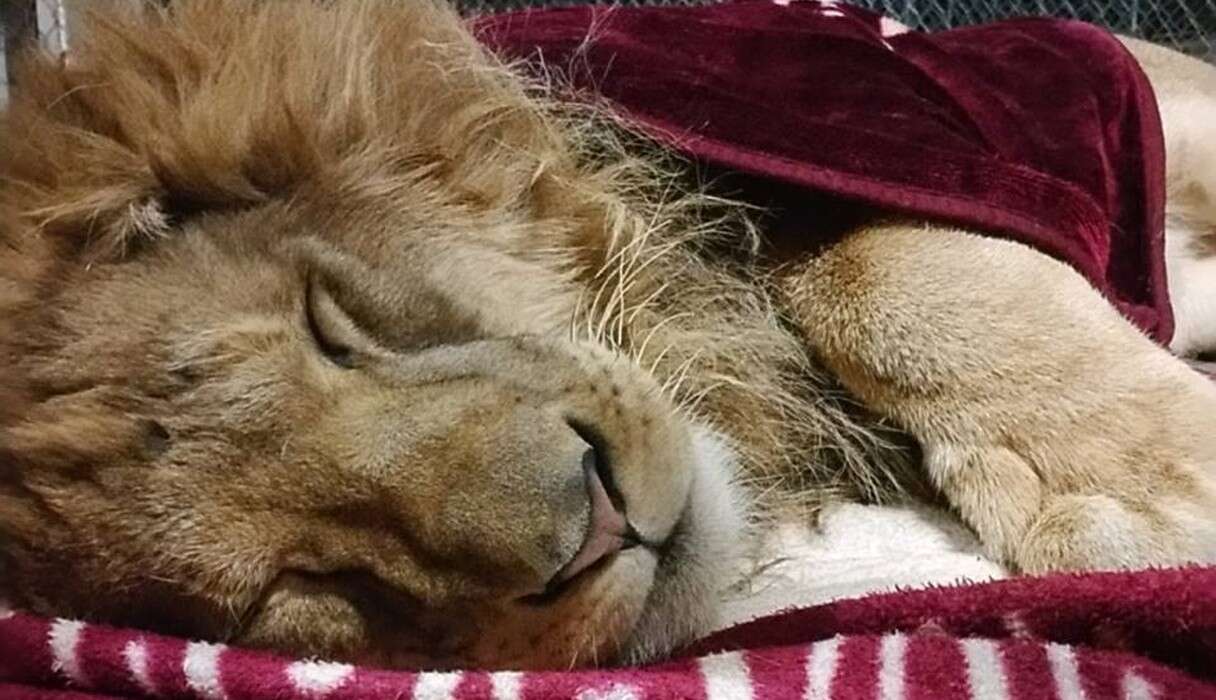 In addition to curling up in warm, fresh blankets ...
... Lambert, who recently turned 2, also loves to skateboard.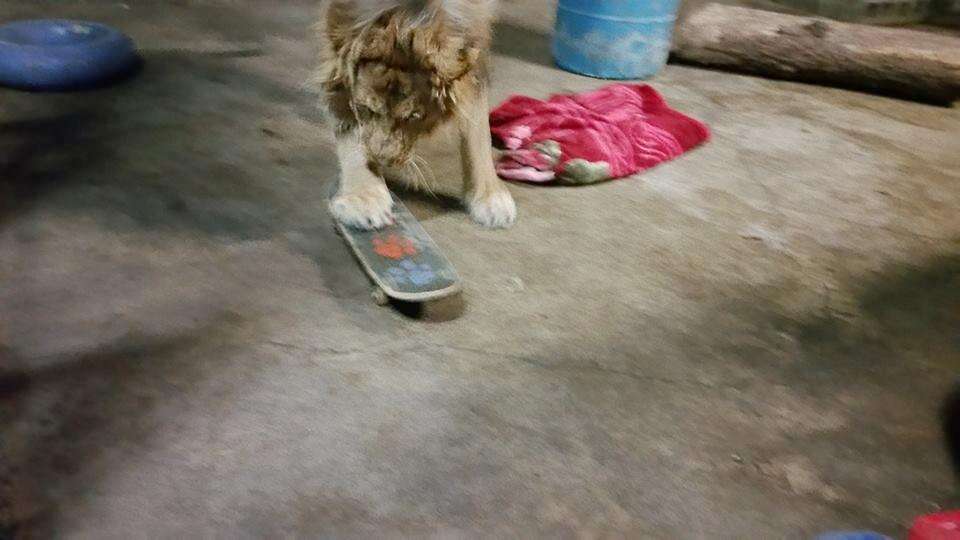 He's pretty much a pro at it.
Keahey explained that Lambert's love of skateboarding came from his love of playing with plastic supply tubs when he was a cub.
"He would put his feet in it and scoot it along the ground like he was skateboarding," she explained. "So one of the volunteers at the rescue built him an actual skateboard. Sure enough he put both of his feet on it and started skating around on it."
Despite Lambert's sweet baby face, Keahey said he definitely has a lot of attitude - just like any other cat, really.
"If he likes you, you know it and if he doesn't like you, you know it," she said.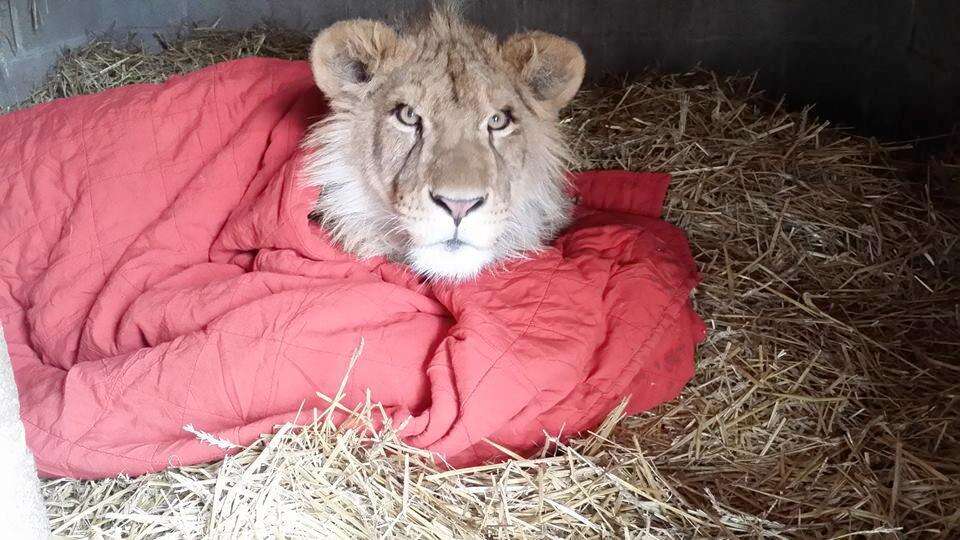 "With me though, he's my baby. He's my child," she continued.
For Lambert's birthday, on March 22, Keahey said he got all of his favorite items as gifts: two trash cans (which he loves demolishing), a wad of paper (to shred into pieces), some whipped cream and, of course, his favorite blanket.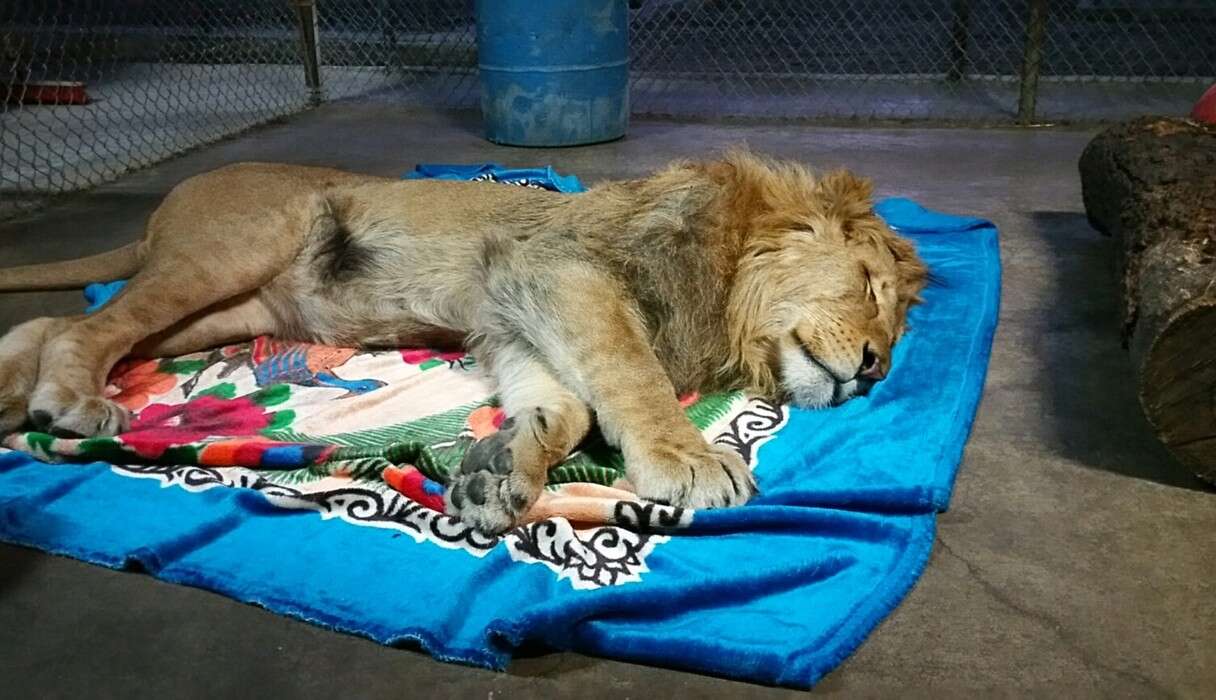 Lambert partied hard, but not too hard. The following day he still had enough energy in him to "talk" about his celebrations with his friends, according to a recent Facebook post.
But at the end of every day, Lambert has come to know he can always expect this:
See how Lambert's grown up with his favorite blankets throughout the years below:
And if you're curious about how Lambert makes himself into the perfect burrito, watch this too:
Want to help In-Sync Exotics continue doing good work for rescued exotic animals? Consider making a donation here.