Lamb Who Lost His Leg Is Just So Happy To Be Alive
Even when nothing is going right, sometimes you just have to keep smiling.
Mason is a little lamb who was born with a really bad infection in one of his legs, which caused his mother to completely reject him. The Devoted Barn, an animal rescue group in Michigan, heard about Mason's plight and knew they had to help.
The Devoted Barn
Despite the pain he must have been in, Mason never seemed to show it. In the end, the infection proved to be too serious, so the vets at Michigan State University had to amputate Mason's leg.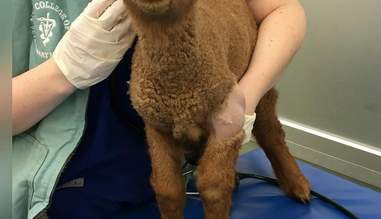 The Devoted Barn
Even after the surgery was over and his leg was gone, Mason stayed positive. As he slept post-surgery, he had the cutest little smile on his face, proving that there's truly nothing that can get him down.
The Devoted Barn
Only days after the surgery, Mason was already up and standing on his three legs. This little guy may have had a rough start to life, but he's definitely not letting that stop him. He's going to keep smiling through it all, and I'm sure Mason is going to be just fine.
The Devoted Barn