Lamb Will Fit In This Cat Bed If It's The Last Thing She Does
This little lamb is growing fast, but she doesn't let that get in the way of anything. Like squeezing inside this cat bed.
Who cares if your backside doesn't fit in?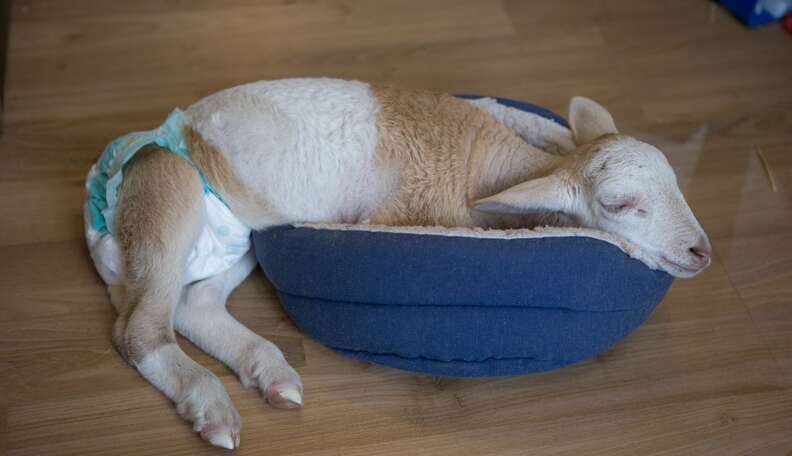 Or if there's only room for one leg?
She's a determined lamb - she'll find a way.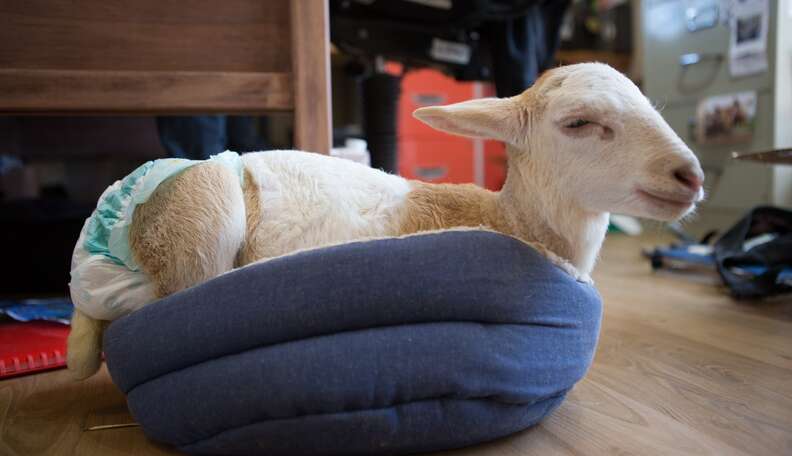 Fifi the lamb is a 1-month-old Damara cross who was rescued by Edgar's Mission, an animal sanctuary in Victoria, Australia. Fifi's mother had gotten fatally tangled inside a fence, which left Fifi an orphan when she was only a few days old.
Pam Ahern, the founder of Edgar's Mission, knew that Fifi would need lots of love and attention to survive without her mother. "Fifi was so small and young when she came to us, so it was important to keep her spirits up," Ahern tells The Dodo. "Just like a human baby yearns for contact and company, so do baby lambs."
When Ahern had to work inside of the house, she put a baby diaper on Fifi and took her with her. While Fifi could have wandered into any room she wanted, she chose to stay right next to Ahern. "I was working about a foot away from her when the photo was taken," Ahern explains. "It was hard not to get distracted by a cute little lamb sleeping nonchalantly in a cat bed."
Besides rescuing animals like Fifi, Edgar's Mission campaigns against animal cruelty issues like live export, an industry that sees tens of thousands of animals shipped from Australia to the Middle East and South East Asia where they're often slaughtered inhumanely. As Ahern explains, Damara sheep like Fifi are usually sent overseas as part of the live export trade.
Luckily, Fifi will live a life full of love at Edgar's Mission. Besides Ahern, Fifi has made friends with just about everyone at sanctuary, including Ruby the dog.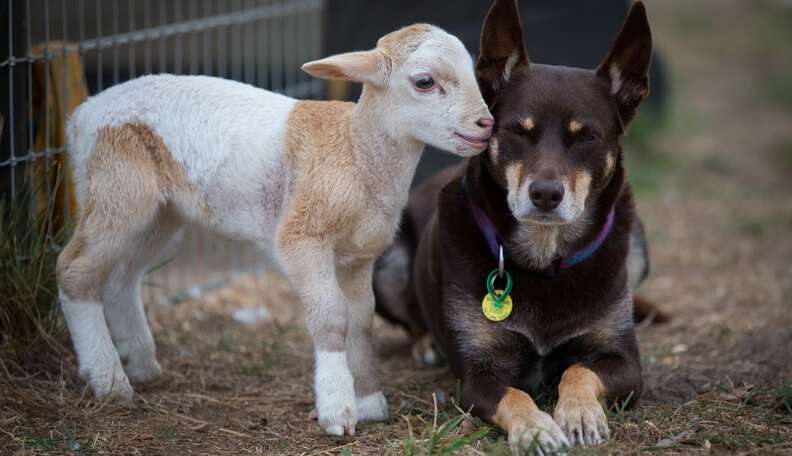 Oh, and in case you're wondering, the real owner of the cat bed also found a great place to curl up...
... in Fifi's hay bowl.
To learn more about Fifi and Edgar's Mission, visit their website and Facebook page.
Can't get enough of Fifi? Here's an adorable video of her licking Ruby the dog.