Dog Who Can't Walk Gets Pushed Around In Her Own Special Wagon
"One of her favorite things is car rides, so this is kind of like a car ride inside the house."
Update 8/22/2019: Lady Cherie's family has recently learned that her missing front paw is a result of trauma and not a birth defect. She needs urgent surgery to remove the bones in her leg that are causing her pain. If you want to help save Lady Cherie's leg, you can make a donation here.
Tyrella Frank and her best friend Renee Bourne had intended to adopt a black dog at a local adoption event in San Antonio, Texas. Instead their eyes fell on Lady Cherie — a white Lab mix with a missing paw, and a sign on her kennel that said, "Experienced handlers only."
"We kind of just fell in love," Frank told The Dodo.
Lady Cherie, however, was terrified of people. No one could get close to her. Frank and Bourne had to spend hours on the floor with her until they gained her trust. But eventually, Lady Cherie crawled onto Bourne's lap.
While no one really knows what happened in Lady Cherie's past, her fear of people and her physical condition when she was first rescued could suggest that she was abused.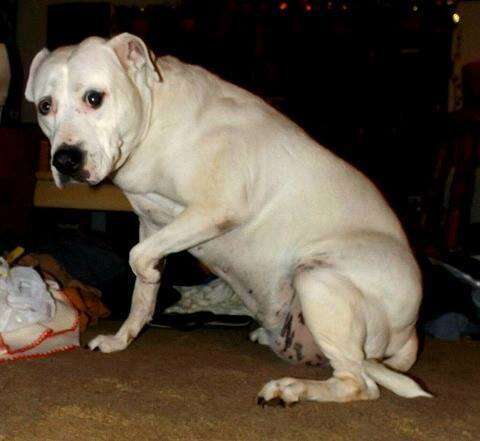 "People found her at an apartment complex," Frank explained. "She was bloody and had 12 puppies with her."
Animal control seized Lady Cherie and her babies, and took them to a city shelter. If left there, they would have been euthanized, according to Frank. Luckily, a volunteer from a local rescue group pulled all 13 animals out.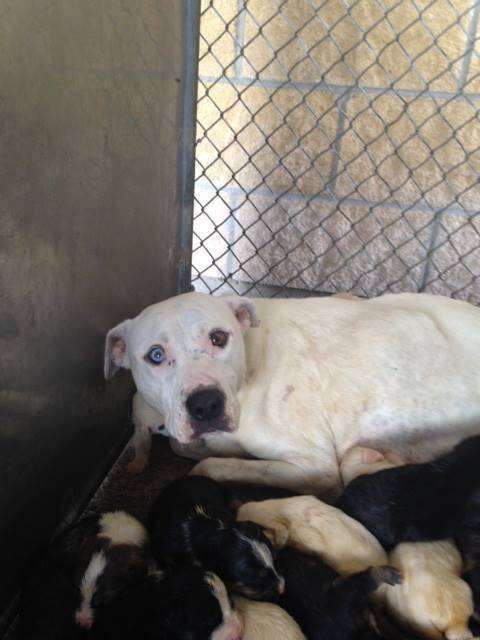 When the puppies were old enough to be spayed and neutered, the rescue group's volunteers made sure they were all adopted into loving homes. But Lady Cherie was harder to place with a family, and her medical issues probably had a lot to do with it.
Besides her scarred body and missing paw, Lady Cherie is deaf and vision-impaired. She suffers from anxiety and isn't friendly to other dogs. For a while, she also had severe heartworm disease, and needed extensive — and expensive — treatment.
She was adopted and returned to the rescue group 10 times, according to Frank. "She was a handful that not many people could handle," she said.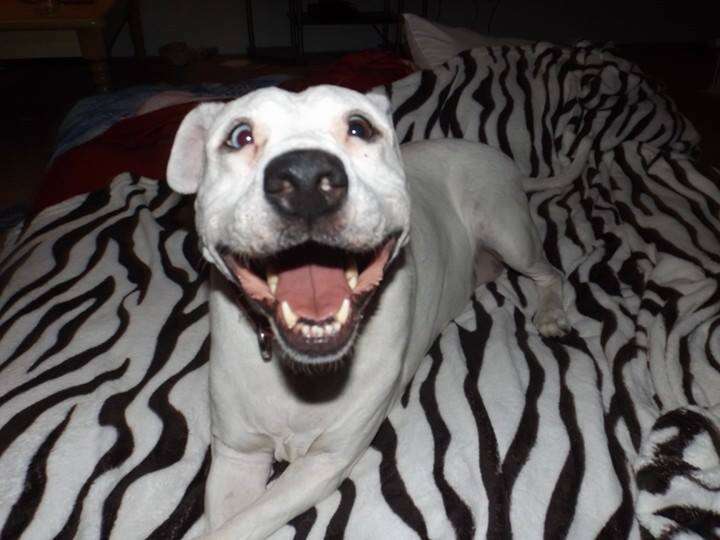 Even Frank and Bourne didn't want to adopt her — they only offered to foster her. But after spending a week with Lady Cherie, they knew they couldn't let her go.
"She learned how to play in that week, and she learned what treats were," Frank said. "She started opening up and really learning how to be a dog, and learning that she didn't always have to watch her back all the time. It was really uplifting to see. She learned what love actually is."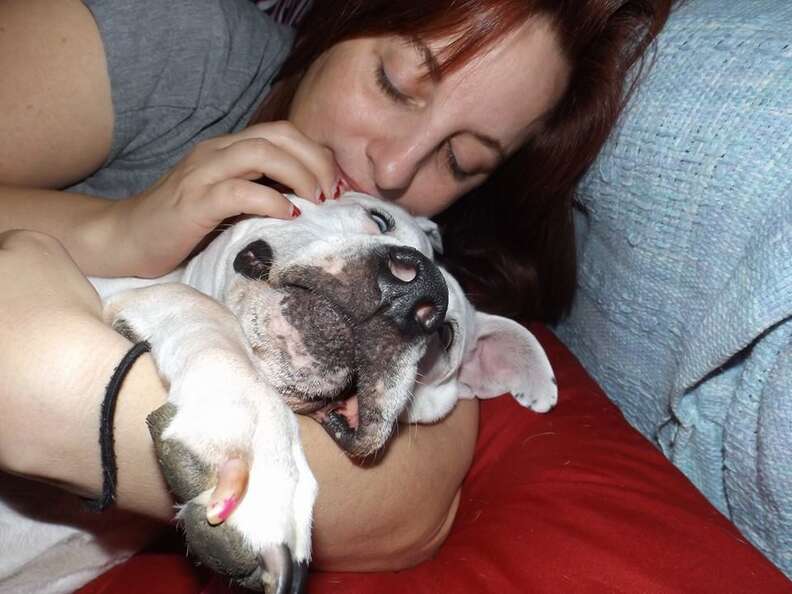 With Frank and Bourne's love, care and kindness, Lady Cherie's anxiety issues have started to dissipate, although some of her physical issues have gotten worse.
Since adopting Lady Cherie, she's had acute pancreatitis and recurring UTIs. Then last year she injured her legs — so much so, she can't walk anymore.
Frank and Bourne aren't deterred by these new obstacles, however, and Lady Cherie doesn't seem to be either. While they wait for Lady Cherie to get surgery on her legs, Frank and Bourne carry her around, or pull her in a wagon they got from Home Depot.
"We've got a foam mat at the bottom, a comforter and then a dog bed and toys in it," Frank explained. "She loves it. She's like, 'Pamper me. Pull me around.' One of her favorite things is car rides, so this is kind of like a car ride inside the house."
Now Frank couldn't imagine life without her pampered princess.
"In the morning, when we get up, she's immediately happy," Frank said. "Her tail's wagging, and she's whining and talking to us. She can't walk, but she's still happy. Everything evolves around her, and I wouldn't have it any other way. Neither of us would. She's just worth it."