Pit Bull Was Shot In The Head But Made A Heroic Comeback
We are humbled by all the support for our girl, Lacey. Rescue can be heartbreaking and rewarding at the same time and in Lacey's case, it truly has been both.
Lacey was abandoned in a boarding facility then rescued by Bull luv able Paws and Chi Wawas Rescue. On her first day out of boarding, she was shot - almost fatally - for being a pit bull. Or so we assume. We wanted to be mad and get revenge, but then we decided that we just had to save this girl and concentrate our efforts on nothing else.
Fast forward two months later: Lacey is not only doing better, she is thriving. She is at a training facility that works with dogs with disabilities. She is learning that not having full use of her front right leg does not have to mean she can never play, run, have control. She is working on being the best three-legged dog she can be. She is partially blind and deaf on her left side and since the bullets can never be removed, this will be the constant in her life. She has learned to focus her attention on her smell versus sight and hearing. She has focused on doing what she can do without being disabled, because clearly this girl has shown us what it means to be able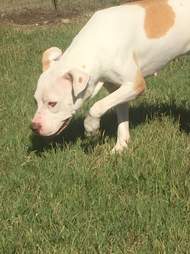 She is walking and interacting with other dogs now too. Before she would not interact with other dogs without acting badly. We feel her aggression issues were simply fear-based - from being abandoned so many times (and for so long the last time). We feel she could be adopted into a home with another dog or she can be an only dog too. That would be our ultimate goal, so she could get 100 percent of the attention all of the time, but being in a home with another dog is very doable at this point.
We are taking application for her forever home now. She has attended her last hydrotherapy sessions and can go into a home as soon as Nov. 7 to 10. We can't think of a better Christmas present for this girl than to be in the best home.
Her recovery has been nothing short of miraculous which proves to us that she just wants to be in a home where she is loved as much as she wants to love.
You can follow her story on our Facebook page Bull luv able Paws and Chi Wawas Rescue and we do as many updates as we can on our Save the Lacey the Pittie page.