Lacey was shot and survived!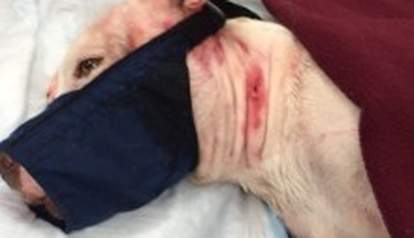 Abandoned in a boarding facility by another rescue that was "saving her", for 14 months, our rescue decided to take her as one of ours, get her in training to become a more socialized dog, and get her adopted into a great forever home! Her first day of freedom was magical! She got to run on an acre of land, play in the baby pool and sit on a real life couch, in the air conditioned house and watch TV. Best yet, she was out of the run and kennel that she called home for more than a year!
Lacey was in doggie heaven until about 8pm that night.
Her foster mom let her out to go potty, minutes later heard shots and saw this sweet baby girl lying, lifeless, in the yard.
She was just going potty.
We took her so she could have a new life and now she fights for it!
She has a shattered ear drum, spinal cord damage, shattered ribs, swelling in her lungs, and some neurological issues. She cannot stand and will not eat.
We are hoping, in the next few days, she starts responding to the emergency vetting being done. She was so close to a great life that we are praying this isn't it for her!