Lacey has been through so much but still loves humans so much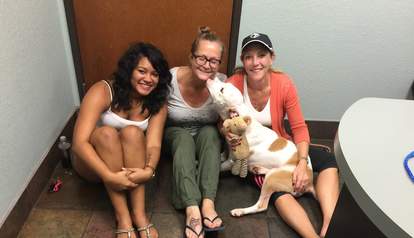 Lacey will be going to hydrotherapy tomorrow! We are so excited for her and we are sure hoping it lessens her pain. The vet indicated that she will always have to be on some sort of medication forever but she doesn't show any indication of this by the way she has acted since she got out of hospital.
She is just our super trooper.
She has the strongest will to live.
She wants to be loved and love a family of her own so she is doing everything in her power to be the best doggie possible at her foster home.
Not even one accident in the house. She goes up in her room like a good girl. She lays on the couch like a good girl. She has even been taking her medication pretty well, even though she has learned every trick in the book to push it out of her food!
We will be posting pictures of her rehab process while she is in hydrotherapy and multi modal therapies.
We are excited for her to take the next step in her journey.
Even though the probability of her having too much nerve damage to save her leg forever, we are making sure she get's the correct rehab to make her a strong tripod dog and a stronger disabled dog.
She is just very, very happy.
That makes us happy.
Her journey is really just beginning.
Her rehab will be at least 2 months. If she needs more, she will get more.

Thank you, as always, for the never ending support!!