Rescued Rabbit Won't Let Anyone Near Her New Teddy Bear
She was used by vet students for practice shots for 10 years — she's EARNED this.
For nearly 10 years, Sally the rabbit only knew two places - her wire-bottomed cage and the exam table.
Sally and a male rabbit named Dutch had been used as teaching aids at a veterinary technician school in the United States. When the rabbits became too old, the school relinquished them to Kindness Ranch Animal Sanctuary in Wyoming, a sanctuary that provides refuge to former research animals.
A confidentiality agreement between the school and Kindness Ranch prohibited the sanctuary from telling The Dodo which school Sally and Dutch had come from. However, Maranda Weathermon, the executive director of Kindness Ranch, explained that students used the rabbits to learn how to restrain them for veterinary exams, and to practice drawing blood.
Students also performed injections on the rabbits, regularly shooting saline solution under the rabbits' skin.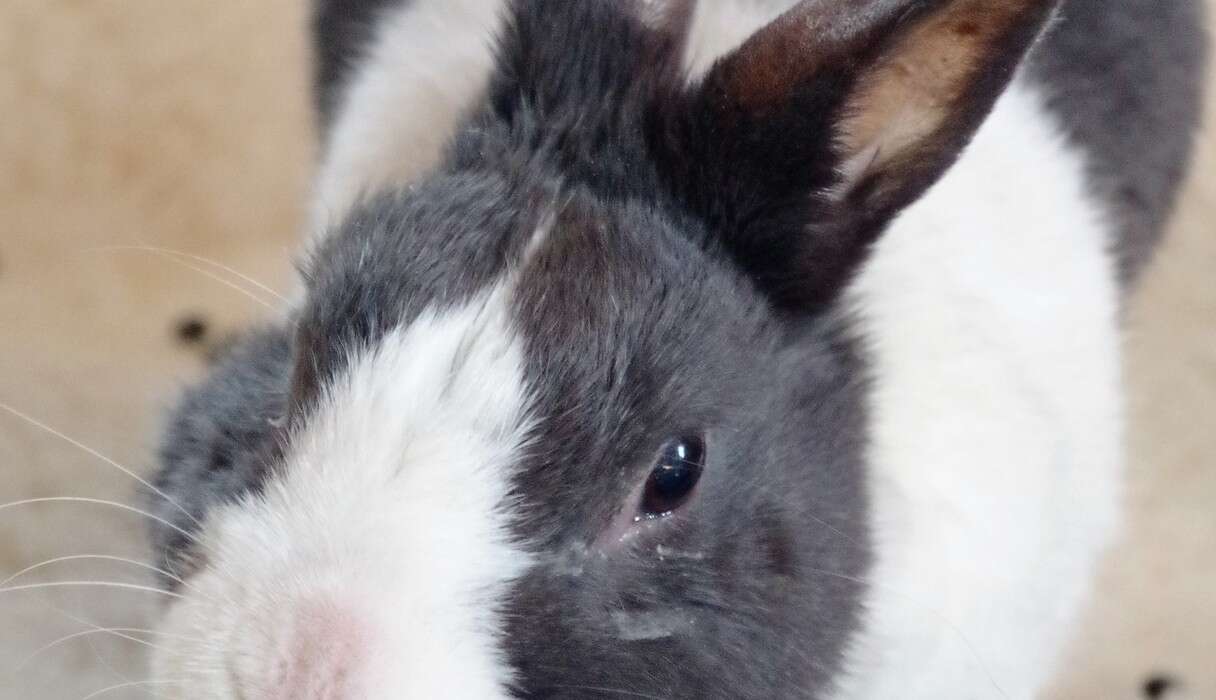 Besides being taken out of their cage for exams, Sally and Dutch (who were kept in separate wire-bottomed cages, which can cause injuries to rabbits' feet, at the school) had little to no stimulation. "They had chew sticks, but they didn't actually have toys," Weathermon said. "The school would take them outside a couple times a year, but they didn't have any consistent playtime."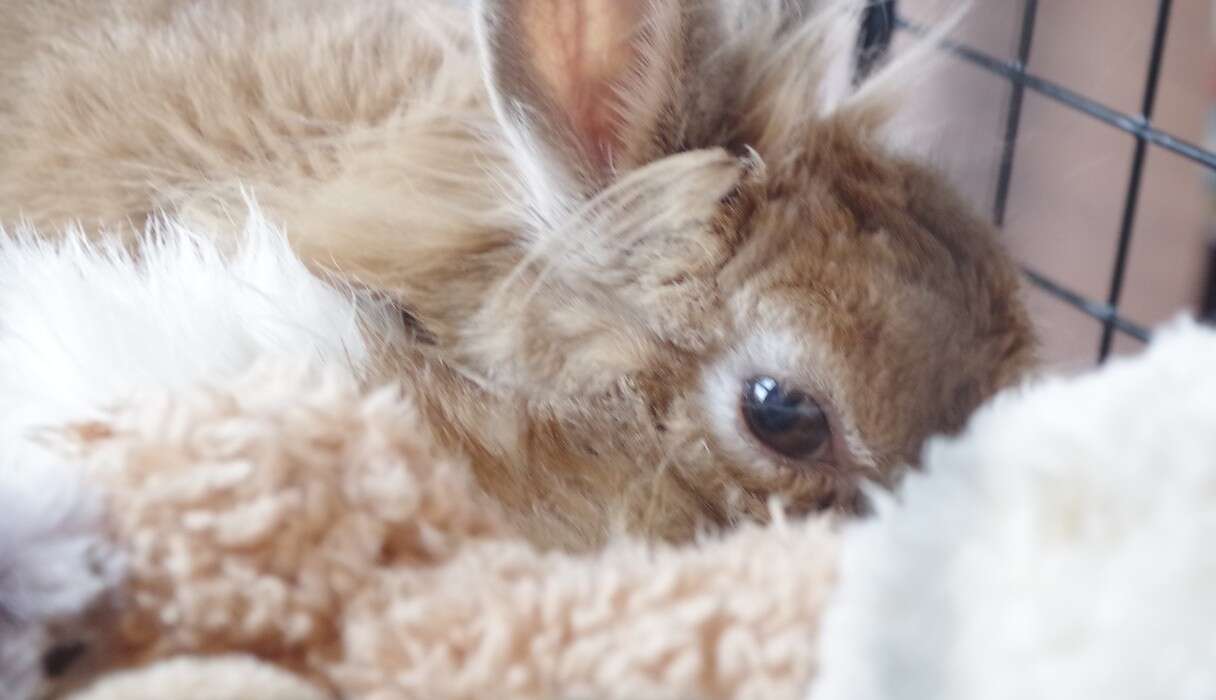 Then, four months ago, the rabbits' lives took a turn for the better. The rabbits got to retire at Kindness Ranch. After everything these two rabbits had been through, the sanctuary staff decided to spoil them rotten. They custom-built the rabbits "bunny condos" with multiple levels, and filled their enclosures with soft things to snuggle into. They also gave them a constant supply of fresh hay and vegetables.
Since neither Sally nor Dutch were desexed (and too old to safely have the operation), they continued to live in separate enclosures.
"One of my staff members noticed that they looked kind of lonely," Weathermon said. "She had some leftover dog toys that their dogs weren't playing with, so she decided to give Dutch and Sally some babies. Dutch pretty much ignored his teddy bear. He was more of a person bunny – he wanted to hang out with us and run around the office and be at our feet. But Sally was always interested in her babies. Craig, our ranch manager, would move them, and she'd run after them in her cage and try and bite him."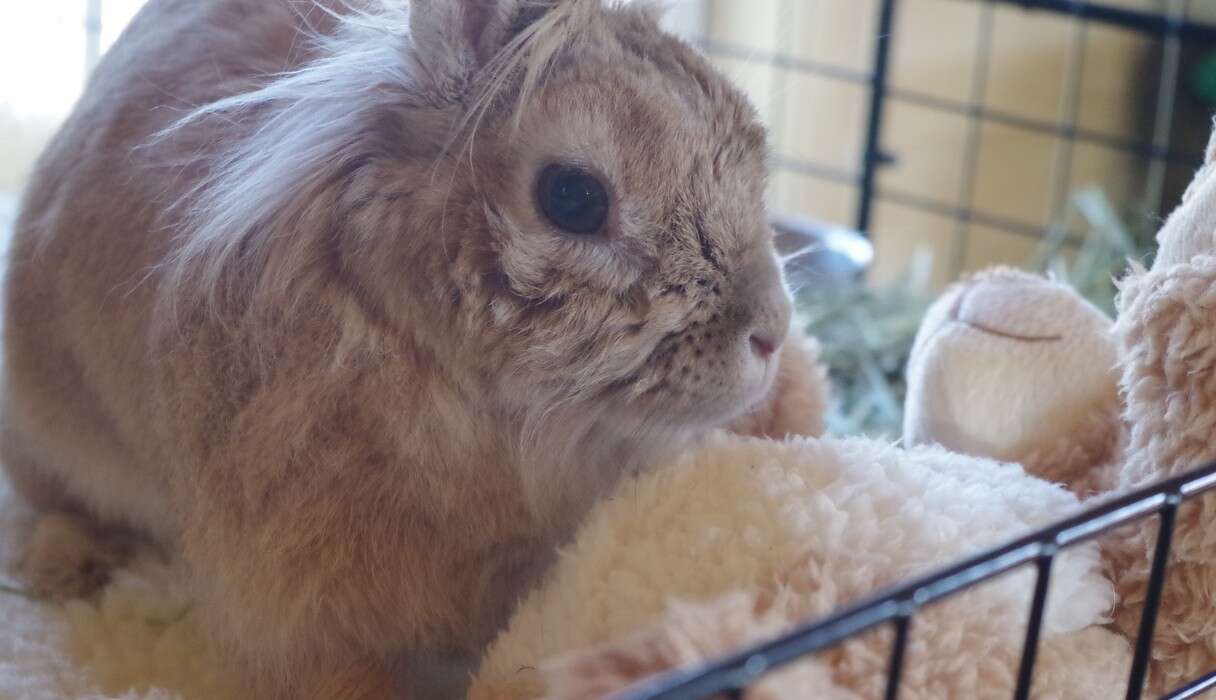 Two weeks ago, Dutch passed away. Even though the two rabbits had never directly interacted, they'd bonded through their cage walls, and Sally seemed devastated when her friend disappeared. "She went to go look for him the day he went to the veterinarian [for his last trip], and then we decided to give her his teddy bear because it still had his scent on it, and she groomed it for probably 30 minutes," Weathermon said.
Sally became totally, over-the-top obsessed with Dutch's teddy.
According to Weathermon, she grooms Dutch's teddy, cuddles him, and even "plays" by dragging the teddy around by the arms. "When we clean her cage every day, we need to put all of her toys into a pile, and she guards that pile of toys," Weathermon said. "She won't let us come near them until she's back in her cage and we can put her babies back in with her."
"It's so rewarding to see her be a real bunny," Weathermon said. "When she came, she was really tentative about being held, and she's being a lot more social. She's hilarious to watch in the office. If we're not paying attention to her, she sits there and stares at us until we do. So she's the most demanding rabbit I have ever met in my entire life. But she's such a joy to have around."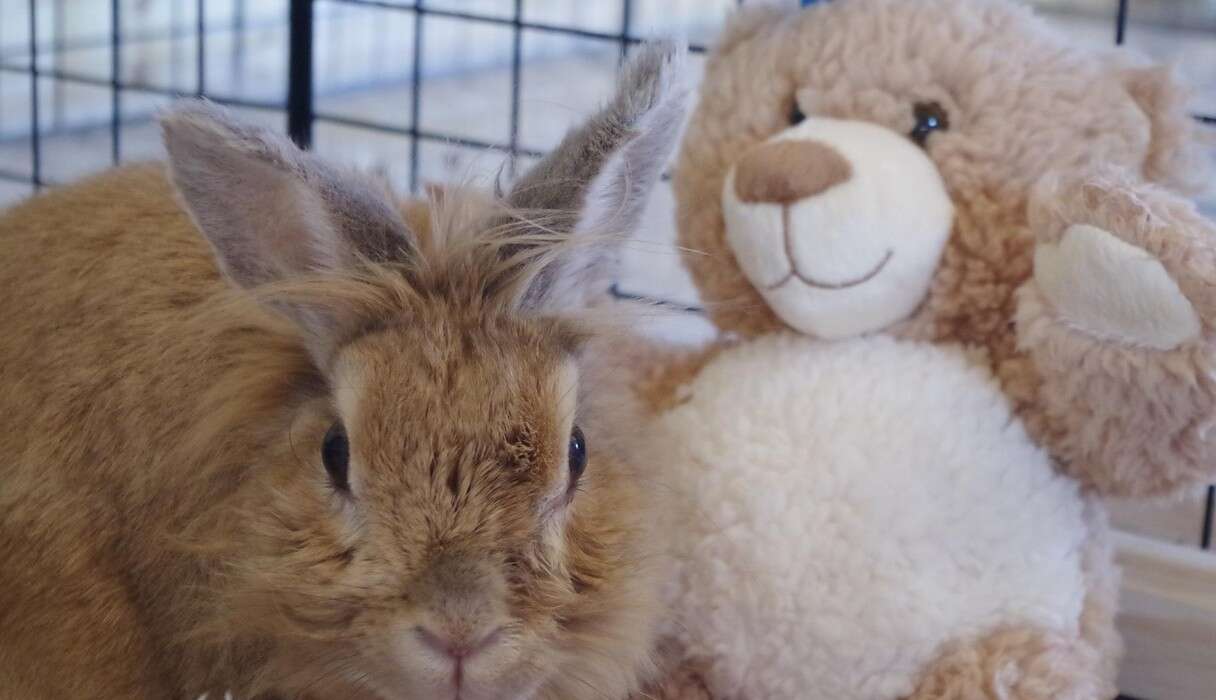 In an exciting turn of events, Weathermon explained, the vet tech school where Sally and Dutch came from has now discontinued their live rabbit program. "They have fake bunnies that they work on now, so nobody else has to go through what these two went through," she said.
To help the rabbits, pigs, cats, dogs and other former research animals Kindness Ranch cares for, you can make a donation here.