Former Lab Chimps Try Watermelon — And They REALLY Like It
They make the happiest little noises.
Earlier this month, a group of nine chimpanzees was released from a laboratory and arrived at the first real home they've ever had: a retirement sanctuary in Georgia. They've spent the past few weeks learning to be free again, exploring their expansive new home and trying all sorts of things they didn't have ready access to while under testing.
Like watermelon.
This week, their carers at the sanctuary decided to offer the group some of the fruit. Needless to say, it was a huge hit.
In the video below, one chimp begins to cautiously examine the halved watermelon. Once the others get a taste, they devolve into a chorus of happy hoots and cheers.
"They were all so polite with each other and shared the watermelon," their carers wrote on Facebook.
The nine chimps are the first family group to arrive at Project Chimps, a new sanctuary that was opened to rehome the chimps of New Iberia Research Center, a University of Louisiana research facility that recently decided to close its chimp research program after years of criticism. There are still 211 chimps who will be transferred to Project Chimps over the next several months.
Emma, one of the rescued chimps, resting in her new home

| Facebook/Project Chimps
The transfer will be the largest chimp release in history.
"We're making history here," Sarah Baeckler Davis, president of Project Chimps, said in a statement last spring. "It's an unprecedented collaboration and a momentous occasion for chimpanzees."
For many of the chimps, the move will be their first experience of life outside a lab, as many of them were born into New Iberia's program.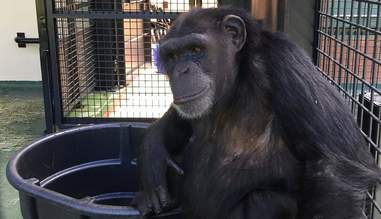 Latricia, another chimp at the sanctuary, smiles for the camera

| Facebook/Project Chimps
"There is one 1-year-old, that's the youngest, and they go up through grandmas and grandpas," Baeckler Davis later told The Dodo. She added the oldest ones, who go up to around age 50, were likely taken from the wild.
While the video above is heartwarming, it's also a reminder of just how much life the chimps missed while trapped inside a lab - and how many more "firsts" they have to experience at their new home.
"It's a whole new world for these guys," Baeckler Davis said.
Would you like to help these chimps catch up on lost time? You can send them a gift through the sanctuary's Amazon wish list, or make a monetary donation directly to the sanctuary here.