Pregnant Dog Saved From Meat Farm Was Too Scared To Let Anyone Touch Her
Her puppies just arrived and made things so much better.
Nash McCutchen has seen a lot of frightened dogs come into the shelter at the Humane Society of Tampa Bay, but she'd never seen a dog more scared than Rosa.
"She wouldn't even look at us," McCutchen, who acts as the marketing coordinator for the Humane Society of Tampa Bay, told The Dodo. "She's been with us for a week, and as of this weekend, she still wasn't really looking at us."
Rosa, a 10-month-old Korean Jindo, had been rescued from a meat farm in Wonju, South Korea, where she would have eventually been slaughtered for her meat. Like most dog meat farms, the conditions there were abominable - the dogs lived in tiny, cramped cages that were filled with their own waste.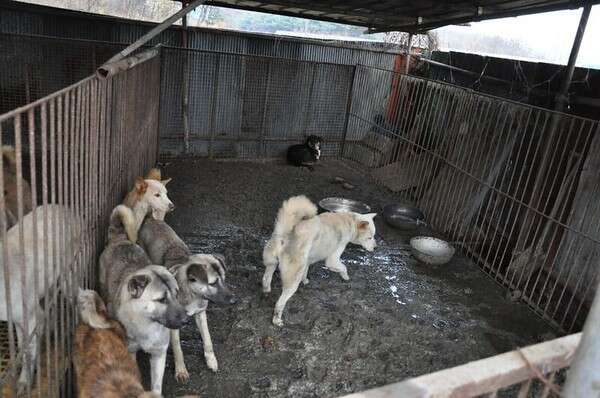 Humane Society International (HSI) managed to rescue Rosa, as well as about 200 other dogs, and flew them to the United States. Then Rosa and the 13 other dogs went to the Humane Society of Tampa Bay, which acts as an emergency partner for HSI.
Rosa was placed in a kennel with a dog bed, comfortable blankets and food, but this did nothing to assuage her fear. When a person came up to her, Rosa shrunk into the wall, according to McCutchen.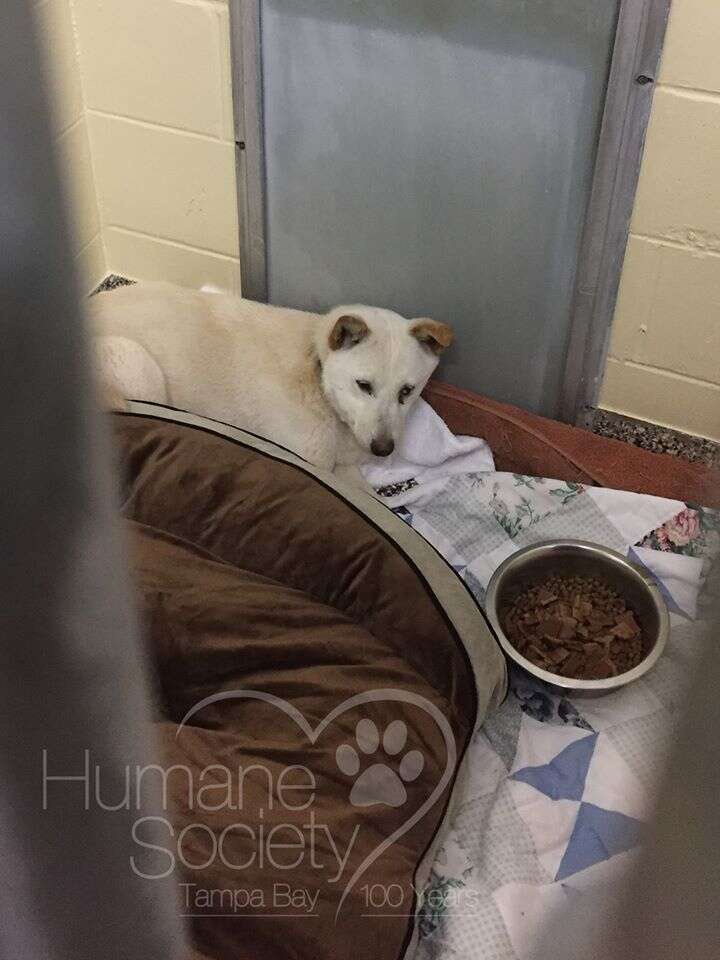 "It's a fear reaction," McCutchen said. "She's trying to get as far away as possible."
Since Rosa is so fearful, the shelter staffers have tried to give her space. But one person - the shelter's trainer, Glen Hatchell - has managed to get close to Rosa.
About a week ago, Hatchell went into Rosa's kennel to give her some attention. When he was patting her, his fingers trailed across her belly - and he figured out that Rosa was keeping a secret. She was pregnant.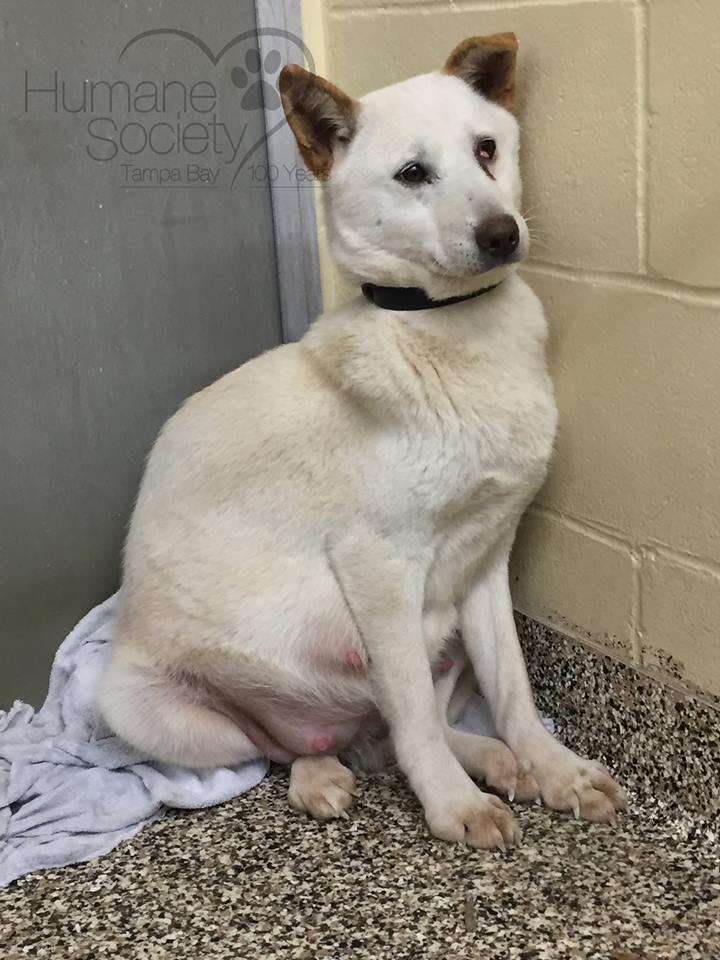 "We can tell that she's far along, but because we're not able to touch her, we can't do a thorough examination," McCutchen said on Monday. "That would just be way too intrusive for her. But we're probably thinking she'll have her babies in under a week."
McCutchen explained that she felt a bit sad for Rosa, since she's still a puppy herself.
"It's possible that her pregnancy was part of what's making her so fearful and standoffish," McCutchen said at the time. "I don't that once she has them, she's going to be totally fine. I think she's probably has a long way to go as far as socialization, but that could possibly be making it worse."
The team would soon find out. On Tuesday morning, Rosa had her puppies - 5 males and 1 female - in the first safe home she'd ever known.
"The babies are little chunks of puppy joy," McCutchen said. "They look just like Momma - creamy white from head to paw."
McCutchen had initially worried that Rosa might not show much interested in her puppies because of how scared and traumatized she is. But Rosa is taking great care of her babies, according to McCutchen.
"She is still struggling to trust humans and now has an added source of stress, caring for her babies," McCutchen said. "Today was difficult for her as there was a lot of activity as we assessed the babies and made sure everyone was healthy. But now they are resting quietly and undisturbed."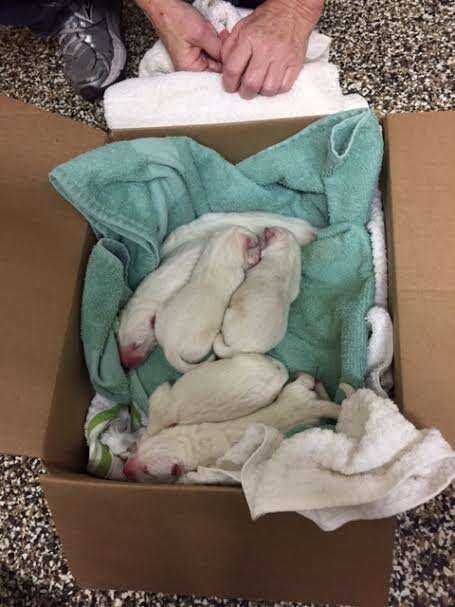 Rosa may be facing a new kind of challenge, but shelter staffers will be there to help her be the best mom she can.
To help dogs trapped in the dog meat trade in South Korea, you can sign this petition. You can also make a donation to HSI so the group can rescue more dogs like Harriet.