Thirsty Koalas Accept Help From Humans In Fire-Ravaged Australia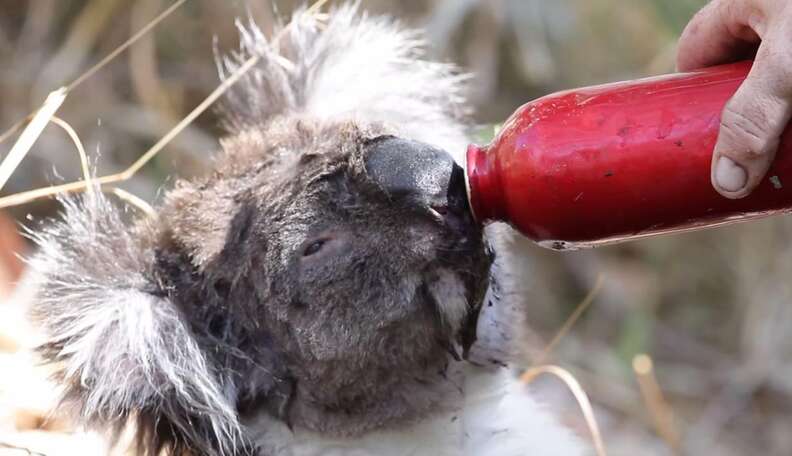 <p> <a class="checked-link" href="https://www.youtube.com/watch?v=c0lVpM2SCEE">YouTube/Colin Phil Cook</a><span></span> </p>
<p> <a class="checked-link" href="https://www.youtube.com/watch?v=c0lVpM2SCEE">YouTube/Colin Phil Cook</a><span></span> </p>
In a touching show of solidarity amidst so much devastation, a wild koala stranded by wildfires in South Australia was captured on film accepting help from a passerby - offering proof that a wellspring of hope can emerge from even the simplest of gestures, and a few lifesaving sips from a stranger's canteen.
Fires have burned through nearly 30,000 acres of bushland in the hills around Adelaide, claiming dozens of homes and displacing countless creatures. To make matters worse, summer temperatures in recent days have soared to around 100 F, toughening the battle for firefighters trying beat back the blaze.
But while the human toll continues to climb, everyday folks, such as Colin Phil Cook, are doing their part to help ease the impact for the victims - like this parched koala.
"A scorching hot Summers morning and a heat stricken Koala not getting enough moisture from the drying Gum leaves. Many die throughout Summer here in Sth. Australia," writes Cook on YouTube. "I came across this little chap in a distressed state so I offered a helping hand from my water bottle and he drank ... eagerly without hesitation."
The koala Cook encountered is far from the only one in need of a helping hand.
YouTube user abuckle also uploaded a video of a thirsty koala freely accepting a drink from his place in the shade.
"Came home to find a very hot and thirsty koala right in our front yard! Im going to remember this forever," Goldsworthy writes on Facebook. "He drank for 15mins straight before looking much better and climbing a tree."
Koalas, of course, aren't the only the only animals affected by the fires, and rescuers are doing their best to save as many as they can. As Adelaide Now reports, vets and officers from the South Australian Veterinary Emergency Management, the RSPCA and the Environment Department are conducting rescue efforts on the ground to ease the devastation on the region's wildlife.
Sadly, if past wildfires in Australia are any indicator, this blaze could result in millions of animals lost - but even in the face of that unimaginable tragedy, hope remains that others can be saved.
The RSPCA of South Australia advises people encountering sick or injured wildlife to contact a veterinarian or wildlife carer organization, and to avoid handling them if possible. For more information, visit the group's website here.