I first became aware of Kizzie at the end of November 2014 when my partner Jo sent me a link to Hart Environmental Health Facebook page. Jo was always sending me internet links of dogs that needed a home, but having three dogs already & a full time job I was always adamant that we could not manage with another one. I don't know what was different about Kizzie but my heart went out to her immediately. She had been found abandoned, hiding in a bush by the side of a road, late at night by a passing motorist. She had full blown Pyometra, was very emaciated & it was a bitterly cold November night. She was handed over to Hart Council Dog Warden, Lynn Bywell & was taken straight to a vets where she had emergency surgery, she was given a 50/50 chance of surviving the night.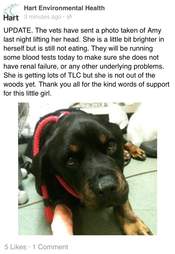 We were at the other end of the country from Kizzie, but we contacted Lynn to say we would love to give her a home if she pulled through. She was still very poorly & suffering from anaemia which required her to have a blood transfusion.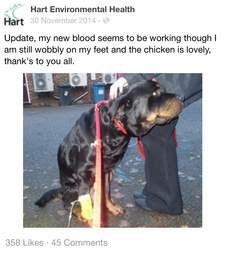 Everyday we would anxiously check on Facebook to see how she was doing. She finally pulled through & started to make a recovery. She still had anaemia & the vet suspected she may have developed an auto immune condition. She was put on steroid treatment for this & went to a foster home to try & put some weight on. We were absolutely devastated when we found out that her owner had been traced, we were sick with worry that she would end up back where she had gotten into this condition.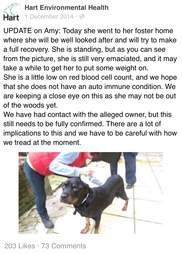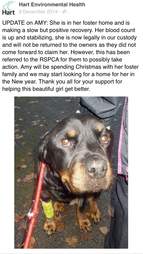 We were over the moon when her previous owners made no attempt to reclaim her. Now came the anxious wait to see if she could come home to live with us.
On the 20th of December 2014 we set off on the start of a 500 mile round trip to meet Kizzie. All through following her on Facebook she had been called Amy, but it had been discovered from her previous owner that she was called Kizzie. We did not even know if we'd be bringing her back as everything hinged on whether Roxy & Milly, our two Rottweilers & Spud, our Black Lab would get on with her. We finally arrived in Hampshire after a long drive. We left all our dogs outside while we met Kizzie. As soon as we met Kizzie I fell for her. I sat on the floor with her & immediately she sat up against me like we'd known each for years. For all the abuse she'd suffered she was the sweetest natured dog.
We took Kizzie outside & introduced her to each of our dogs in turn. Everything was going great until she met Spud who took offence to another dog being with me. Lynn & Kay the foster carer were fantastic & with a bit of perseverance they started to get on.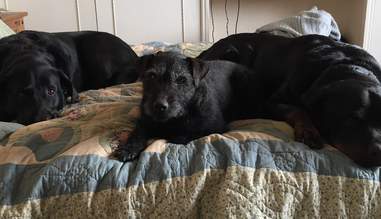 All our dogs have the run of the house but initially we left Kizzie in the kitchen to sleep, just in case any disagreements broke out between our other dogs. Within the week she was upstairs hogging the bed every night!
As she was still anaemic we had to take her for regular blood tests to see if she was getting better & hopefully get her off the steroids eventually. As it was, this choice was made for us as the steroids started to damage her digestive tract & she became very ill. Fortunately her red blood count continued to rise without the steroids & we thought we were out of the woods.
One night she began scratching constantly & I could smell blood. On turning the light on she had scratched herself raw. We took her to the vets who was at a loss to what was wrong with her. He gave us steroid cream & medicated shampoo, but her back became inflamed & she lost most of her hair over the next month. Eventually after many medicated baths the inflammation went but she was totally bald.
After a month all her hair had fully grown back, her red blood count was nearly normal & we thought we could finally relax.
One morning in July her eyes began to get red & sore, so we took her to the vets who after a cursory examination told us it was hay fever & to keep her away from grass. As we live on a farm this was pretty impossible. We took her to a different vet who diagnosed an eye infection & gave us steroid eyedrops. After checking her over he asked us what we were doing about the tumour on her spleen. It felt like the ground had just opened up beneath me. He said that she had a lump in her abdomen which was most likely a tumour. We made an appointment to come back later in the week to have it looked at via ultrasound.
When we brought her home from Hampshire we knew she may not survive, she was at deaths door when she was found but she had fought her way back. We thought she was on the mend & to be told she may now have cancer when all we went to the vets for was a sore eye was devastating.
We took her back to the vets for her scan but the vet decided he would just operate as the scan would only show a lump, which he knew was already there. He told us if it was cancer & it was too far gone he would not bring her back up from the anaesthetic. We could not believe after all that she'd been through this was the end for her & we wouldn't see her again.
After the longest afternoon of my life the vet phoned to say he had removed her spleen as it did have a large growth on it, but she could come back home. We picked her up & brought her home, it was horrible to see her so weak & scared. That night I made a bed for her on the living room floor & slept on the floor next to her.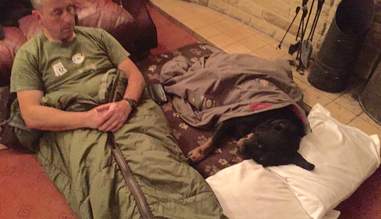 The next morning she was up & about as if nothing had happened and we had to stop her from being too energetic & pulling her stitches out. The vet said he would call in a few days with the biopsy results of her tumour. On the Friday of that week we had another bombshell, the tumour was malignant and the chances were high that she would develop cancer elsewhere in the future. We were given the choice of doing nothing & monitoring her for signs of a reoccurrence or chemotherapy. We did not want to pump her full of drugs & have her last months spent being ill. We opted to let nature take its course & hope that the cancer had not spread. If it had we'd make the most of the time she had left & have her put to sleep when she began to become ill. The vet agreed with us as chemotherapy would only buy her a little extra time & not cure the cancer. Ever since she'd came into our lives I was worried about losing her & once again it looked like this was it. Her first blood test came back negative & the vet was pleased although he warned us that chances were it would reoccur within four weeks.
Kizzie was absolutely fine in herself & was the best she'd been, she was full of energy & we thought that once again she'd beaten the odds & came through.
On the 11th of August 2015, three days before her next blood test was due, she got up for her breakfast at about 6am & was fine as ever. At 9am I took her out and she was very lethargic & couldn't be bothered walking far. I noticed she had a bee on her foot stinging her, after removing it I thought it was that that was making her ill. She got no better by midday so I took her to the vets, he gave her a steroid injection for the sting & I took her home. She got no better all day & refused to eat or drink. I phoned the vets & they said to bring her in in the morning if she didn't pick up. I slept on the floor with her that night & in the morning she could not even be bothered to stand. I carried her into the garden & she just laid down. I knew this was the end. I carried her into the kitchen & sat with her on the floor until the vet came. He put her to sleep on the kitchen floor, I couldn't watch her go & had to leave the room while Jo dealt with the vet. The vet said she didn't fight it & was so poorly she was ready to go.
We'd only known Kizzie for just under eight months but it felt like she'd always been with us. I can't imagine the horrendous life she'd had before we met her but her last months were full of love & happiness. I like to think her name is short for Kismet & it was fate that our paths crossed, I only wish we could have met her sooner & done more for her so she could be with us now. Miss her so much.
Kizzie was cremated & her ashes were placed in the garden where she used to chase rabbits every morning. A million miles from where she started her life.