Kittens Found Abandoned In A Box — In The Middle Of A Snowstorm
Someone saved them just in time.
All that separated four tiny kittens from a bitter snowstorm were the cardboard walls of the box they had been dumped in.
And had a woman passing by not looked inside that box, left on a street corner in Cleveland, Ohio, those walls wouldn't have protected them for very long.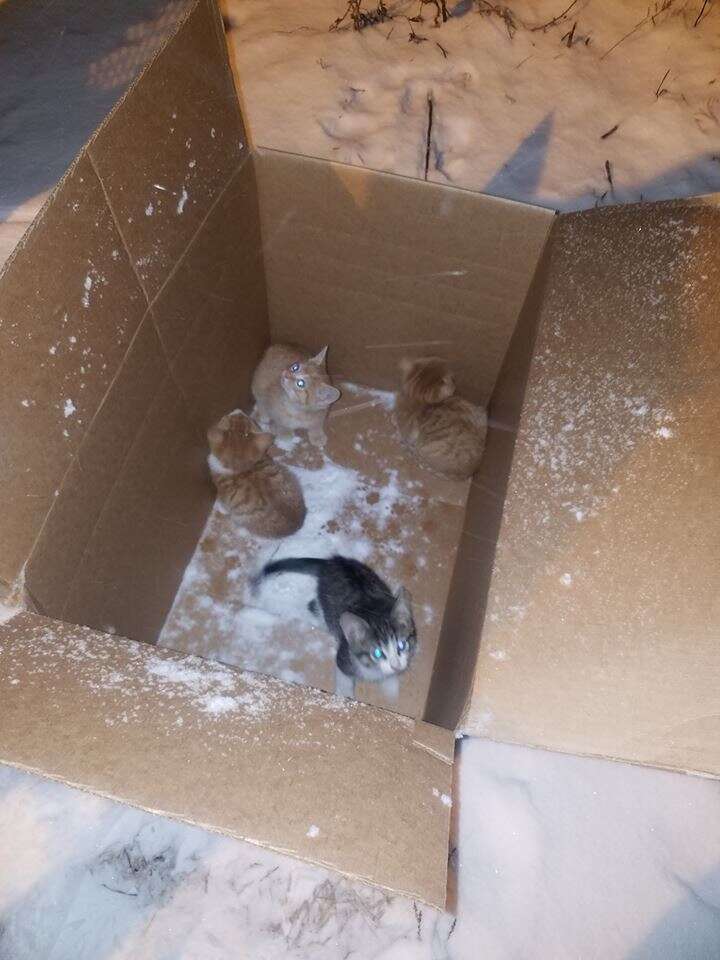 "It was a pretty brutally cold day of snow here," Sharon Harvey, president and CEO of the Cleveland Animal Protective League (CAPL), tells The Dodo. "The way the temperatures dropped, if they were left out overnight, I seriously doubt they would survive."
Instead, the woman reported the parcel's quivering contents to the police. Soon after that, the Cleveland Animal Protective League got the call.
"Because it was so frigid and we had no idea what their condition was, we wanted to make sure to get them in as quickly as possible," Harvey says. "We sent a staff member out who picked them up, and brought them in. Our veterinary team gave them an immediate exam."
Surprisingly, the kittens were little worse for their experience - just runny noses, suggesting they had spent at least some time out there.
"Certainly not long enough for there to be any permanent disability from it," Harvey says. "Thankfully, she found them in time."
These kittens - named Smalls, Squints, Repeat and Benny - likely survived by clinging to each other.
And it kept them alive long enough for them to find a much stronger and more lasting source of heat - the warmth of human hands.
The kind of hands that will never let them go.