Cats Who Were Abandoned As Kittens Now Help Other Animals Feel Safe
When three kitten brothers were found abandoned under a backyard deck, their future was very uncertain. They were brought to the Mercy Animal Clinic for treatment, where no one had any idea that eventually, the clinic would become their permanent home.
Mercy Animal Clinic
Mercy Animal Clinic in Garland, Texas, opened its doors in February 2013. Dr. Rick Hamlin had always had cats who lived at his clinics in the past, and was on the lookout for his newest additions. When the three brothers arrived into his care just a month after the clinic opened, Hamlin knew it was meant to be.
He named the brothers Carl, Roger and Larry, because his daughter suggested they needed "office names." From that moment forward, the trio became the official clinic cats.
Mercy Animal Clinic
Now a little older, the brothers have completely adjusted to life at the clinic, and love every inch of their new home. The cats are full of personality, and are not shy about making their presence known to everyone.
"We offer donuts to our clients on Saturdays and we have to keep Roger from stealing them," Hamlin told The Dodo.
Mercy Animal Clinic
The three brothers are very different, and all very loved within the clinic family.
"Carl is our resident bad boy and will not yield an inch to dogs," Hamlin said. "Larry is notorious for taking things out of women's purses."
Mercy Animal Clinic
One of the trio's main duties at the clinic is greeting the patients and making sure they feel welcome and safe.
Mercy Animal Clinic
"Larry and Roger love a crowd of people and pets. They will visit clients and pets in the waiting room and will jump on the exam table to visit with patients during exams," Hamlin said. "They all love to crawl inside other animals' carriers."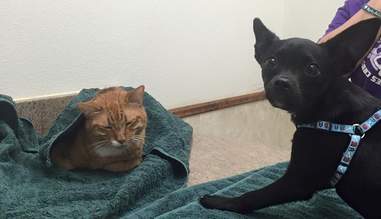 Mercy Animal Clinic
The brothers don't just live at the clinic - they work there too, and the duties they perform are vital. They love to help keep things organized ...
Mercy Animal Clinic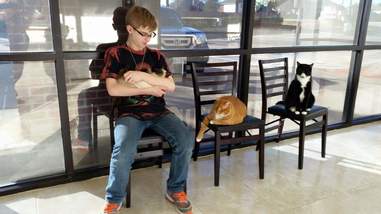 Mercy Animal Clinic
... assist with procedures ...
Mercy Animal Clinic
... inspect grooming techniques ...
Mercy Animal Clinic
... oversee paperwork ...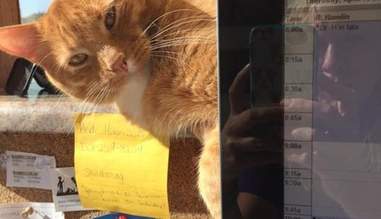 Mercy Animal Clinic
... and generally keep the place clean and organized.
Mercy Animal Clinic
Roger, Carl and Larry went from being homeless orphans to valued members of a veterinary team, and they seem to be enjoying their fabulous new life.