Kitten Was Thrown From Building, But Now She's Safe With Me
<p> Youtube.com/Valerie Benguiat<span></span> <span></span> </p>
The story of Persia starts with a horrendous injury and the search of a lost kitten. On Oct. 16, a good friend of mine, who lives in the same building where I live in Shanghai, told me that his male kitten was lost, so we started to look for him immediately. However, during that search what I found instead was a critically injured female kitten in the terrace located on the third floor of our building. This small white female kitten was approximately 2-months old at the time, had two collars, but no contact information of the owner. I rushed her immediately to a good vet hospital that I knew and the vet doctor believed that:
She fell from a balcony in the building.
She was outside many days without receiving any help, food or water.
The day Persia was found and rushed to the hospital. Photo: Alejandra Vasquez
Her temperature was barely 35 degrees and she was in shock. An X-ray was taken, showing she had a compression fracture between the vertebra T13 and L1, luckily with no severe displacement, so she is not fully paralyzed. I named her Persia because she looks just like my male rescued cat Persio, to whom I also rescued in Shanghai. Both of them have pure white fur coats, blue eyes and pink noses.
The vet doctor told me that Persia could not be operated as she: had internal bleeding, too much time had passed by since her fall, and she was in critical condition. The doctor could only stabilize her, and we would have to wait and see if she could make it after the first few critical days. I was terrified thinking what would happen to her: would she survive? Was I just extending her pain and agony? I had many terrible questions, but the doctor told me to calm down, wait and see. Luckily, Persia not only survived, but as days passed by she turned out to be a happy and playful kitty; even though she went through a terrible experience, she was always friendly, cuddly and jolly! I fell in love with her sweetness as did many other people in that hospital. The sad part of the story is that information collected in the building, after Persia was rescued, indicated that she was tossed from a balcony by her alcoholic owner on purpose.
Persia in her cage with minimal movement allowed. Photo: Alejandra Vasquez
Persia was in that first hospital for nearly a month, with minimal movement allowed in order to stabilize her fracture. During her stay in that hospital I started to look for doctors who could help her with her rehabilitation and physical therapy, and also for donations for her medical treatment as I already knew it would be quite expensive. Eventually, after plenty of enquiries, I found a good doctor who knew how to provide acupuncture sessions and physical therapy to pets like Persia. So, as soon as Persia was ready to leave her first hospital, I moved her to another hospital to start her rehabilitation process, and to prevent her from losing muscle or becoming spastic. Around that same time, a good Chinese friend of mine (who is also a Paw Pals Animal Rescue volunteer) started a fundraiser for Persia among her Chinese contacts, raising enough funds for the first few months of Persia's therapy and to buy her a wheelchair.
Photo: Alejandra Vasquez
In the new vet hospital Persia showed up to be a strong and happy kitten, never afraid of people or other animals. In fact, during the months she spent there, Persia was always going out in her wheelchair to the hospital hallway in order to greet new "patients" (including very large dogs that were surprised by her friendliness). Furthermore, Persia always approached people to pet her too, becoming quite a famous kitty in that hospital!
In time we all learned that Persia has: sensitivity in her hind legs, she can control her pee and poo, and every day she is getting better thanks to the exercises she has to do. However, it is going to take a long time to know how much movement capacity she will be able to recover. Consequently, she needs to keep getting her exercises and therapy done.
While Persia was getting physical therapy, I started to look for a foster home for her, so that she could stay in a home environment instead of always in a hospital. Given that I am a rescuer with several rescued cats at home and I also have a full time office job, I knew I needed a foster parent who could help me with Persia. Eventually I found two wonderful foster homes for Persia. In the first one, Persia was super happy for a few months, living and enjoying the time with the cat of the house (Augi) and her foster mom (Laura). However, when Augi passed away due to cancer (at 14-years old), Laura was heartbroken and felt she could not have cats at her home for a while.
Shortly after I found a second foster home for Persia, where she enjoyed the company of two ginger cats and "took control" of the bed that belonged to the dog of the house (a huge German shepherd that had to "deal with it"). Everybody was happy but, after one month, Persia lost that foster home too because her foster parents were working and traveling too much, and Persia indeed needs extra care.
Persia at her second foster home. Photo: Macarena Jurado
Up to the present Persia has been having physical therapy every day, and acupuncture sessions once per week. But the most amazing news is that, after a long time of searching, I found an adopter for Persia! She is a Mexican animal rescuer who used to live in Shanghai, but currently is living and working in the UK (for more than a year already). Hereafter, I already started all the vaccinations and needed paperwork, so that Persia can travel to Europe with no problem.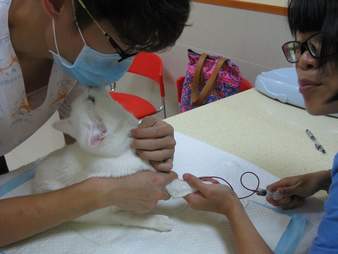 Persia kissing the nurse while a blood sample is taken. On Aug. 25, the blood sample was sent to a EU approved laboratory in Germany in order to have a EU certificate that will allow Persia to travel to the UK. Photo: Alejandra Vasquez
Currently Persia is boarding at another vet hospital in Shanghai, and her adopter has started a campaign on FundRazr. The idea is to raise funds for her physical therapy and boarding in Shanghai, for her trip from China to the UK, and for her medical treatment and rehabilitation in London. We are hoping to be able to send her to London by the end of December 2015 or early January 2016.
Any amount is greatly appreciated, no donation is too small for an animal in need. If you cannot donate please help Persia by spreading her story among your friends. Thank you very much!