If there was any doubt Charlie had been torn from his mother too soon, one needed only look to the kitten's tiny belly.
His umbilical cord was still attached.
A stranger found Charlie in a yard in Baltimore, Maryland, alongside two dead kittens. He placed the gasping kitten in a gift bag and called animal control.
Soon after that, Charlie arrived at BARCS Animal Rescue and Care Shelter, where staff realized he was hardly more than 2 days old - and already in the fight of his life.
"That's an extremely critical age to have a kitten without a mom, let alone to be without a constant body heat source," Bailey Deacon of BARCS tells The Dodo.
Charlie had arrived at the shelter late in the evening, so a surgical technician took him home with her. She spent the whole night with Charlie, monitoring him every few minutes.
Back at the shelter the next day, Charlie was swaddled in blankets, while a heating pad aimed to replace the warmth he might have received from his mother.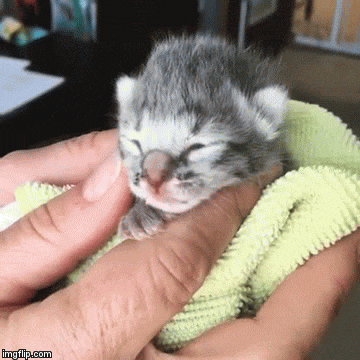 BARCS Animal Shelter
On Thursday, Charlie turned 5 days old. It may not seem like much of a birthday, but in this kitten's case, every minute is worth celebrating.
"He is doing well, eating and spoiled rotten," Nejla Solano, foster coordinator at BARCS, tells The Dodo. "But time will tell if the little nugget will make it."
Chin up, kitty. You're in the best hands.
Charlie won't be ready for adoption until he's at least 8 weeks old - and, as Solano explains, "he's still got a long way to go at this point." But you can help support BARCS in its mission to help animals in need by making a donation here.