Kitten Stranded On Freeway Gets Rescued Thanks To Facebook Post
Sometimes something as simple as a Facebook post can help save a life.
After hearing about a small kitten that had been spotted stranded on a busy freeway in Houston late on Thursday night, Monica Myers took to the social media site to ask if there was anyone in the area who might be able help. The post was quickly shared among her network of animal-loving friends and their followers, leading one of the people who saw it to call Lili Elatar, who lives just a few miles from where the helpless young cat had been spotted.
It was already after midnight when she got word, but still Lili leapt into action -- hurrying out to rescue the kitten without even stopping to change out of her pajamas.
After a short drive, Lili found the frightened kitten huddling at the base of an exit sign -- hungry, cold, and in danger of being hit had it ventured out into traffic.
"I grabbed the kitten with my bare hands and jumped down to the shoulder into my car and we both drove off to safety," Lili told news station KHOU.
"It was extremely scary for me as a person to be out there, and I can't begin to imagine being 3-5 pounds and helpless out there for days without any food or water and left in the rain."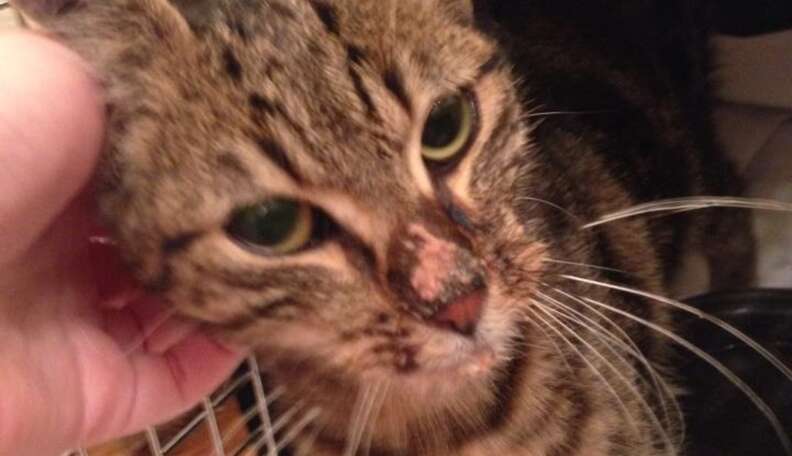 Afterwards, Lili put the kitten, which she and her friends named Flash, into the caring hands of Frisky Paws Rescue where, fortunately, he is said to be doing well both physically and emotionally as he awaits adoption.
"Despite his traumatic experience, he is still trusting of humans and a total love bug," writes the shelter.
There's no telling just how Flash wound up in the dire predicament he was in, but the circumstances surrounding his rescue leave little doubt about the positive potential a well-connected group of animal-lovers can have on the lives of those who need it the most.