Alleged Kitten Thief Caught On Camera
We hope you didn't click here looking for cat jokes. No kitten puns. Not even if it seems so pu-- perfectly easy.
What you can find here is the surreal story of the province-wide hunt for one Canadian woman who may have stolen a kitten. Kitten-napping is, after all, a serious crime in Canada.
Hopefully, police will be driving that lesson home soon, after a woman allegedly made off with a kitten at giant thrift shop Value Village in Langley, British Columbia.
Late last month, the Royal Canadian Mounted Police released an image of a young woman boarding a local bus with a kitten on her shoulder.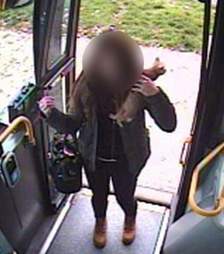 Langley RCMP
The woman allegedly pilfered the cat from a fellow shopper at the nearby discount superstore, where another woman, for her own inscrutable reasons, had left a kennel full of kittens on the ground.
When she returned to the kennel, a kitten was missing.
"Somebody would have had to go open the cage and take it out," Cpl. Holly Largy of Langely RCMP told reporters.
Police have since identified a "person of interest" in the kitten theft case. No arrests have been made.
Stealing a cat falls under Section 334 of Canada's Criminal Code, which deems most animals as property with a value of less than $5,000. Penalties range from a fine to jail time, although jail time is rare.
Police are asking anyone with information about the woman seen in the picture to contact Langley RCMP through the website or by calling 604-532-3200.
Editor's note: The Dodo's policy is not to show minors in photographs without a parent's permission, and since we cannot confirm that the alleged thief is 18 or older, we have chosen to blur her image. You can see the full photo here.