A lot more mysteries seem to occur when you have a pet than when you don't. Things go missing and then reappear, a little, um, altered. Things might even disappear entirely. Pets swear it's not them ... but we usually catch them eventually.
This little black kitten is no exception.
Luna's humans were a little confused when all their kitchen sponges kept disappearing. Where were they running off to?
One day, Luna's family caught her walking away with a sponge - and decided to follow her. Those sneaky humans!
They pursued Luna, stealthy as ninjas, upstairs ... and finally discovered the answer to all their questions.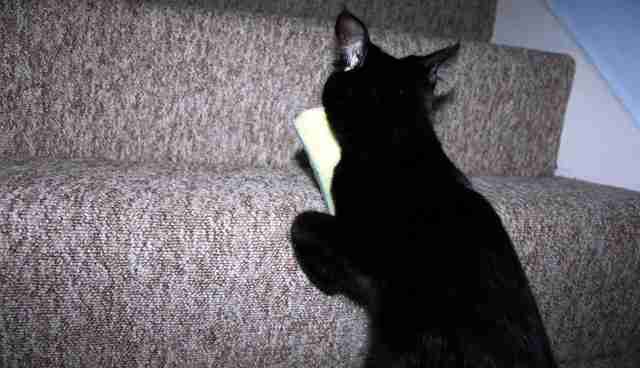 As the family hid in the shadows, they discovered that not only did Luna have multiple sponges, she also had tissues and other kitchen items hidden away in her lair.
Eventually, the humans called Luna out on her plot, and the mystery was solved! As Luna's face clearly says, "I would have gotten away with it, too, if it weren't for those meddling humans!"
It's OK, Luna. There are many other mastermind plots to be had. I'm sure you will prevail - after all, cats always do!