Kitten Showers Are The Best Things You've Never Heard Of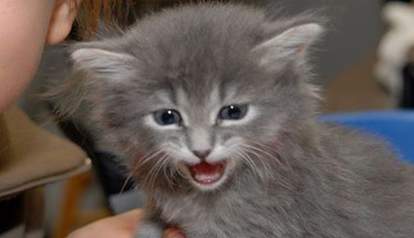 <p> <a href="https://www.facebook.com/WeldCountyHumane/photos/a.69925925881.90037.69814555881/10152615161920882/?type=1&theater" target="_blank">Facebook/WeldCountyHumane</a> </p>
With kitten season upon us, shelters across the country are about to be swamped with tiny, fuzzy newborns who need lots and lots of care.
To help secure the supplies they'll need to care for the millions of new arrivals this spring - and to recruit willing humans as foster families - shelters host adorable fundraisers called kitten showers.
The shelter accepted donations of kitten food and formula as well as baby blankets and heating pads. The kitten shower was also an opportunity to train foster families on the ins and outs of caring for newborns.
Fostering kittens isn't all fluff and cuddles. Newborns require round the clock feedings, and young cats have a ton of energy, so they need constant supervision and care.
Whether or not your local humane society hosts a kitten shower, it would probably love any supplies or time you can donate - PetSmart Charities estimates 20 million kittens will be born this spring, and shelters need all the help they can get.
So get out there and play with some kittens! And if you can, consider fostering. These little fuzzballs deserve to start life off in safe and loving homes. Shelters can be lonely places for kittens, who need affection and guidance from humans or other cats to learn how to be good pets. Living in a home is a much better alternative than starting out in a cage.
Learn more about kitten season here, and watch the whole Humane Society of Weld County kitten shower below: