Kitten Eats A Little Differently ... Because Someone Fixed Her Broken Heart
When a tiny rescue kitten was having trouble giving up her bottle - and eating real food - everyone assumed it was because she'd lost her mother and was simply having trouble adjusting.
Little did they know, there was something much more serious going on - a rare, life-threatening heart defect.
Humane Society Silicon Valley
Humane Society Silicon Valley
Maxie and her kitten siblings were saved from a county shelter at just 4 weeks old. The shelter had no foster system in place and didn't have the resources to care for them, so Humane Society Silicon Valley (HSSV) stepped in to help. They found an experienced foster mom to care for the litter.
The kittens all appeared to be healthy - until little Maxie started having trouble eating.
"Her foster mom kept telling me Maxie couldn't keep food down" HSSV veterinarian Dr. Carol Campbell told The Dodo. "I kept telling her it was because she needed to be off the formula. But it was her instinct to keep Maxie on the bottle that saved her life."
Humane Society Silicon Valley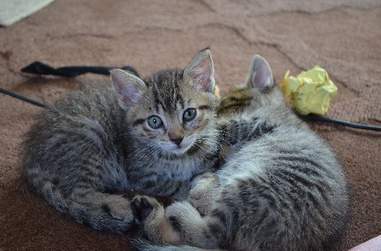 Humane Society Silicon Valley
Upon further investigation, the real problem was discovered: Maxie suffered from a rare heart defect called persistent right aortic arch. The condition caused Maxie's heart to cut into her esophagus, which limited her ability to swallow. The vets had never seen anything like it before, but they knew if something wasn't done, little Maxie most certainly wouldn't survive.
It was decided that the veterinarians at HSSV would attempt open-heart surgery on the little kitten, even though she was only 8 weeks old.
"Anytime you are opening the chest cavity and are doing surgery millimeters from the heart, it is extremely risky," Campbell said. "However, all of these reservations would not stop up from trying. We knew we had the skill and had done our homework in order to try and save her life."
The revolutionary surgery lasted over two hours. Campbell, along with veterinarians Dr. Andrea Moore and Dr. Andrea Berger, worked tirelessly on opening Maxie's chest and cutting back a part of her heart so that her esophagus would have the room it needed.
Humane Society Silicon Valley
Humane Society Silicon Valley
She was so small and young, and the surgery was risky, but against all odds, tiny Maxie made it through.
Maxie was mostly fully recovered within only two weeks, but due to a blood clot from complications ended up needing her tail amputated, which added some time to her recovery.
Because of the surgery and the way Maxie's insides are constructed, she had to eat standing up for a while and can handle only very soft foods. Maxie doesn't mind, though, and in every other way she is a normal, playful kitten.
"Maxie will always be a little bit different. She has to eat standing up like a kangaroo and her diet is all soft food," Finnegan Dowling, the social media manager at HSSV, told The Dodo. "But she has the opportunity for a full and happy life now and she plays, sleeps and wrecks things just like a normal kitten."
Humane Society Silicon Valley
Humane Society Silicon Valley
Maxie returned to her foster home to recover after her surgery, and HSSV promptly put her up for adoption. But as soon as they did, her foster family decided they couldn't possibly part with her, and adopted her themselves.
Maxie can mostly eat like a normal cat now, and continues to get stronger every day. "As she has grown, the outcome from surgery has continued to improve," Campbell said. "We hope this continues until she is a full-grown cat."
Humane Society Silicon Valley
Humane Society Silicon Valley
Maxie's adoption wasn't the only happy ending that came out of her story. Because of her condition, the vets at HSSV learned how to fix it, and were able to help another kitten who came in with the exact same issue. They may even be helping a third very soon.
If you'd like to donate to Humane Society Silicon Valley, you can check out its website for more information.