Shelter Kitten And Puppy Basically Saved Each Other's Lives
Now they're up for adoption — only as a package deal.
Folks at the Shenandoah Valley Animal Services Center are relieved that Lil Nugget the puppy and her buddy, Chicky the kitten, are in a loving foster home now.
Partly, of course, because it gives these little ones a chance to get healthy and strong before they go up for adoption.
But also because "we could get nothing done while they were with us," shelter director Lindsey Huffman tells The Dodo. "They are about the cutest things I have ever seen!"
These two babies landed in the Virginia shelter separately, on the same day: October 3.
The kitten, Chicky, was found as a stray, and was luckily pretty healthy.
The puppy was a different story. She was brought to the shelter early one morning by a man who was "in tears because she was dying and just needed help," says Huffman.
Nugget was unconscious; her glucose levels and body temperature were too low even to register. Even after being given fluids and other treatment, she did not even begin to open her eyes or lift her head for several hours.
A member of the shelter staff took Nugget home to keep an eye on her through the night - and kept that eye on her all night long, because even as her health improved, the puppy demanded constant attention and affection. She did the same on the second day, and second night.
She was "whiny and upset to the point someone had to hold her all the time," says Huffman. "In a busy shelter this wasn't possible."
Chicky, meantime, was also lonely and vocal alone in her cage. The tired shelter staffers thought, Why not give this a shot?
"They immediately started nuzzling one another and later started playing," says Huffman. "Match made in heaven!"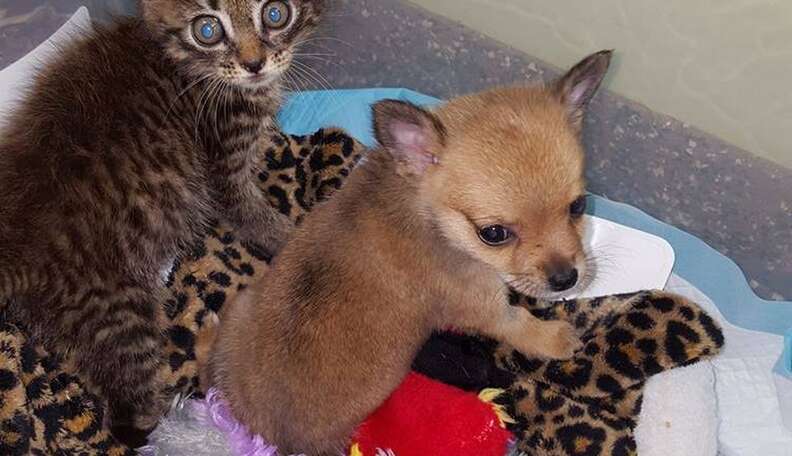 And it's been just like that, ever since.
They're being fostered by the shelter's veterinarian, Leti Hansen - who reports that, unsurprisingly, they continue to be each other's BFFs, and "they are awesome."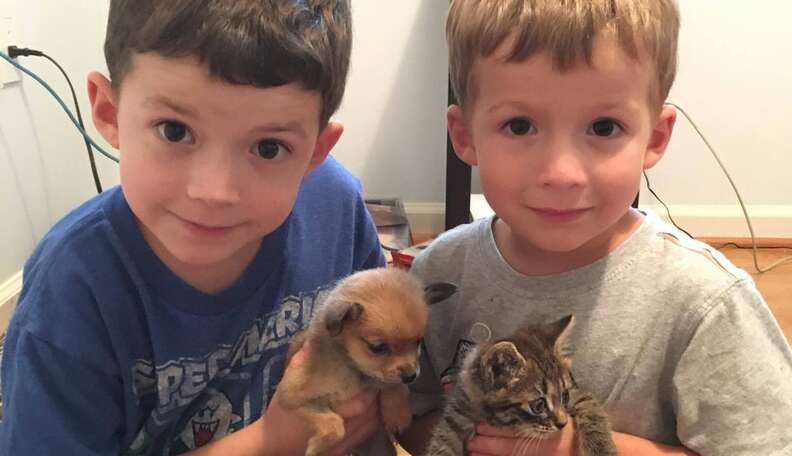 In another couple of weeks, Nugget and Chicky will be ready to be adopted. The shelter is taking applications now (reach out if you want to be considered!).
They can be adopted out of state - though a shelter visit is required - and must stay together as a pair.
Huffman doesn't think they will have any trouble finding a wonderful home, since all but the most cold-hearted people "instantly fall in love. I just wish it was this easy for every shelter pet to find a forever home!"
What's really remarkable isn't just that these two are so cute together, but that they also likely saved each other's lives.
Without Chicky, Huffman thinks Nugget would have been hard to place in a foster home, since she required so much attention. And cats like Chicky don't have such great odds in shelters, either, when they're flying solo.
"Otherwise she would be just one of many tabby kittens that may be with us for months trying to find a family," says Huffman. "She was just lucky to be the chosen friend of an adorable puppy."
To help with their care, visit the shelter's wish list.