The Sad Truth Behind This Sweet Kitten And Owl Friendship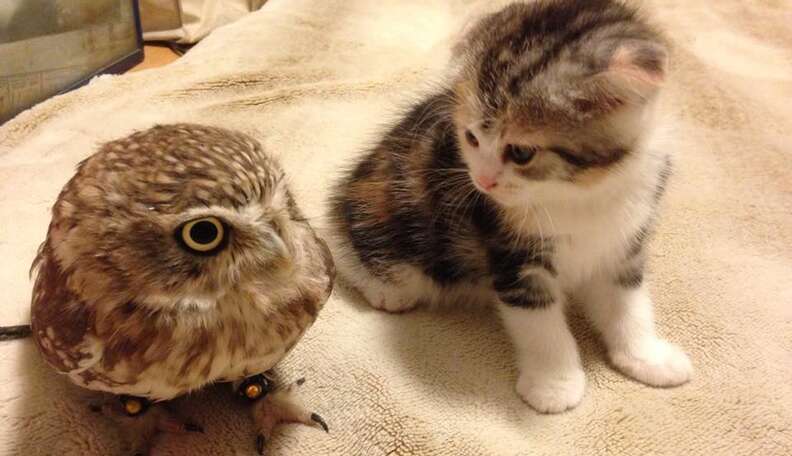 <p> <a href="https://twitter.com/hukuloucoffee/status/615928153198825472" target="_blank">Facebook/hukuloucoffee<br> </a> </p>
<p> <a href="https://twitter.com/hukuloucoffee/status/615928153198825472" target="_blank">Facebook/hukuloucoffee<br> </a> </p>
This tiny owl has recently become best friends with an adorable kitten, and the internet is abuzz with cute photos of the two together - but the real story behind the pictures isn't quite so cute.
Fuku-chan is a tiny 5-year-old owl and Marimo is a 2-month-old kitten, and the two met and became besties at Fuku-chan's home - which happens to be in a café.
Outlets covering their friendship have pronounced it "beautiful," heart-melting and "the most adorable thing you will see today," but no one is talking about the sad truth behind so-called owl cafés.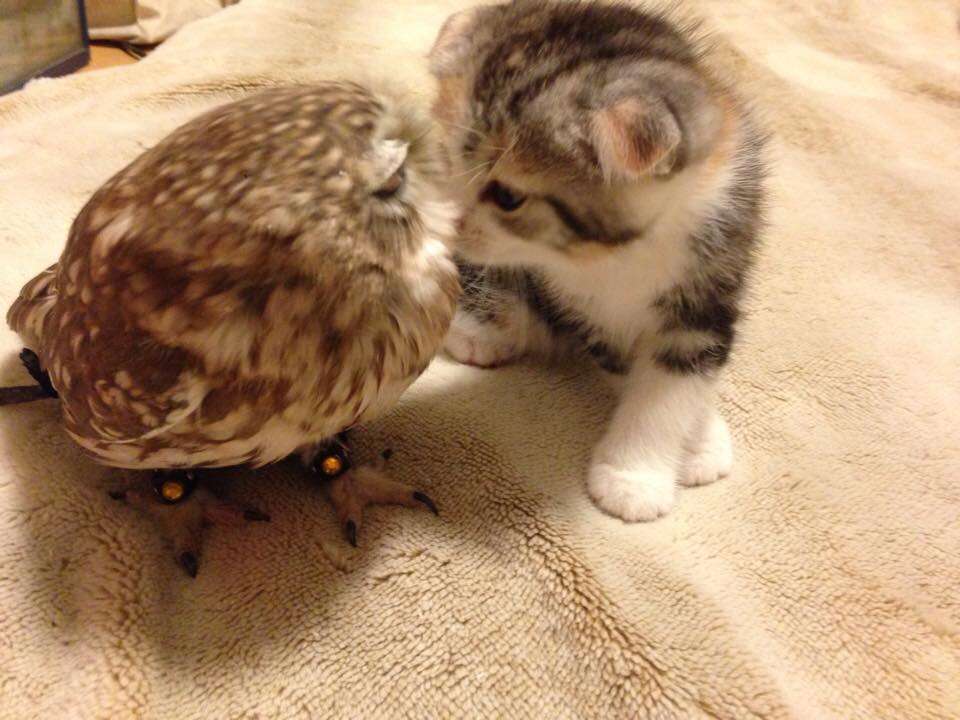 Cafés with live, captive owls - like Hukulou Coffee, where Fuku-chan lives - are increasingly popular in Japan. The cafés serve coffee with a side of captive wildlife, allowing patrons to pet and interact with owls living in a habitat inside the restaurant.
"They're not used to being around people," Kent Knowles, president of the Raptor Conservancy of Virginia, told The Dodo. "To get people playing around with wild critters as though they're pussycats and puppy dogs is not a good idea," he said, adding that a restaurant environment would be very stressful to owls.
Fuku-chan's friendship with Marimo may offer him a rare comfort amidst a frightening life in café captivity. Fuku-chan will likely never be able to live in the wild, where he would be able to find lots of owl friends on his own, but it's a small relief that he has found such a loving companion in Marimo.
The worrisome trend isn't limited to Japan: A "pop-up event" featuring live owls in London this spring was so controversial with animal welfare groups that it had to be moved to a secret location.
These owl cafés may copy the success of cat cafés, which also started in Japan and then spread across the globe, but unlike cats, owls aren't pets who want to be close to humans. They deserve to be free.