After a rough start in a mailbox, this tiny kitten has found a purrfect forever home, and her new family thinks it's a match made in kitty heaven.
Tiny Mimi was found abandoned in a mailbox three weeks ago on a rural road in Edwardsburg, Michigan. She was hungry, shivering with cold and suffering from a herniated belly button.
The kind woman who discovered Mimi, a cat owner herself, immediately started calling local shelters, but no one was able to come pick up the little kitten.
Finally the good Samaritan reached Jennifer Gillispie, who runs Here Kitty Kitty Rescue across the state border in Elkhart, Indiana. As soon as Gillispie heard that there was a kitten in need, she got in her car and drove to pick her up.
A vet checkup showed that the kitten was dehydrated and malnourished, and covered in fleas and ear mites, but Gillispie started giving her all the care she needed. And soon after taking in the tiny kitten, Gillispie got a visit from Dan and Millie Shaw.
The Shaws' beloved black and white cat T.J. had passed away a few months before, after 17 years with his family. The couple was heartbroken after the loss of their cat, and Dan was feeling especially lonely.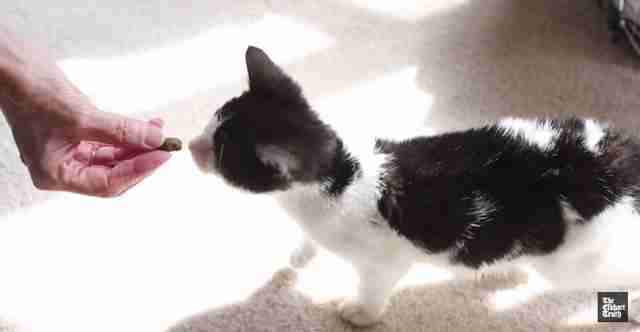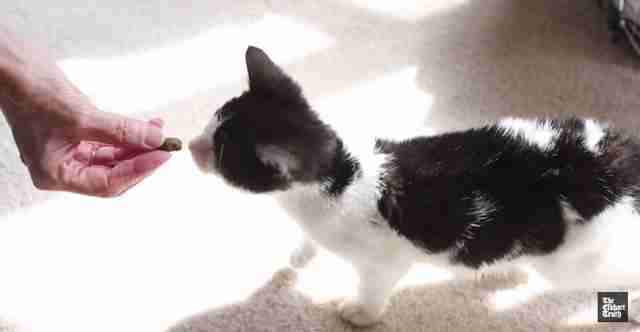 "I looked over at him and said, 'You know what, you need another friend,'" Millie told the Elkhart Truth. So they went to visit Gillispie's newest arrival, and it was love at first sight.
Mimi is now happily recovering with her new forever family. And the best part of the story: Dan Shaw was a mail carrier for over 30 years. Could there be a better dad for a tiny kitten who started out life in a mailbox?
Watch Mimi's proud new parents tell her story here: