Megan Yasick hated leaving her cat, Mango, at her parents' house when she went hiking with her boyfriend. Mango would follow them to the door and stare through the glass panel as they packed the car. The worst part for Yasick was knowing that she and her boyfriend would get to see the world, while Mango was cooped up inside.
After leaving Mango several times, Yasick decided to start taking him with her. Mango was 8 months old when she strapped a harness over his orange fur, and took him to the Upper Peninsula in Michigan for his first big outdoor experience.
Before Mango became an adventure cat, he lived in a cardboard box with his seven siblings next to a dumpster. Someone stumbled upon the kitten-filled box and contacted a local rescue group, which moved the kittens to a foster home. The rescue group posted a picture of the litter on its website, and as soon as Yasick saw Mango's photo, she fell in love.
Within minutes of meeting the litter, Yasick knew Mango was coming home with her.
"He wasn't afraid of me, and was even [so] bold as to run up and swat my leg," Yasick tells The Dodo. "His curiosity and energy really drew me in. I couldn't go home without him."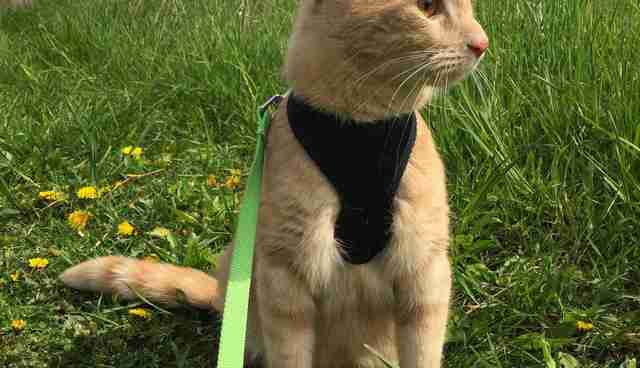 Mango's curious nature was the first indication that he might be interested in going on adventures with Yasick and her boyfriend. While Mango was primarily an indoor cat, Yasick started harness training Mango with short hikes in their local area.
It didn't take long for him to get the hang of it - Mango trotted along hiking trails like he was born for this kind of thing!
The Upper Peninsula trip was Mango's first big excursion. He experienced longer wooded trails, and got to sleep in a tent.
"He did absolutely amazing," Yasick says. "We were both so impressed with him. He took everything in stride and kept up with us on the trails. There were times he was apprehensive, but was very good about letting us know when he was uncomfortable and was able to recover quickly."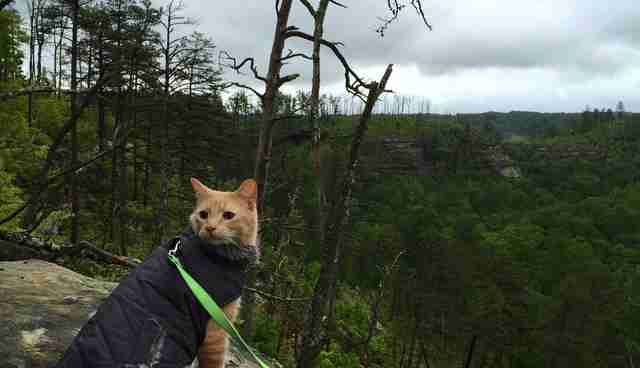 After the success of the Upper Peninsula trip, Mango started going on every hiking and camping excursion with Yasick and her boyfriend. Mango loves exploring rocks and fallen logs, and chasing bugs. When he gets tired, Yasick carries him in a special backpack.
"He knows the backpack is for him to rest and will sit down or pause when he feels tired," says Yasick. "When he feels rested, he'll jump back out and keep hiking."
Besides taking catnaps in his backpack, Mango loves sleeping in the tent at night with his two favorite humans. "His purring as he snuggles next to or on top of us usually wakes me up!" Yasick says with a laugh.
But when the sun rises, Mango's ready to hit the trails again.
Mango has even learned to kayak, canoe and paddleboard, and Yasick hopes to take him backpacking in the future.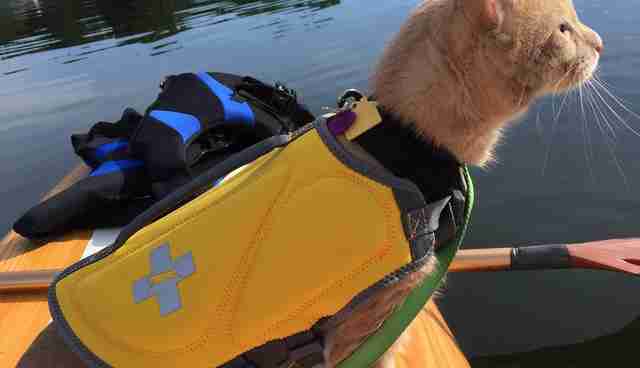 "We always run into people on the trails who are surprised or shocked to see a cat hiking," says Yasick. "It is pretty unique. But at the same time, it's a really enriching experience for Mango and allows him to get exercise and explore in a really cool way."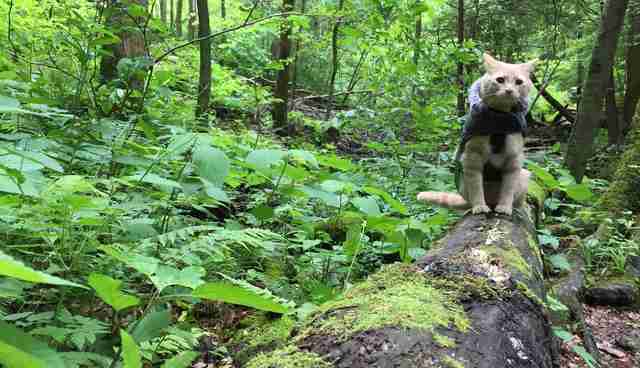 Mango may be a naturally adventurous cat, but it takes more than a bold personality to do what Mango does - Yasick believes it also takes trust.
"I think Mango has an incredible amount of trust and faith in us," she says. "He knows we will work to keep him safe and that he is secure with us. We pay attention to his needs outside and I think that has helped to create a bond with him that makes going on adventures so easy."
"I think adventuring with him has had a hugely positive impact on all our lives," Yasick says. "Mango's made the activities we love to do even more fun and unique, and he impresses me every time we go somewhere. Wherever we go, he goes too."
You can follow Mango's outdoor adventures on his Instagram page.