Dog Siblings Found On The Side Of The Road Are SO Excited Every Time They See Each Other
"It's just this big blob of puppy — they're all over each other."
Caboodle can't walk or stand on his own, but when he's strapped into his special walker, he's unstoppable. The 6-month-old Siberian husky takes off, sprinting as fast as he can, tail whipping back and forth with excitement.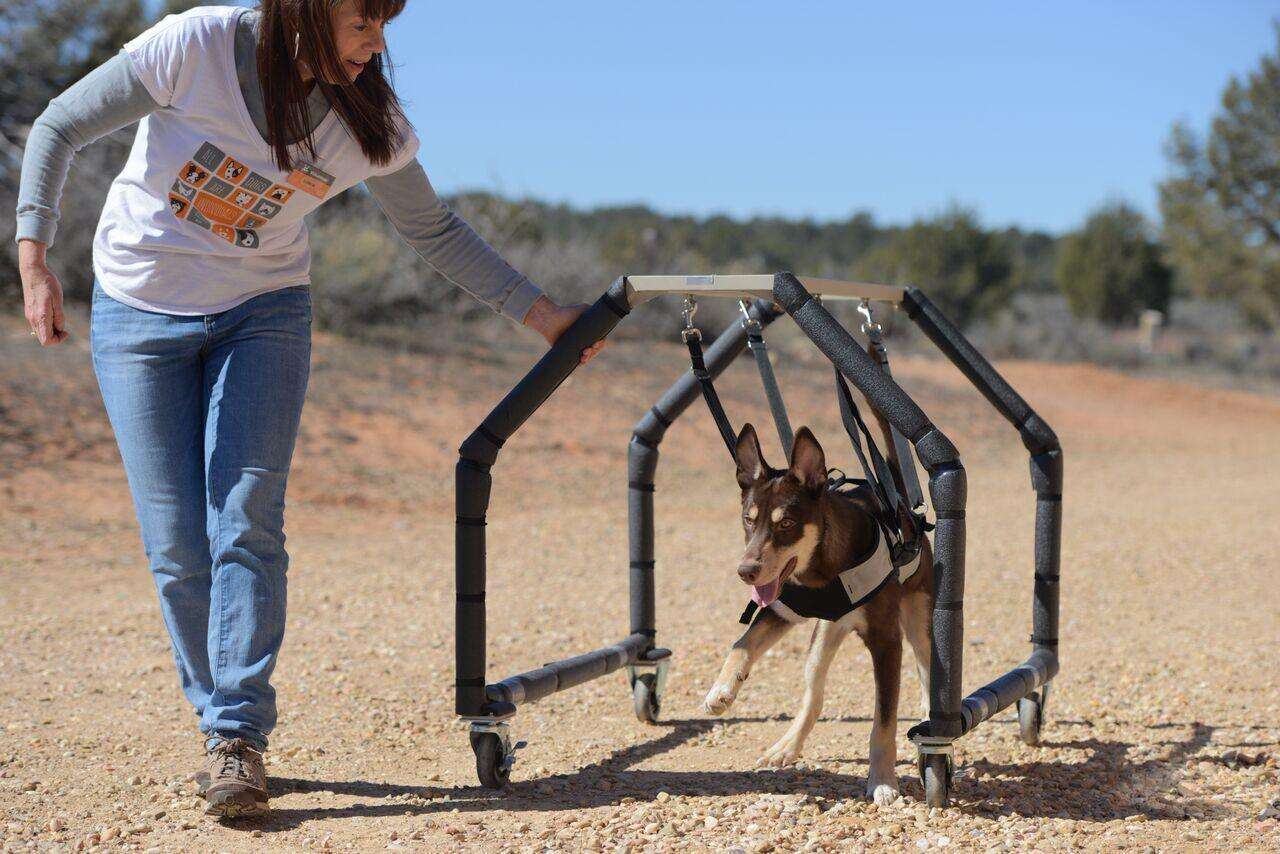 The only thing Caboodle slows down for is his sister, Kit, who has the same problems walking and standing. But unlike Caboodle, Kit doesn't have the strength to use the walker, so a shelter volunteer will often carry Kit as Caboodle runs.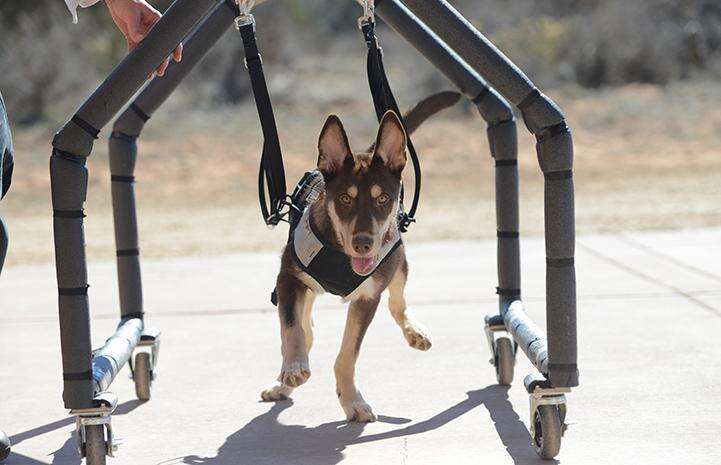 "Caboodle will take off in his little walker and keep running, and then all of a sudden he'll stop and look back at his sister and wait for us to catch up," Carrie Smith, volunteer and marketing specialist at Best Friends Animal Society, told The Dodo. "He'll kind of nose her and then take off again. It's really cute."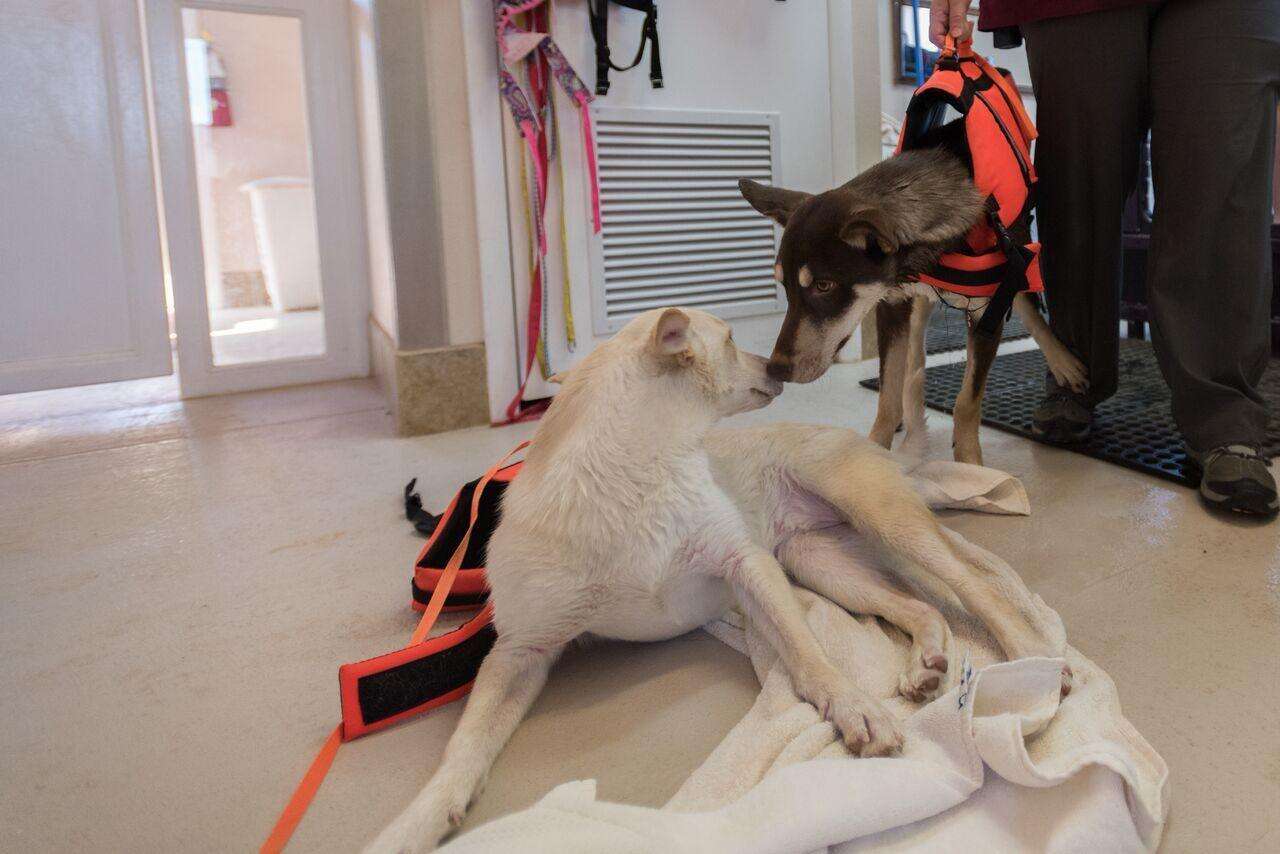 Both Kit and Caboodle had a wobbly start to life. When they were just 8 weeks old, they were abandoned in a cardboard box on the side of a road in Missouri, along with several of their littermates. When someone found them, most of the puppies had died - Kit and Caboodle were the only survivors.
Kit and Caboodle were taken to a local shelter, but the staff quickly realized the puppies had special needs. Their inability to walk or stand suggested that they had some kind of neurological condition.
While that particular shelter wasn't able to provide the care they needed, they found one that did - Best Friends Animal Society, a shelter and sanctuary that takes in animals who are older, sick or have special needs like Kit and Caboodle.
Kit and Caboodle currently live at the "puppy preschool" at Best Friends while they wait for their forever home, and they get regular physical therapy to help them strengthen their muscles.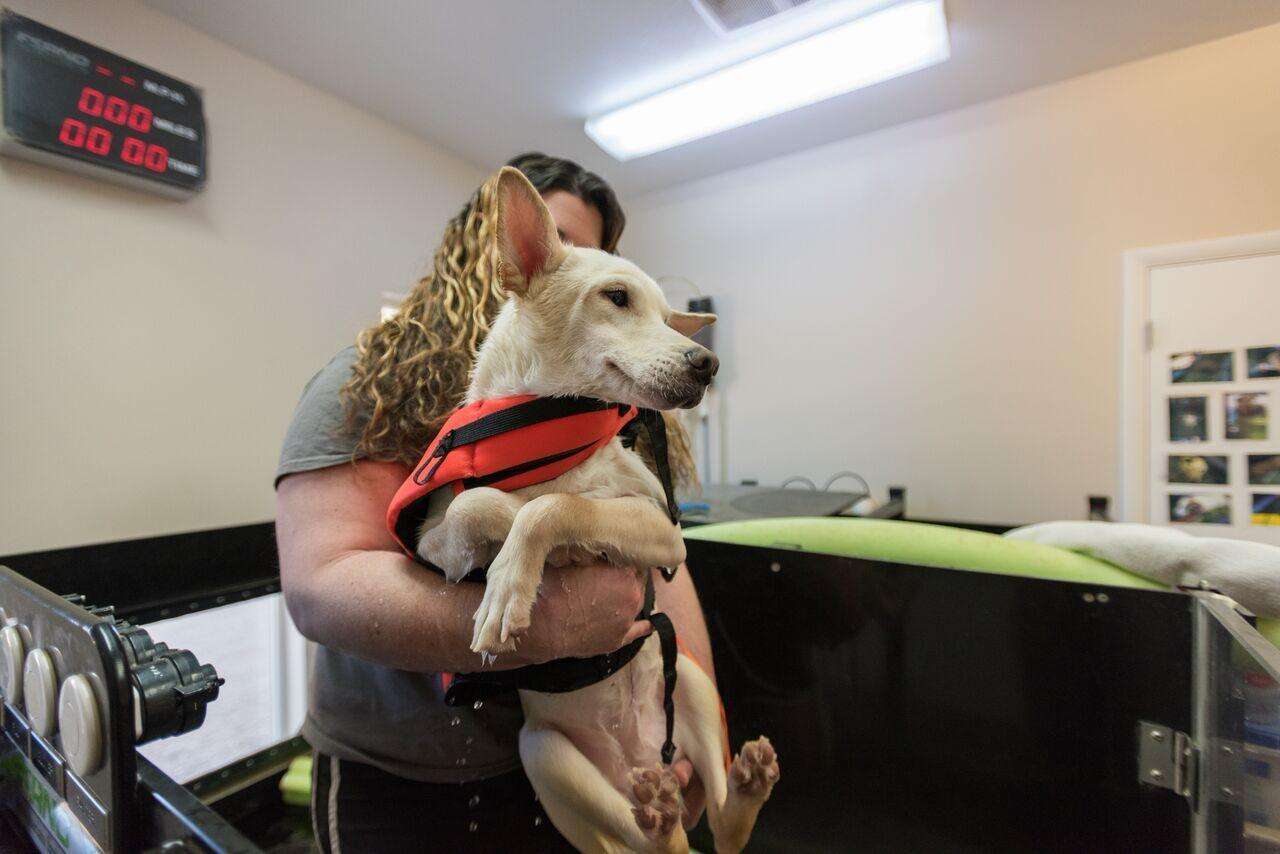 While it's not exactly clear what kind of neurological condition Kit and Caboodle have, Susan Konecny, the medical director at Best Friends, told The Dodo that it could be congenital disorder, or even a condition related to distemper.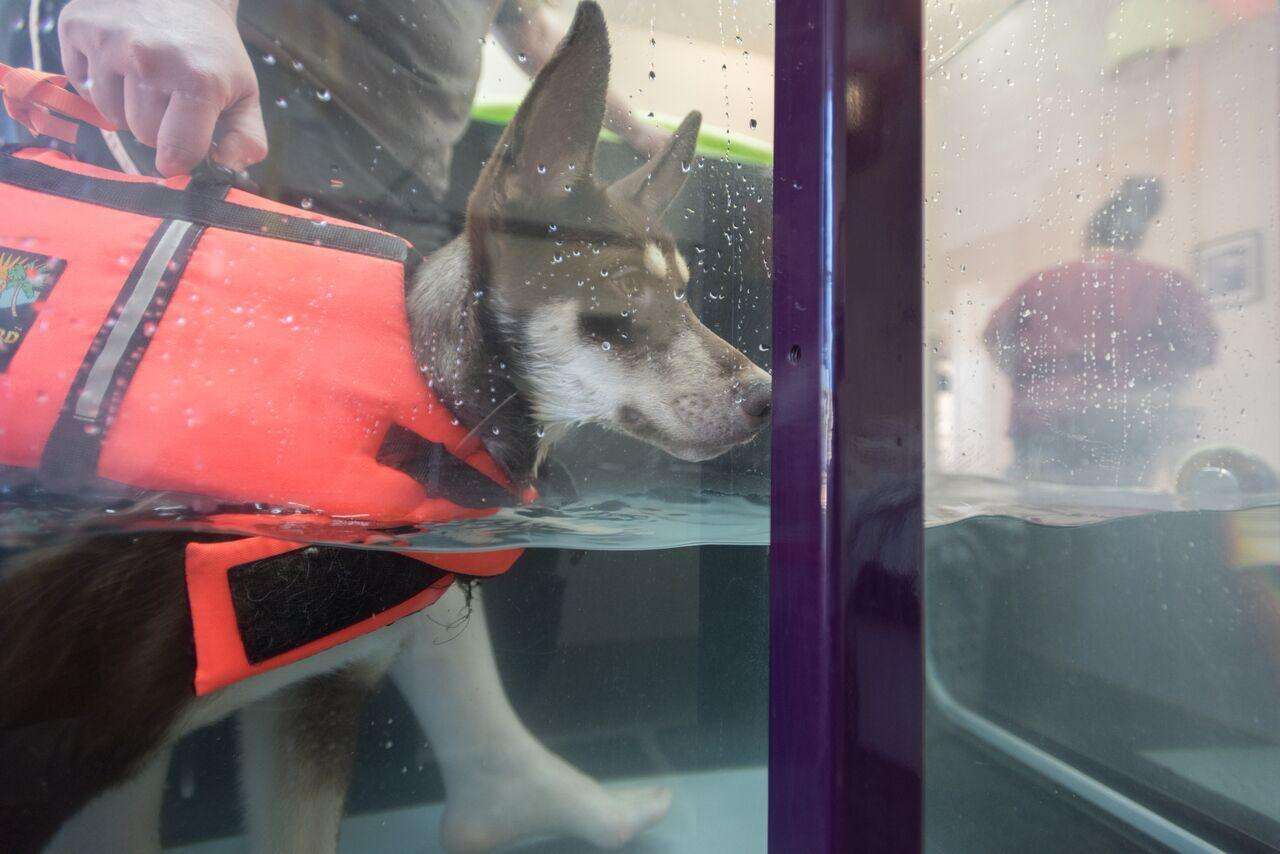 Kit and Caboodle may have trouble balancing, but the puppies don't seem to know anything is wrong with them.
"They are regular puppies," Lori Bernath, manager of volunteer engagement at Best Friends, told The Dodo. "They are very happy-go-lucky. They love everyone and everything, and they just want to be with you. They live in the moment, and every day is a great day with them."
And just like regular puppies, Kit and Caboodle love to play. They may not be able to chase each other around the room, but they have found their own way to interact.
"It's really fun to sit with them while they're wrestling," Smith said. "It's just this big blob of puppy - they're all over each other. They love playing with their toys and wrestling and fighting over them, and they love going outside."
They also enjoy spending time with their caretakers.
"When they see you, they inchworm to you as fast as they can to jump in your lap or start kissing your face," Smith said.
When it's time for their physical therapy, the volunteers work with Kit and Caboodle individually. But the puppies are so excited when they get to see each other again.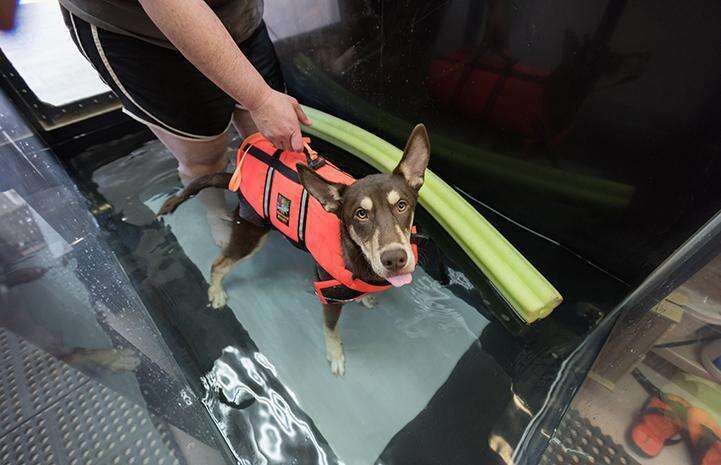 "They get really super playful," Bernath said. "And they're like, 'Where have you been? You're back! I missed you.'"
Bernath is also seeing some big improvements in their physical abilities.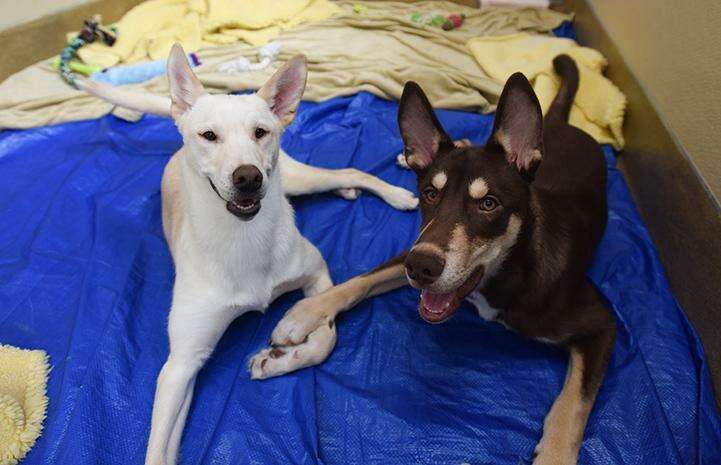 "Yesterday when I walked in, they were both standing," Bernath said. "Granted it was only for a few seconds, and it was very wobbly, but that was huge progress."
"We think ... they can have a good quality of life with proper care and assistance in daily functions," Dr. Konecny said. "They do not seem to be in any pain, and they enjoy playing, and human and sibling interaction."
Both Kit and Caboodle are currently up for adoption, although Smith said they need a very special home and family.
"They really do have big personalities, and I think they would bond well with other dogs too in a home," Smith said. "It doesn't necessarily mean they have to be adopted together because they're so close. I think they're just so close because they've lived together this whole time."
If you're interested in adopting Kit and Caboodle, contact Best Friends Animal Society. To help more dogs and cats find their forever homes, consider making a donation.