My Rescue Entered The World Abused, But She Left It Showered In Love
A tribute in loving memory and gratitude of Kiowa.
Kiowa's entry into this world in 2004 was very rough, experiencing the dark side of humans. While a miracle that she survived those first nine months, and testament to her strength and intelligence, she left knowing a life showered in love, respect and nurturing.
For those who have read the Wild Love story (See Courageous Creativity, "Faith In Action," Nov 2011, Pages 12 to 15) and have asked over the years, this is Kiowa, my trusty sidekick. Because of Kiowa's elbow replacement surgeries at Sun Valley Animal Center in 2010, we subsequently have Wild Love Preserve in Central Idaho.
On Oct. 19, our lives forever changed again. Kiowa crossed over at 1:30 in the afternoon and the sun broke through the clouds to shine directly upon us after we loving laid her to rest in her spot at the front of our house. She waited for my dad and Jasper to arrive to say goodbye, and I was fortunate enough to witness the sweetest goodbyes from my cats Geronimo and Cisco earlier that morning. Years ago, Kiowa rescued Geronimo in his eleventh hour, and he was forever filled with love, trust and gratitude, deeply attached to his Kiowa, sleeping snuggled at her side at night.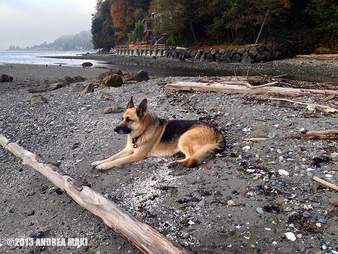 Over the last 11 years Kiowa and I have been apart all of 30 days total. Partners in crime to the core, adventures at every turn. As many are aware, Kiowa was abandoned at SeaTac Airport in December 2004 when we were restoring my dad (Robert Maki)'s 1972-73 airport sculpture and moving it to its outdoor park location at the new southend terminal. After a week of trying to catch her, we succeeded the night before the flatbed arrived for installation. We later learned she was roughly nine months old (one ear still down), had been abused and shot full of buckshot and BBs.
Kiowa's thirst for adventure remained paramount through her life and her stories are what make movies and books: letting her self out of a house or garage, to return after she felt her point had been made; leading us on a full-speed chase through streets and parking lots full of Christmas shoppers, less than 48 hours after her initial capture, with me driving my truck in and out of oncoming traffic to alert folks of her presence as we tried to catch her; and I still wonder how it appeared for folks on main street in Bend, Oregon to look up and see a big German shepherd cruising atop the roof-edge of a three or four-story building as we ran behind trying to stop her from jumping over to the next building. For the longest time, we would often have to start driving away, with her racing behind, in order to get her to jump into the back of the truck and go. That said, she went everywhere with me, because she did not like to be left at home.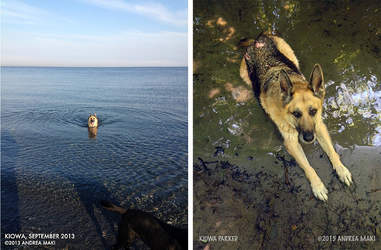 She has survived many incidents in her life in addition to being shot full of buckshot and BBs: getting spooked by cheering baseball fans and busting through a truck canopy side window in downtown Seattle traffic following a winning Mariner's game, only to have us going all directions to get her to jump back into the truck without being hit by a car or train; kicked by a quarter horse; stomped by a bull; almost drowned in an irrigation ditch on the East Fork of the Salmon in Idaho; elbow and elbow-replacement surgeries; had a half-frozen 100 pound bale of hay thrown from a big rig square onto her back; and the list goes on. To say the least, she's no pansy and adventures were always plentiful.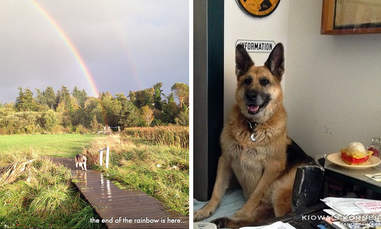 A miracle dog, wonder dog, fast as the wind, smart as a whip and clever as all get up. She's also a magical being with healing powers, respects other animals, and has helped, even saved, multiple lives - squirrels, cats, dogs, birds, wild horses and others. She's kept us from harms way in the woods with bears and bobcats, and at home has been the ultimate security force when we've had uninvited two-legged guests. As mentioned prior, she is behind the existence of Wild Love Preserve, hence saving Idaho wild horses on home turf, and without doubt the greatest dog a girl could ever ask for. Rescuing her all those years ago was a life changing high point in my life on this earth plane, opening the floodgates to an endless array of happenings and adventures.
Forever a character, keeping me entertained and on my toes with her nutty antics, everyone, including "non-dog" folks, were quickly won over, loved and appreciated Kiowa's gentle ways and polite manners. To that, she was always invited inside, to gatherings and kids birthday parties. Skiddish of adults due to her initial mistreatment, she had a list miles long of folks determined to finally have a chance to pet her, jealous of the little kids she always welcomed in and allowed to crawl all over her. Rarely a walk when I didn't call ahead, "she's friendly," to folks coming our way on the trail; she would greet, often calm other pups in ways that left their human counterparts amazed and frequently commenting, "my dog never responds like this to strange dogs." In Kiowa's later years, as she was slowing down, she came to realize that pets from strangers weren't half-bad, bringing big smiles to those so lucky as to give her some head pets and under-chin scratches.
Within this tribute are some favorite photos, including the second from top of Kiowa a few months after we first connected, running at full speed in all her glory. Our lives together included having one another's backs at all times, and our mutual love and respect served to enrich our lives in ways far beyond verbal expression. Luckily true love lasts forever, however this hole in my heart will take a while to mend. Kiowa will be missed beyond measure and I will be forever grateful for the day we met.
Love surrounds and this love knows no bounds. Forever and always, my love-bug. Forever and always.